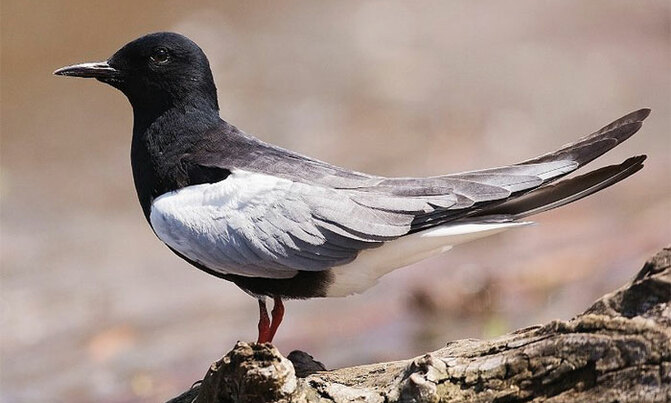 "We sent a team to Lutembe and Bussi and discovered that what was being referred to as suspected cases were alarmist."
PIC: The white-winged black tern. There has been a persistent death of birds at Lutembe Bay

Uganda does not have any human victims or suspects of avian influenza, also known as bird flu, according to Dr Anthony Mbonye, the director of health service (clinical and community health) at the health ministry.

"We do not have any human cases of bird flu," Mbonye told New Vision and described the 20 suspected cases among the fi shermen at Lutembe landing site and on Bussi Island in Wakiso as a false alarm.

"We sent a team to Lutembe and Bussi and discovered that what was being referred to as suspected cases were alarmist."

Mbonye, who was speaking on Saturday after a day-long meeting organised by the national task-force on bird flu, pointed out that the situation was under control. Dalaus Katende, a fisherman at Lutembe, said there was panic among the fishermen, who claimed they had symptoms similar to those of bird flu.

The Government responded by testing samples from the dead birds and water in parts of Lutembe Bay.

However, contrary to reports from Mbonye that the wild birds at Lutembe had stopped dying, Katende said they continue to die.

"The experts should come early in the morning and I take them to the roosting grounds. Most of the birds die at night, but scavenging birds and animals eat them in the day," he said.

Mbonye said the Government set a taskforce to give an update on bird flu on Tuesday.

Background

The Government last week confirmed the outbreak of bird flu on some parts of Lake Victoria shores.

The cases of death of wild birds, the white-winged black terns at Lutembe Bay that had persisted for about two weeks, were first reported to the Ministry of Agriculture, Animal Industry and Fisheries on January 2.

On January 13, another report came from Masaka where domestic ducks and chicken had died at Kachanga village in Bukibanga parish and Bukakata sub-county.

The carcasses were delivered to the National Veterinary Diagnostic Laboratory in Entebbe. It was later confirmed that the deaths were due to bird flu.

Symptoms

The disease has similar symptoms with the common flu and has an incubation period of three to four days and is accompanied by sneezing, as well as coughing, high temperature, chest pain, difficulty in breathing, the muscle aches, but it does not spread through air.

The keepers of birds should watch out for symptoms such as a swollen head, discoloration of the neck, throat and loss of appetite.

Respiratory distress, diarrhoea and when birds lay fewer eggs, according a statement from the Ministry of Health.