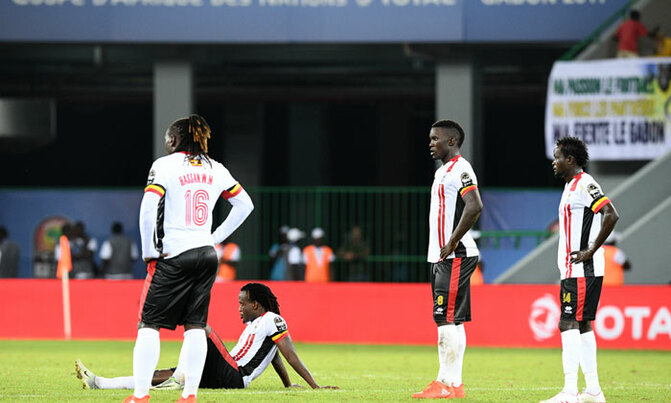 The Uganda Cranes crash out of the Nations Cup after a 1-0 defeat to Egypt at the Stade de Port-Gentil.
AFRICA CUP OF NATIONS: GROUP D

Full-time: Egypt 1 Uganda 0; Uganda exit tourney
Earlier: Ghana 1 Mali 0; Black Stars through to last-eight
Speaker Kadaga delivers sh224m package to Cranes
Egypt and Mali to fight for second qualification spot
__________________________

The New Vision team in Gabon


Live reporting by Joseph Kizza (Twitter: @joekizza)
________________________________
11.55pm: GOOD NIGHT!

Egypt 1 Uganda 0

That's all for me here, folks. Thanks for sticking with me all the way.

Cheers!
Like true sportsman, keeper Denis Onyango congratulated his opposite Essam El-Hadary
Cranes punisher Abdallah Said went divine in celebrating his goal
Coach Micho appeared inconsolable at the end of an absorbing match
FULL-TIME: UGANDA FIRST OUT OF TOURNAMENT

Egypt 1 Uganda 0

It's the end of the road for Uganda in a first appearance at the Nations Cup since 1978.

It's been a gallant display for Micho's men and they will have felt very let down for exiting in this manner after managing to hold off the seven-time champions for nearly the entire game.

Credit to the Cranes players for giving their all. After the first game against Ghana on Tuesday, Micho told a press conference that his side would give 200% of their all in the coming fixtures, and they did just against Egypt.

For now, it's celebrations in Cairo and disappointment in Kampala. The Pharaohs are second in Group D on four points ahead of their final group game with Ghana.
89min: GOAL! - Abdalla El Said

Egypt 1 Uganda 0

And the Egyptians find the breakthrough after desperate Cranes defending.

The Ugandans need to find the back of the net to stay in it.
79min: SUBSTITUTIONS

Egypt 0 Uganda 0

Both sides make changes. First, Egypt: Mahmoud Kahraba is on and off comes Trezeguet in their last substitution of the day.

A minute later, Uganda brings on Nicholas Wadada in place of Farouk Miya.

Meanwhile, Cranes player Khalid Auchoo has to be stretchered off the pitch for some medical attention after tumbling down awkwardly during a challenge.
70min: VITAL CLEARANCE

Egypt 0 Uganda 0

Ugandan left-back Godfrey Walusimbi makes a run for it but he is body-checked off the ball. Free-kick, says the referee. Farouk Miya steps up to whip it in, and he does, but his dropped-in ball is headed away by an Egyptian defender.
63min: SUBSTITUTION - MASSA OFF

Egypt 0 Uganda 0

Captain Geoffrey Massa will make way for 19-year-old Muhammad Shaban.
60min: CRANES PUSHING FOR OPENER

Egypt 0 Uganda 0

The Ugandans remain solid in the first 15 minutes of play of this half, and have done well to throw their weight behind the ball and charge towards the Egyptians.

A very good display so far by Micho's side.
51min: GOAL DISALLOWED!

Egypt 0 Uganda 0

A cross is whipped in and it meets Joseph Ochaya who does well to beat Essam El Hadary.

He runs off to celebrate, but wait. The offside flag is up.

The frustration on Ochaya's face is understandable. That would have been the first goal for Uganda at the Nations Cup since 1978.
48min: NO CHANGES

Egypt 0 Uganda 0

Neither side has made any changes coming into the second half. We will probably see some reforms as the second period progresses.

From the Ugandan perspective, a win for The Cranes tonight will lift them to second place of the group.

Defeat, however, will see them out of the competition.
HALF-TIME: SWEEPER-KEEPER

Egypt 0 Uganda 0

Towards the conclusion of the first-half, Cranes keeper Denis Onyango had to be called into action to clear the danger delivered by Mohamed Salah.
HALF-TIME: STILL DEADLOCK

Egypt 0 Uganda 0

Physical half. Great game. No goals.

That summarizes the first-half.
37min: OUCH!

Egypt 0 Uganda 0

That definitely hurt. A lot. Uganda's Khalid Aucho clashes with Egypt's Trezeguet as we draw closer to the break.

Aucho needs a bag of ice to cool off the head injury but he will be back up and running.

Coach Micho won't have to wear that worried look over his face for long.

In fact, he will have been pleased with his side's resistance in this half.
30min: BRIGHT SPELL FOR UGANDA

Egypt 0 Uganda 0

After 30 minutes of playing, the Ugandans have managed to keep out their more illustrious opponents. And the East African side will have relished a positive spell of great passing and drop balls into the Pharaohs' box.

Joseph Ochaya has been sharp on the left flank.
25min: YELLOW CARD - HAMED

Egypt 0 Uganda 0

First booking of the game goes to Tarek Hamed after throwing a dashing Farouk Miya off his feet.

The Ugandans have enjoyed a brief rare period of ball possession, at the end of which their coach Micho acknowleges.
17min: ROUGH CRANES

Egypt 0 Uganda 0

It's been an opening half of too many fouls.And it's the Ugandans committing most of these.

The latest culprit: Godfrey Walusimbi.
10min: SIMILAR START FOR CRANES

Egypt 0 Uganda 0

The Ugandans have started off in similar circumstances as they did against Ghana, allowing Egypt to boss ball ownership.

Micho made three changes to his starting lineup, recalling Murushid Jjuuko who had been on suspension by the start of the tournament.

Godfrey Walusimbi is also on.
3min: EARLY PRESSURE

Egypt 0 Uganda 0

The Pharaohs hit the ground running, and in their first meaningful attack, Ramadan Sobhi cuts in down left but he crosses after the ball has rolled over the line.
10.00pm: KICK-OFF!

Egypt 0 Uganda 0

The Egyptians get the ball rolling.
9.55pm: MAKING OUT OF DUG-OUT

(Egypt v Uganda at 10pm)

The players are walking out of the tunnel onto the pitch. The fans of both sets of teams in full voice.

National anthems next.
9.30pm: STARTING XI: MASSA WILL PLAY

(Egypt v Uganda at 10pm)

So it turns out Uganda Cranes captain Geoffrey Massa will start tonight. Earlier today, he had talked of a nagging head injury that would keep him out of action, but he must have shaken that off since that time.

Here are tonight's starting lineups . . .

EGYPT:

Essam El Hadary, Ali Gabr, Ahmed Hegazy, Ahmed Fathi, Tarek Hamed, Mohamed Salah, Mohamed Abdel-Shafy, Ramadan Sobhi, Mohamed Elneny, Marwan Mohsen, Trezeguet

UGANDA:

Denis Onyango, Joseph Ochaya, Geoffrey Kizito, Murushid Jjuuko, Tonny Mawejje, Khalid Aucho, Geoffrey Massa, Denis Iguma, Godfrey Walusimbi, Hassan Wasswa, Farouk Miya
9.24pm: 'UGANDA CRANES OYEE!'

(Egypt v Uganda at 10pm)

Someone is ready . . .
FULL-TIME: GHANA STORM QUARTERS

Ghana 1 Mali 0

(Egypt v Uganda at 10pm)

Not a smooth progression to the quarter-finals for The Black Stars, but they have.

Mali pegged them in their own half for much of the second-half, launching a series of attack after attack, but at the end of the day, the 2015 finalists had their way.

Next up, Egypt v Uganda at 10pm
90min: TWO MINUTES ADDED TIME

Ghana 1 Mali 0

(Egypt v Uganda at 10pm)

Mali have only two minutes to find the leveler. Can they?
90min: CLOSE! - COULIBALY DENIED

Ghana 1 Mali 0

(Egypt v Uganda at 10pm)

Substitute Kalifa Coulibaly is a busy man in the Ghanaian half and he is proving to be a constant menace for the Black Stars.

He nearly connects on 90 minutes but in his way is keeper Brimah Razak, who had to tap into his reflexes to deny the striker from close range.
83min: GYAN SUBBED & BOOKED

Ghana 1 Mali 0

(Egypt v Uganda at 10pm)

Goalscorer Asamoah Gyan is coming off. But he picks up a yellow on his way off the pitch for trying to milk the moment by wasting a bit of time as he hands the captaain's armband to Andre Ayew.

Needless booking!
Ghana coach Avram Grant feeling the pressure in these closing stages
79min: GHANA UNDER PRESSURE

Ghana 1 Mali 0

(Egypt v Uganda at 10pm)

The Black Stars are facing absorbing sustained pressure from the Malians as we approach the ten minutes.
Kalifa Coulibaly, who is fresh on the pitch, nearly makes an impact right away. He springs well to meet a cross from the left but his header back into the face of goal finds no teammate to connect.

Close!
72min: QUICK ON THE TROT

Ghana 1 Mali 0

(Egypt v Uganda at 10pm)

Yves Bissouma, who came on in place of Sambou Yatabare at the start of second half, beats his minder for pace on the left flank, but just when he should dip a cross from the corner, he times his kick so bad under pressure and blasts it out of play.
65min: BUSY AYEW . . . JORDAN, THAT IS

Ghana 1 Mali 0

(Egypt v Uganda at 10pm)

The Aston Villa man has had a busier and more physical evening than he had against The Uganda Cranes. He has found himself being the victim of a number of challenges in this one.
60min: 30 TO GO . . .

Ghana 1 Mali 0

(Egypt v Uganda at 10pm)

Well, well, well. Looks like it's a similar script for the Ghanaians like it was against Uganda.

They have allowed Mali to throw everything at them on a wobbly Stade de Port-Gentil pitch.

Mali's coach Alain Giresse is restless on the touchline. He is sensing something, as does the crowd . . .
8.10pm: DID YOU MISS IT? - GYAN'S GOAL

Ghana 1 Mali 0

(Egypt v Uganda at 10pm)

Here you go . . .
HALF-TIME

Ghana 1 Mali 0

(Egypt v Uganda at 10pm)

It's been all Ghana in this opening period as the Black Stars stick one foot into the quarter-finals.

Can they take that dominance into the second stanza of the game?
40min: GHANA IN CONTROL

Ghana 1 Mali 0

(Egypt v Uganda at 10pm)

It's been a fairly dominant opening half for the Ghanaians. And with five minutes left on the clock, it will be Avram Grant the happier of the two coaches.
21min: GOAL! - Gyan

Ghana 1 Mali 0

(Egypt v Uganda at 10pm)

Asamoah Gyan powers The Black Stars beautifully into the lead from a cross down right.
16min: CLOSE! - Ayew

Ghana 0 Mali 0

(Egypt v Uganda at 10pm)

Andre Ayew will have that miss fresh in his memory for so many days to come. That should have been in. Surely!

Christian Atsu does well to make his way towards the edge of the box, slides a pass in the path of the Ayew brothers and Andre, facing away from goal, gets onto it first, spins and hits the ball wide.

What a miss!
12min: EVEN START SO FAR

Ghana 0 Mali 0

(Egypt v Uganda at 10pm)

It's quite a balanced start to this game. Two-way traffic, a bit physical, with either side's players not shy to commit themselves in challenges.

Ghana get a free-kick, which finds Asamoah Gyan whose header is miles off-target and back into play. Teammate Jordan Ayew is guilty of bundling a Mali player in the resulting challenge.
7.00pm: KICK-OFF!

Ghana 0 Mali 0

(Egypt v Uganda at 10pm)

And after a minute of silence for victims of a car bomb in northern Mali recently, we are under way at the Stade de Port-Gentil for the third game of Groupd D.

Ghana make one change to the side that beat Uganda on Tuesday. Baba Rahman, who got injured in that game, won't be back for further matches. The man who replaced him, Frank Acheampong, starts tonight.

Mali also make one change to the side that drew with Egypt.
6.50pm: PLAYERS ARE MAIN ACTORS - GRANT

(Egypt v Uganda at 10pm)

"The main actors are the players and we need to give them the stage to perform well," said Grant at a press conference on the eve of his team's second Group D game against Mali.

"Five injuries so far have been down to the pitch. The organising committee should change the rules to let teams replace players who got injured due to the pitch.
"Two of Egypt's goalkeepers got injured due to the pitch. It is not their fault and not fair to them.

"We cannot change the pitch now so let Egypt bring in another goalkeeper.

"They cannot stay with one 'keeper, even if we have to play against them, it's not sporting."

Egypt and Ghana will meet in their final group game in Port-Gentil next Wednesday.
6.45pm: INJURY RULES UNFAIR - GRANT

(Egypt v Uganda at 10pm)

The AFP reports that Ghana coach Avram Grant has called for Africa Cup of Nations organisers to allow teams to replace players who have suffered injuries because of the state of the pitches in Gabon.

The Black Stars have lost left-back Abdul Rahman Baba to a serious knee injury suffered in the first half of Ghana's 1-0 win against Uganda on Tuesday.

The pitch in Port-Gentil, where Ghana are based, was in particularly bad condition and Egypt lost goalkeeper Ahmed El Shennawy when he went off in their 0-0 draw with Mali at the same venue.

Sherif Ekramy has also been sidelined so Egypt currently have only one fully fit goalkeeper, while Gabon and Burkina Faso have each had two players ruled out of the rest of the tournament since their 1-1 draw in Libreville on Wednesday.
6.30pm: 44 AND STILL GOING

(Egypt v Uganda at 10pm)

The Egyptians take on Uganda this evening with 44-year-old Essam El Hadary ready to start in goal after breaking the record for the oldest player ever at the tournament when he came on against Mali.
6.20pm: 'I LOVE YOUR HAIRSTYLES'

(Egypt v Uganda at 10pm)
James Bakama, New Vision's sports writer in Port-Gentil

The media was also first blocked before being let in last into the Hotel du Plac hall.

Kadaga, flanked by sports state minister Charles Bakkabulindi and Amabassador James Kinobe, commended the Cranes for a job well done.

She revealed that the Cranes had healed her heartbreak. "I had never recovered from the pain of 1978. Thanks a lot for doing us proud."

The speaker, who handed over a dummy cheque to captain Geoffrey Massa, said the money had already been deposited on the FUFA account.

She however warned FUFA that there was need for accountability. "Every member of the team should get their money."

Kadaga also couldn't hide her thrill for the team's sense of style. "I love your hairstyles."

When it came to CAF footballer of the year and first-choice goalkeeper Denis Onyango, Kadaga again couldn't hide her emotion.

"Onyango you are the best."
6.15pm: MP SSEWANYANA 'ROUGH UP'

(Egypt v Uganda at 10pm)
James Bakama, New Vision's sports writer in Port-Gentil
Onlookers were shocked when two Ugandan officials went for the rough option to resolve what otherwise looked like a simple issue.

This was at the entry to a function where Uganda's Speaker Rebecca Kadaga was due to hand over Parliament's sh224m contribution to the Cranes in Port Gentil.

FUFA technical committee head Hamid Juma was not about to let Member of Parliament Allan Ssewanyana into the hall where the function was due.

But Ssewanyana, a shadow minister, and the man who initiated the team's fundraising in the House, not only felt undermined, but was also not about to be blocked.

"There is first going to be a meeting between FUFA and the Speaker. You are not allowed in," bellowed Juma as he shoved Ssewanyana away.

Ssewanyana also charged but was no match for the towering Juma who not only blocked the entry, but continued pushing the MP away to the shock of the over 30 people present.

The Speaker on realizing that something was amiss in the hall called for Ssewanyana.

"What is being discussed is of great sports importance so you have to attend," stressed another official to the disappointment of Juma.

MPs who included Peter Ogwang, Thomas Tayeebwa, Anjela Lanyero, Moses Kasibante, Ann Galiwango, Mohammed Nsereko and Patrick Isiagi were not amused that one of their own had been harrassed.

"FUFA should style up. If they have their politics it shouldn't be brought to such functions," one of them complained.
6.00pm: WE ARE BACK!

(Egypt v Uganda at 10pm)

Back to our live commentary. Thanks for your patience. So, let's get this rolling . . .

So it turns out it was not all happy-go-happy at the handover ceremony. Some melee-of-sorts unfolded, according to New Vision's sports writer James Bakama.

More on that, next up.
4.20pm: PHAROAHS EYE 8TH TITLE

(Egypt v Uganda at 10pm)

Egypt are the record winners of the Nations Cup, having won the continental title seven times. After a long absence from the tournament, can their coach Hector Raul Cuper guide the Pharaohs to an eighth title?
To do so, he will have to inspire his side past the group stage. It's a long way up to that glory, but facing a team that had last been at the Nations Cup in 1978, the Argentinian should fancy his chances tonight.

The Egyptians come into the game as the clear favorites.
4.00pm: 'LET'S DO THIS BOYS!'

(Egypt v Uganda at 10pm)

The moment when Speaker Kadaga willed the team on . . .
After handing over the cheque, the MPs had a moment to interact with the players. Here, Cranes keeper Denis Onyango towers over Kadaga and co.

You see we need his height in goal, ma'am
3.40pm: 'ISINDE, AZIRA WON'T START'

(Egypt v Uganda at 10pm)

According to a reliable source inside the Cranes camp, Isaac Isinde, Michael Azira and Luwagga Kizito will not start in tonight's game, in some of Micho's reforms to the starting XI.

The three players started against Ghana. Isinde (pictured) caused the penalty that stabbed Uganda after bringing down Asamoah Gyan in the box, while Azira had an unusually subdued performance.
3.20pm: TIME FOR LUNCH

(Egypt v Uganda at 10pm)
Fred Kaweesi, New Vision chief football writer in Port-Gentil

"The team is going to have lunch now. Speaker Rebecca Kadaga and other MPs have retreated to their hotel for lunch too.

"The temperatures are sweltering but should subside before the game."
3.15pm: CAN CRANES HANG ON?

(Egypt v Uganda at 10pm)

Cranes captain Geoffrey Massa is out of tonight's game. How will Coach Micho's starting line-up shape up like tonight?

The Serb's selections, especially in atack, will be key in determining whether The Cranes hang in there, or crash out of the tourney.
3.00pm: MAKE-OR-BREAK TIE

(Egypt v Uganda at 10pm)

Tonight's game will be very crucial for Uganda.

The Cranes, currently bottom of Group D, will have to conjure up something out of tonight's game lest they face an early exit from the competition.

Group leaders Ghana (three points) will go through to the quarter-finals if they beat Mali tonight.
2.45pm: MICHO EYES FIRST WIN

(Egypt v Uganda at 10pm)

This is Coach Milutin Sredojevic's first time at the Africa Nations Cup, and after seeing his side fail to score and fall to Ghana in their first game on Tuesday, the Serbian tactician will hope to get his first victory of the tournament against seven-time champions, The Pharaohs of Egypt.

That will be a huge task though.
2.35pm: MASSA OUT

(Egypt v Uganda at 10pm)

The Cranes captain Geoffrey Massa will miss tonight's game against Egypt due to a head injury.

After thanking the MPs and FUFA boss Eng. Moses Magogo for the offer (sh224m), the Ugandan skipper told the meeting he can't play tonight because his head is still hurting.
2.20pm: HAPPY TIME

(Egypt v Uganda at 10pm)

Kadaga, wearing a white The Cranes jersey, is in good spirits as she delivers her message.
2.00pm: KADAGA DELIVERS SH224M

(Egypt v Uganda at 10pm)
Fred Kaweesi, New Vision chief football writer in Port-Gentil

Speaker of Parliament Rebecca Kadaga has handed over a cheque of sh224m, a contribution by MPs, to The Cranes team in the build-up to tonight's game.

"We are proud of you. I decided to deliver this (sh224m) to you to ensure you are motivated for the game," she told the team in Port-Gentil.

MPs Muhammed Nsereko, Allan Ssewanyana and state sports minister Charles Bakkabulindi attended the handover function.
1.35pm: 'WELL DONE SON'

(Egypt v Uganda at 10pm)

It was no hard-feelings between two of the continent's most famous coaches: Frenchmen Claude Le Roy (of Togo) and his protégé, Herve Renard of Morocco aka Mr. White Shirt.
After the match, veteran Le Roy congratulated his younger countryman for a convincing victory.

Match report HERE
1.30pm: DOMINANT MOROCCO SEE OFF TOGO

(Egypt v Uganda at 10pm)

In the second game of Group C, despite a promising start, The Sparrow Hawks of Togo had nothing on The Atlas Lions of Morocco in a four-goal thriller.

Togo went in front through Mathieu Dossevi five minutes into the opening half. But the Moroccans recovered, thanks to goals by Aziz Bouhaddou, Romain Saiss and Youssef En-Nesyri to wrap up a dominant display.
1.15pm: 'ATTACK! ATTACK!'

(Egypt v Uganda at 10pm)

On Friday, DR Congo's coach Florent Ibenge willed his side on against holders Ivory Coast in the first Group C tie of the day . . .



. . . and his troops might have heard him loud and clear



They twice went ahead in a very physical game but couldn't conjure up a victory in Oyem.

Neeskens Kebano gave Ibenge's side an early lead before Stoke City loanee Wilfried Bony leveled matters in the 26th minute. Two minutes later, Junior Kabananga made it two for The Leopards and Serey Die salvaged a point for the defending champions midway through the second-half.

The result left DR Congo top of the group while the Ivorians slid to third after Morocco's comeback against Togo in the second game.

Details on that next up. The match report for the Ivory Coast v DR Congo game is HERE
1.00pm: HELLO AND WELCOME

(Egypt v Uganda at 10pm)

Hello everyone. It's 1.00pm in Kampala and 11.00am in Port-Gentil, Gabon. Welcome to live text commentary of the buildup of tonight's Group D game involving Uganda and Egypt.

The Cranes will take on The Pharaohs in the second game of tonight's menu in Port-Gentil at 10pm Ugandan time. Before that, groupmates Ghana and Mali will have played at 7pm.

So in the run-up to that action, first, let's look at what happened on Friday.