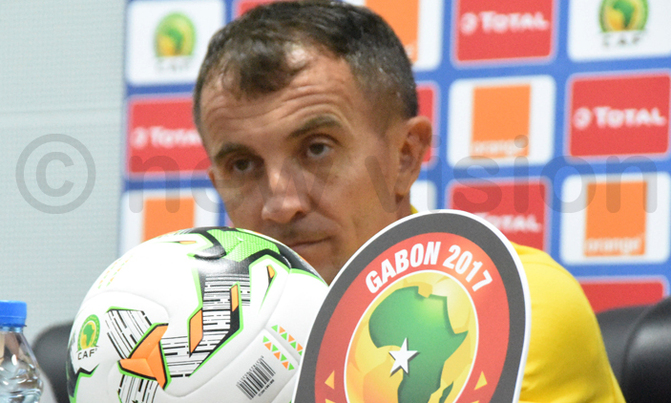 The former international who is known for his boldness, said on SuperSport where he is an analyst, that he wasn't impressed by the Cranes
Cranes coach Milutin Sredojevic has gone into a bitter exchange with the team's former captain David Obua.
Giving his views on pay channel SuperSport, Obua on Tuesday likened Cranes style of play against Ghana to street football.
Micho as Sredojevic is popularly in Uganda described Obua as a failure who couldn't make it to the Nations Cup.
"He is jealous for not reaching this level," a visibly angered Micho stated this afternoon in the Uganda versus Egypt pre-match press conference.
Citing stars like Ghana's Stephen Appiah, who acknowledged Uganda as impressive, Micho noted that Obua has no moral authority to judge the Cranes.
Obua who is known for his boldness, had in the SuperSport program where he is one of the Afcon analysts, stressed that he wasn't impressed by the Cranes.
"The structure was not there. I'll be honest with you. They were playing street football," he said drawing string of attacks from Ugandans.
As if to explain himself further Obua then stretched it to twitter.
"Street football was having players running all over the place, losing our shape but it looks good to watch coz the effort is there.
If you saw how we played with the same system but on many occasions having our center back Isinde getting caught out of position!".
The comments rubbed Micho the wrong way as he took to the same forum to hit back at Obua. The same Ugandan fans were however neither impressed by Micho's rebuttal.
The Cranes got off to a shaky start against the Black Stars before finally settling in the last 45 minutes.
Obua was until the start of the 31st Nations Cup in Gabon one of Uganda's most successful players. He played for South Africa's Kaizer Chiefs and Scotland's Heart of Midlothian.
Several of his efforts to make it to the Nations Cup, where his father Denis Obua featured consistently, were futile.