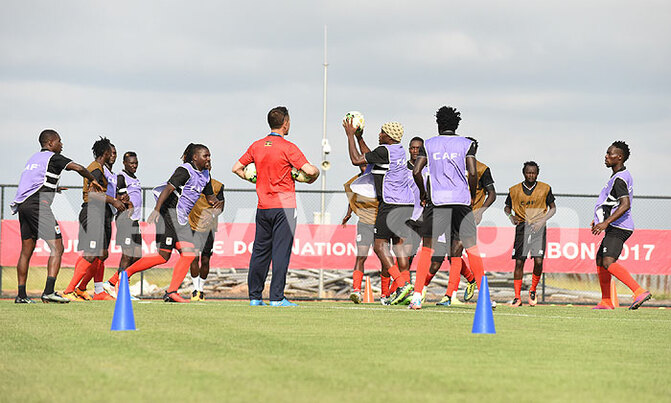 For starters, Uganda's Serb tactician Micho must decide on the defensive shape of his team.
PIC: Micho takes The Cranes through a training session. (Credit: Mpalanyi Ssentongo)

TOTAL AFRICA NATIONS CUP

On Saturday

Live on SS4/SS6

Egypt v Uganda (10pm)

Ghana v Mali (7pm)

Minutes before Cranes training session Thursday, Micho Sredojevic watched his players stretching from a distance.

The Cranes tactician looked on for approximately five minutes as his charges juggled balls and shared some jokes.

From a distance, the Serbian was able to reflect over a crisis he would rather have than not.

Micho knows his first team. Bar any injuries, he also understands so well, who would come off the bench if any substitutions have to be made against the Pharaohs.

But Cranes second half performance against the Black Stars on Tuesday presented a tactical dilemma he needs to deal with before Saturday's make-or-break Total Africa Cup of Nations fixture against Egypt.

For starters, the Serb must decide on the defensive shape of his team.

"We paid for one mistake which is hard to explain. This competition does not permit silly mistakes," Micho told the media after the game.

With Murushid Juuko returning from suspension, Micho will have to choose whether to revert to the back-four that served him so well during the Nations Cup qualifiers and that means keeping faith with Isaac Isinde, whose misjudgment cost Cranes against the Black Stars, or drop him and start Juuko alongside Hassan Wasswa.

After a shaky start against Ghana, Wasswa settled in well and took charge of proceedings at the back especially after Isinde had been withdrawn in the second.

But dropping Isinde could emotionally break him. Isinde can't be a bad player overnight and sticking with him might do wonders to his confidence.

Then, there is that dilemma at right-back, a position that Denis Iguma had assumed full control, before Nicholas Wadada stepped forward in recent games.

Although Iguma offers solidity, there is an aura of invincibility that comes with Wadada.
On Saturday, The Cranes will play a make-or-break game against The Pharaohs, seen here training in Port-Gentil on Wednesday

Under Micho's system, where fullbacks often look more like wingers, Wadada might just as well provide Cranes with an extra cutting edge against Egypt.

Wadada has pace and dribbling ability of an elite right back. The runs he makes out wide are often key to opening-up opposing defenses.

He throws himself into tackles and runs up and down the sideline with such intensity; that could have stretched Ghana.

Wadada's decision-making on when to cross, and when to pull the ball back out, is quite pleasing.

But then again, that final decision will depend on Micho, just as the decision on who will give way for Khalid Aucho.

Aucho returns from suspension would be a direct replacement for Mike Azira, who struggled to find his feet against the Black Stars.

But in the event that Micho choses to start two defensive-minded midfielders, how then would he accommodate Geoffrey Kizito, whose elegant display against Ghana, was only second to goalkeeper Denis Onyango.
FUFA boss Eng. Moses Magogo (yeellow shirt) and co watched The Cranes train. (Credit: Mpalanyi Ssentongo)

Aucho and Tony Mawejje have developed an understanding over the years but there is something different that Kizito offered against Ghana that makes the entire situation complex for Micho.

Kizito was comfortable playing in-front of the defence, could alternate between defensive, offensive, and playmaking roles. His vision and work-rate in cleaning up his teammates errors was exceptional and could be the ideal candidate to track Arsenal star midfielder Elneny.

One of Egypt's most fundamental aspects of play is their calm, methodical approach to build-up play. They move the ball around the pitch, change angles of attack before working the ball into the space just outside the 18-yard box. Gaps then develop as impetuous defenders attempt to close down their two strikers Mohammed Salah and Marwan Mohsen.

Their holding midfielder Elneny, centre-backs Ahmed Hegazy and Mohamed Shafy can dribble out of tights spots, enabling the team to stick to their possession game.

Egyptian teams also rely on nimble short-passing combinations to suffocate the opposition through midfield -and that will not be different tomorrow with El Said Hamed and Stoke City star Ramadan Sobhi running the show.

The positive for Cranes is that Egypt struggled to find their rhythm against Mali on the pitch in Port-Gentil.

The pitch has bobbles and does not suit the Pharaohs' passing game.

"Against Ghana, the players were affected by stage fright. But we will give 200% and try to get good results against Egypt and Mali," Cranes coach Micho Sredojevic stated.

Egypt are already sweating over an goalkeeping crisis. Essam El Hadary is their only fit goalkeeper following injuries to Ahmed El Shenawy and Sherif Ekramy.

The Egyptian Football Association will not seek to call up another goalkeeper to the squad because it is not permitted under the Confederation of African Football's tournament regulations.