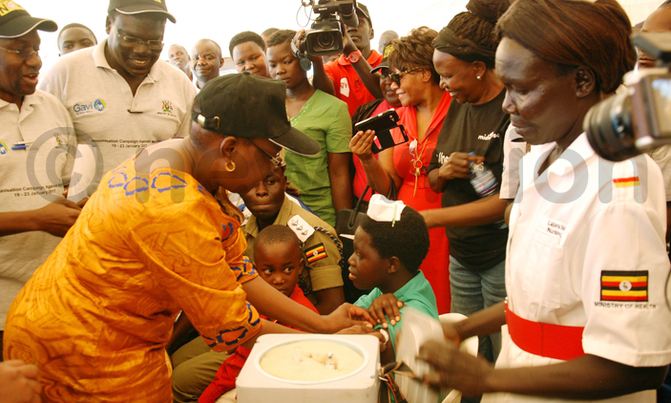 Vaccination will commence on Thursday to Monday for all people in the age bracket of 1-29 years
Government has secured a loan of over sh450b from World Bank through Global Financing Facility to support the Every Woman Every Child program to help end maternal and child mortality.
The programme which begins in the next five years is designed to provide transport for women in distant places to deliver from health centres and also motivate the health workers.
Dr. Ruth Aceng the Minister of Health said the benefiting health centres will receive the funds basing on results of the deliveries conducted and children treated safely.
Aceng added that the money will not be for personal issues but to improve on the equipment, and the infrastructure of the health centres.
"The other aspect is to support districts that have health facilities that are poorly performing and the infrastructure is bad. This is given to them to so that they can build themselves to a level where they are able to handle results based financing" the minister added.
The minister made the remarks during the national launch of meningitis vaccination for the 39 districts from in the African meningitis belt that covers greater north. The event was held at Lalogi sub county headquarters in Omoro district on Tuesday.
Vaccination will commence on Thursday to Monday for all people in the age bracket of 1-29 years.
She conceded that the ministry has failed to lower maternal mortality because of high teenage pregnancy with northern and eastern Uganda leading in the country.
According to the recent demographic health survey, death during delivery in Uganda stands at 438 per 100,000 live births with the biggest contribution from teenage pregnancy.
"Some girls of eight years are getting pregnant. In olden days this was an abomination, which is no longer the case. Men are now taking it normal," she added.
Aceng noted if girls with immature bodies are subjected to motherhood, they become a liability to the government because they don't have the potential to be economically productive in the society.
The deputy speaker of Parliament Jacob Oulanyah asked parents to teach their children well as was the case in the past.
Oulanyah who is also the area Member of Parliament said men producing with young girls also feel embarrassed to escort their "partners" for antenatal care.
"District councils must come out with bylaws. This is a problem of seeing little children carrying babys of mature men," he said.
"Respect children, girls please keep safe. This tendency of moving up and down looking for what you don't know should stop," he added.
Dr. Tarande Manzila Constant the World Health Organisation representative at the function said of the global cases caused by meningitis type A, 90% of them occur in African continent.
He added that even when there's vaccination and care, at least 10% of the affected people die of the epidemic while 20% of the survivors develop serious prominent health problems.