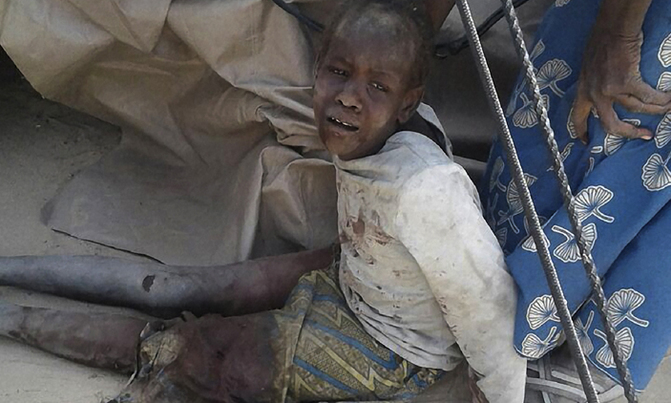 Reports indicate that some casualty departments are overwhelmed as injured people arrive by helicopter
Scores of injured people were on Wednesday airlifted to hospital for treatment after a botched air strike on Boko Haram Islamists in Nigeria killed at least 52 civilians and aid workers.
Nigeria called Tuesday's incident at a camp for displaced people a mistake and blamed the "fog of war" but aid groups working in the crisis-hit north issued strong condemnation.
Medical charity Doctors Without Borders (MSF) said more than 120 people were wounded in the bombing in Rann, in the far north of Borno state, the epicentre of the jihadists' insurgency.
Six Nigerian Red Cross workers were among the dead, while 11 others were injured, according to the International Committee of the Red Cross (ICRC).
The Borno governor Kashim Shettima has ordered public hospitals and doctors in the state capital, Maiduguri, to be on standby to receive casualties.
But there were already reports that some casualty departments were overwhelmed as injured people arrived by helicopter.
'Redress for victims'
With fears the death toll could rise, there was condemnation from aid agencies assisting the hundreds of thousands of people in the region in dire need of food, shelter, clean water and healthcare.
"Displacement camps are supposed to be safe havens for people fleeing war and conflict," said the secretary-general of the Norwegian Refugee Council, Jan Egeland.
"It cannot become the new normal that 'accidental' attacks on camps sheltering the innocent are allowed to happen again and again in conflict zones," he added in a statement.
Human Rights Watch's senior Nigeria researcher Mausi Segun said the government in Abuja should provide "prompt, adequate and effective compensation" to victims and their families.
"Even if there is no evidence of a wilful attack on the camp, which would be a war crime, the camp was bombed indiscriminately, violating international humanitarian law," she added.
"Victims should not be denied redress merely because the government decided the bombing was accidental."
Accidental bombings have occurred before in the conflict and senior military commanders called the latest "a mistake" yet maintained humanitarian workers were not targeted directly.
Major General Lucky Irabor, who heads the counter-insurgency operation, said the air force jet had been told to target insurgents in the flashpoint Kala-Balge area but hit Rann instead.
He blamed the error on "the fog of war".
The aid workers were distributing food at the military-run camp housing tens of thousands of people.
'Shocking and unacceptable'
Jean-Clement Cabrol, the director of operations for MSF, called the attack "shocking and unacceptable".
"The safety of civilians must be respected," he said.
Toby Lanzer, the UN humanitarian coordinator for the Sahel region, told AFP: "Never in my 20 years of work in crisis setting have I seen such an incident."
Local and international aid agencies have until recently been unable to get to Rann because of bad roads and insecurity in the remote region around Lake Chad.
The military announced last month it has ousted Boko Haram from its camps in Sambisa Forest, in southern Borno, sending fighters north.
Nigeria's military has announced an investigation into what happened. The Daily Trust newspaper reported that clearly marked ICRC tents were bombed, without quoting sources.
MSF said none of its staff was injured or killed but disclosed that three employees of a Cameroonian firm it hired to provide water and sanitation services lost their lives.
One aid worker told AFP colleagues were "stunned" at what happened and suggested civilians were likely to have been caught up in previous bombing raids in the remote region.
"I'm sure it (the bombing in Rann) is an accident but why would they (the Nigerian military) bomb a place that they're guarding?" the aid worker said on condition of anonymity.
Ties have been strained between humanitarian agencies and the Nigerian authorities, who have accused some aid organisations of exaggerating the food crisis triggered by the insurgency.
In December, Save the Children said 4.7 million people in the northeast needed food assistance and some 400,000 children were at imminent risk of starvation.
The presidency called some of the claims "hyperbolic" while the Borno state governor recently accused some aid agencies of profiting from the crisis.