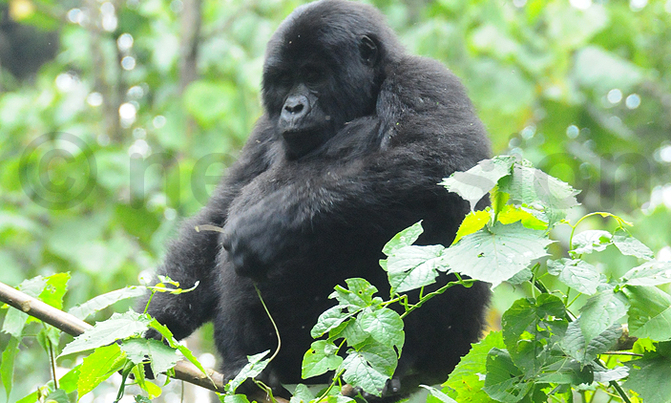 A naming ceremony were people bid to name the new-borns is being considered.
TOURISM

A beautiful mountain gorilla has been born in Bwindi Impenetrable National Park, causing excitement among Uganda Wildlife Authority (UWA) officials and conservationists.

According to UWA, the baby gorilla has been added to the Oruzogo family and giving it a name will depend on how it behaves. The mother is Nyakina the youngest female in the group.

Speaking of the newest birth with excitement, Uganda Wildlife Authority (UWA) executive director Andrew Sseguya revealed that the baby gorilla adds value to the gorilla population in the area.

"We are very happy about the news; the new born is going to increase the mountain gorilla population in the park. This means that gorillas are healthy and the environment is good for them for reproduction," said Sseguya.

Sseguya also noted that with time they will consider a naming ceremony were people bid to name the new-borns. The baby and mother are in good condition.

Speaking to New Vision, Pontius Enzuma, the Bwindi manager said that this is the 13th baby from the Oruzogo family from last year.

"The mother gave birth at 11:30pm, this particular gorilla loves climbing trees but the last three days, it had stopped so trackers got curious and started monitoring and thank God, it gave birth when trackers and tourists were around," said Enzuma.

Enzuma said that they have not found out the sex of the baby because it is usually hard to find out when they are still babies and he also noted that right now the group leader is very protective of the mother because it has a baby.

"Our population is growing. We are going to do census this year but what you should know, this particular gorilla will give birth again after five years," noted Enzuma.

Over the last 10 years, Uganda has been leading in conservation of the mountain gorilla. The pristine and safe habitat is the crucial link in the survival of the gorillas as well as their health and wellbeing.

Bwindi Impenetrable National Park is found in the southern western part of Uganda and is a world heritage site.

And with the increasing number of births here, it is rightly so.