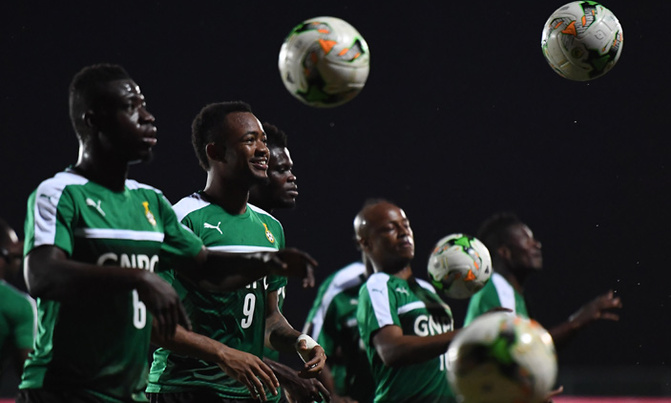 Ghana's forward Jordan Ayew (2nd L) takes part in a training session in Port-Gentil. AFP PHOTO
Total Africa Cup
Today, 7pm
Uganda v Ghana

When Cranes confront Ghana in today's must-win Total Nations Cup opening fixture, there will be a number of mouthwatering head-to-head match-ups on display at the Port-Gentil.

Below is a guide on how the two sides will measure up in front of what should be a sell-out crowd.

Goalkeepers

Denis Onyango (Uganda) v Razak Braimah (Ghana)
Onyango is Africa Player of the Year based in Africa. He is also a CAF Champions League winner. He is a top quality goalkeeper with vast experience. He has few downsides but often positions himself well. He was integral to Cranes journey to the finals.
But so is Razak, who was part of a solid Ghanaian back-four.
He is steady and a good shot stopper.
Advantage: Uganda

Right-backs

Nicholas Wadada (Uganda) v Harrison Afful (Ghana)
Afful is a forceful and good tackler with great drive. He is also offensively good.
But Wadada is equally a determined dribbler from deep. He will offer Cranes' front runners support from the defensive third when possession is gained.

Advantage: Uganda

Left-backs

Joseph Ochaya (Uganda) v Baba Rahman (Ghana)
Ochaya will force Ghana's attacking wingers back by running forward with the ball. He is also strong with a brilliant left foot.
On the other side, Rahman is a swift full-back that uses his left foot well. He will try to cover Ghana's left side effectively.

Advantage: Uganda

Central defenders

Isaac Isinde (Uganda) v Jonathan Mensah (Ghana)
Mensah is a strong defender with pace and great timing in the tackle. He has created a solid partnership with Daniel Armatey which the Cranes will find hard to crack.

But so had Isaac Isinde alongside the suspended Murushid Juuko.

But his replacement Wasswa could do a good job too. He leads like a lion. Isinde passes the ball well under pressure and tackles intelligently. He will do the same today.

Advantage: Ghana

Central defenders (Man markers)
Hassan Wasswa (Uganda) v Daniel Armatey (Ghana)
Armatey is tall and fantastic. He is a fantastic link between the Black Stars back-four and attacking midfielders. Wasswa is as solid as a rock. He only needs to read the game better and avoid unnecessary fouls.
Advantage: Ghana

Holding midfielders

Mike Azira (Uganda) v Mubarak Wakaso (Ghana)
Azira is a grafter that has tidy control and makes enthusiastic surges. He tucks in well when the ball is lost and gives good width when it is regained.
Uganda's starting eleven .AFP PHOTO
On the other side, Wakaso has presence. His tackling and clever positioning often allows Christian Atsu the opportunity to conduct proceedings.

Advantage: Uganda

Right attackers

Luwagga Kizito (Uganda) v Emmanuel Badu (Ghana)
Kizito has good fitness levels. He gets forward in build-ups with sharp pace over 20-30 yards and combines brilliantly with Miya.
On the other side, Badu bounces around well on the right side of Ghana's midfield, prods and probes the opposition throughout games.
Advantage: Ghana

Attacking midfielders

Tony Mawejje (Uganda) v Thomas Partey (Ghana)
Mawejje has a great vision. He also passes the ball well out to the wide areas.

He will however confront Partey, a player, whose ball protection is second to none. Partey is elegant and comfortable when moving in possession. He is at times used as a support striker.

Advantage: Uganda

Lead strikers
Geoffrey Massa (Uganda) and Asamoah Gyan (Ghana)
He is a veteran but one that can decide this game if allowed acres of space.
While Asamoah is efficient, Massa has been the opposite. He had suffered a deep in form but this could be his moment to step forward. He will trouble the Black Stars defence.

Advantage: Uganda

Support strikers

Farouk Miya (Uganda) v Andrew Ayew (Ghana)
Miya is Cranes' potential match-winner. He drops off Massa well to link up with the team's three-man midfield and the results have been priceless.

On the other side, Ayew works hard and will be one of the Black Stars most dangerous players.
Advantage: Uganda

Left attackers

Moses Oloya (Uganda) v Jordan Ayew (Ghana)
Jordan often looks to hit the space behind teams that play the high-line. He will certainly trouble Wadada.
Oloya on the other hand, thrives on intelligent movement and keeps full-backs occupied with industry. He also has plenty of pace to burn.

Advantage: Ghana