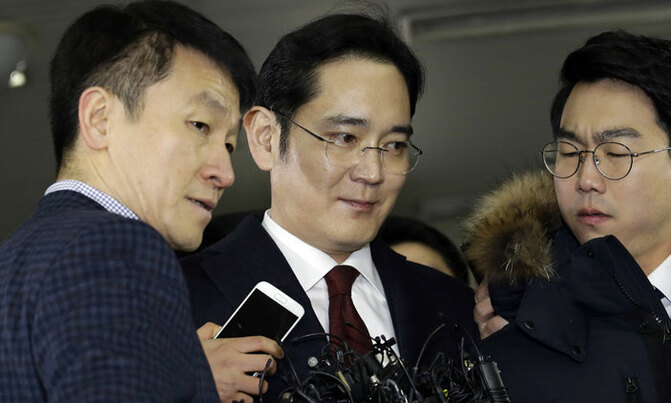 Lee, vice chairman of Samsung Electronics and the son of Samsung Group chairman Lee Kun-Hee, was quizzed for 22 hours over allegations of bribery.
Lee Jae-yong (C) vice chairman of Samsung Electronics, arrives to be questioned as a suspect in a corruption scandal that led to the impeachment of President Park Geun-Hye, at the office of the independent counsel in Seoul on January 12, 2017. AFP Photo / Pool / AHN Young-Joon

Samsung heir Lee Jae-Yong returned home Friday after marathon questioning by South Korean prosecutors as a suspect in a massive corruption scandal involving impeached President Park Geun-Hye.

Lee, vice chairman of Samsung Electronics and the son of Samsung Group chairman Lee Kun-Hee, was quizzed for 22 hours over allegations of bribery.

Looking exhausted, he did not respond to questions from journalists waiting outside the special prosecutor's office before he rode off.

Lee was named a criminal suspect Wednesday in a widening probe into an influence-peddling and power abuse scandal engulfing Park and her close friend Choi Soon-Sil.

During the long questioning session, Lee took some rest and had a lunch box for lunch and Chinese noodles for dinner, a prosecutor texted journalists.

In South Korea it is not unusual for suspects and witnesses to agree to a lengthy questioning session in order to avoid being repeatedly summoned by investigators.

Many suspects and witnesses in the scandal have been subjected to similar marathon questioning sessions.

They included a former culture minister arrested for blacklisting anti-Park artists and many executives from business groups such as Hyundai, SK, LG and Lotte being investigated for their alleged involvement in the scandal.

Choi is accused of using her ties to the president to coerce top firms into "donating" tens of millions of dollars to two non-profit foundations which Choi then used as her personal ATMs.

Samsung was the biggest contributor to the foundations.

It is also accused of separately giving millions of euros to Choi to bankroll training South Korean equestrian athletes in Germany, including Choi's daughter.

Prosecutors have for months questioned Lee and other senior Samsung officials to determine whether Samsung bribed Park and Choi in order to win state approval for a controversial merger which it sought in 2015.

The merger of two Samsung group units -- Cheil Industries and Samsung C&T -- was seen as a crucial step towards ensuring a smooth third-generation power transfer to Lee Jae-Yong.

It was criticised by many, who said it wilfully undervalued Samsung C&T's stocks. But the National Pension Service (NPS) -- a major Samsung shareholder -- voted in favour of the deal and it eventually went through.

A former welfare minister was arrested last month for allegedly pressuring NPS officials to vote in favour of the Samsung deal.

Samsung denied allegations that it was seeking to win government favours.

Lee's father -- Sasmsung patriarch Lee Kun-Hee -- has been bedridden since suffering a heart attack in 2014.