UNICEF says children with disabilities constitute the largest minority group that fail to complete primary school.
INCLUSIVE EDUCATION SERIES: PART I

Resentful attitudes, lack of essential scholastic materials, inadequate curriculum and absence of trained teachers have all conspired to frustrate access to education for children with disabilities.

Since the introduction of Universal Primary Education (UPE) in 1997,eight million children have been able to access Primary education. Out of all these, however, a little over 200,000 are children with disabilities. In a system that preaches education for all by 2015, there has been little focus on children with disabilities. In the first of our four-part series, Stephen Ssenkaaba investigates the factors that are hindering access to education for children with disabilities and the implications this has for Uganda's attainment of universal primary education as stipulated by Millennium Development Goal 2.

First, I notice her beautiful almond shaped eyes. Then her frantic classroom antics. Beauty (for that is her real name) Kiwuule has something about her that keeps me glued. One moment she looks up at Samuel Katooke, the teacher standing right in front of the class, delivering a science lesson. Next, she has her attention fixed on Lydia Namakiika, the interpreter.

When Katooke asks: "Why do farmers keep cattle?" Kiwuule looks at Kiwuule looks at Namakiika,waiting for an interpretation. When it is done, she raises her hand and, twists her fingers and taps each of her shoulders with her hands. Katooke looks puzzled until Namakiika speaks up to explain what the little girl has just said.

Kiwuule is one of eight pupils with hearing impairment in the P6 class of 43 children at Buckley High Primary Schoolin Iganga district. Together with her seven colleagues, she is trying to fit into an inclusive education environment.

According to a report of the State of the World's Children 2013: Children with Disabilities report, inclusive education entails providing meaningful learning opportunities to all students within the regular school system. "Ideally, it allows children with and without disabilities to attend the same age-appropriate classes at the local school, with additional, individually tailored support as needed."

Dr. Stackus Okwaput, the acting head of the community and disability studies department at Kyambogo University,says effective inclusion revolves around "access, participation and achievement of pupils in the school environment."

Since the adoption of Universal Primary Education, the Government has encouraged inclusive education in primary schools. Today, eight million children are in school as a result of the inclusive education campaign, but children with disabilities are yet to fully benefit from the campaign.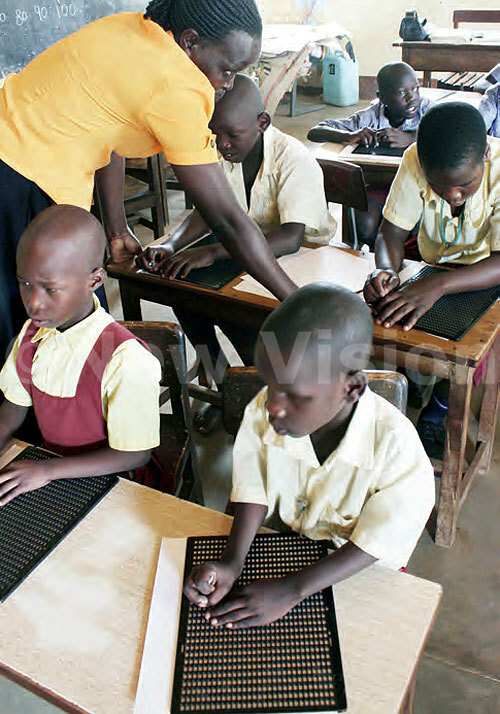 At St. Francis School for the Blind Madera in Soroti district,
they have secured cheaper slates and stylus pens for pupils to use in place of Perkins Braillers. (Credit: Godfrey Ojore)

WORRYING TRENDS

According to the United Nations Educational, Scientific and Cultural Organisation (UNESCO), 98% of children living with disabilities in low and middle income countries are not enrolled in school. The Uganda Society for Disabled Children (USDC) estimates that one third of all children out of school in Uganda are children with disabilities. Despite the Government's emphasis on inclusion of all children, enrolment for children with disabilities in schools remains low.

The United Nations Children's Fund (UNICEF) estimates that on average, only 201,190 pupils with disabilities were in primary school during 2009-2011.

UNICEF says children with disabilities constitute the largest minority group that fail to complete primary school "even though about 60% of all children with disabilities could attend school with no special adaptations and 85% could benefit from education with minor adaptations." This means that with the right systems in place, the majority of children with disabilities should be able to fit and study in ordinary schools.

A New Vision investigation into education for children with disabilities in primary schools reveals that schools are yet to adapt to the needs of children with disabilities. Resentful attitudes, lack of essential scholastic materials, inadequate curriculum and absence of trained teachers have all conspired to frustrate access to education for children with disabilities.

COPING IN A DEFICIENT SYSTEM

At Buckley High Primary School, Kiwuule and her seven colleagues struggle to fit into a learning environment that is too fast for them. During lessons, they occupy the last four hindmost desks on the immediate left row of the classroom.

Sometimes, the pupils go without an interpreter, especially when their interpreters are busy elsewhere. "This makes it hard for us to follow what is being taught," Kiwuule says.

"There are only six teachers at the school with sign language skills, hardly enough to support all pupils with hearing impairments," Grace Tibukuza, the head of special needs in the school, says.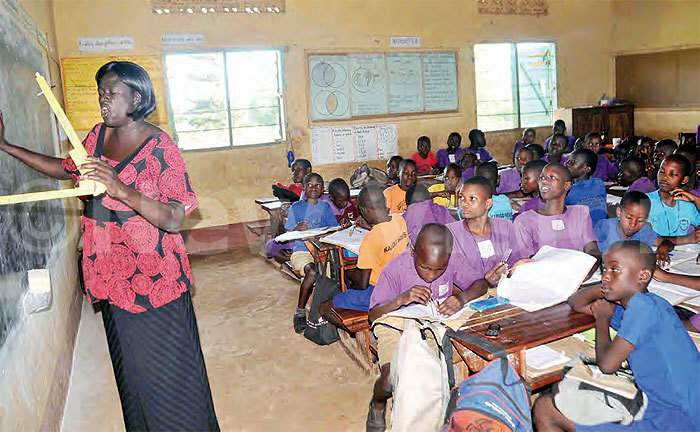 A Primary Six teacher at Bishop West Primary School in Mukono Municipality during a maths lesson. In this school, children with disabilities study with the rest, which poses serious challenges for both the teachers and pupils. (Credit: Henry Nsubuga)

Away from class, Kiwuule and her colleagues try to consult their hearing classmates, but they never achieve much because of what Vivian Namukose, Kiwuule's classmate, calls "communication problems".

"They don't understand what we say,we also don't understand their language,"Namukose says.

The school has got a special needs unit,which is supposed to provide hearing aids, charts, sign language manuals and other support aids. "But it does not have any of these materials," Tibukuza says.

With more than half of the teaching staff unable to read and interpret sign language; with many lacking the skills and the patience to handle slow learners and pupils with mental challenges, Tibukuza feels that the curriculum does not help pupils like Kiwuule and others with learning disabilities.

Teachers here wish the school had a vocational unit. Talented pupils like Kiwuule (she is a gifted dancer) would benefit more. "But we do not have the facilities to start a vocational unit,"Tibukuza explains.

At Bishop West Primary School in Mukono, teachers use modest means to integrate children with physical and learning disabilities in a mainstream environment.

According to Veronica Matinyi, the head of the special-needs department in the school, 73 of 650 pupils in this school have disabilities. Both teachers and pupils face serious challenges.

In Primary Two, nine-year-old Henry Nanjwenge experiences mood swings. He is autistic.

His teachers find him very destructive. "He keeps moving out of class, sulks a lot and keeps poking his classmates,"Vennie Nassolo, the P5 teacher, says.

I found Nanjwenge marooned in a corner all by himself, isolated from the rest of his classmates as the midday class progressed.

"We have decided to put him in that corner so that he does not disturb the rest," Nassolo explained.

Because of what Nassolo calls a "difficult" personality, Nanjwenge is unable to learn much. This has affected his performance. He is always in the last position," Matinyi said.

Like Nanjwenge, there are a number of pupils here who cannot cope with the environment. There is need for improved access to toilets and other buildings at the school. "But where do we get the money for that," Matinyi asks.

NEGLECTED BY PARENTS

Some parents neglect their children with disabilities, transferring the responsibility of caring for them to schools.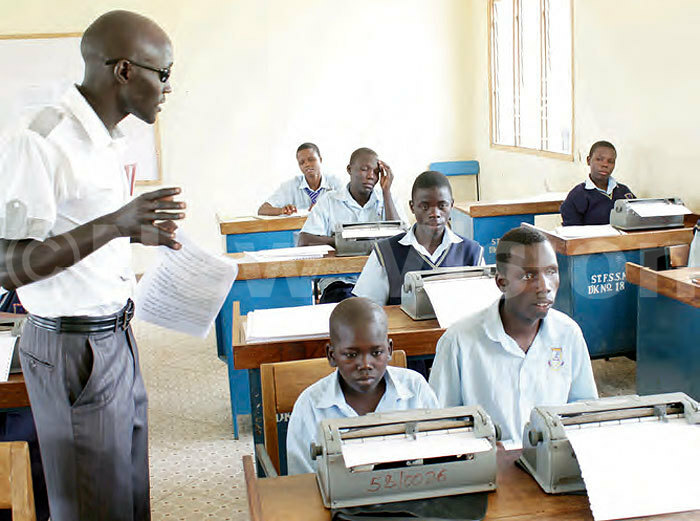 Blind students using Perkins Braillers to study. However, this technology is quite expensive and most schools cannot afford it. (Credit: Godfrey Ojore)

Esther Nandase, the headteacher of Buckley High Primary School, says: "Some parents 'dump' their children at school and forget them there, never to visit. Most do not pay school fees for them. A few pay only half of the fees and never complete the balance. Some even forget to collect them from school when the term ends."

This has placed a huge financial burden on schools. The already cash strapped schools sometimes divert funds from some programmes to cater for the needs of children with disabilities, while a few lucky ones are helped to get sponsors through non-government organizations. Parental neglect also traumatizes children with disabilities and affects their esteem and academic performance.

THE COST OF A SPECIAL-NEEDS UNIT

Schools are finding it hard to support pupils with disabilities because of the high costs involved in hiring and maintaining specialist teachers and setting up physical structures.

According to Nayinda Ssentumbwe, a supplier of disability scholastic materials, it costs about sh50m to establish and run a fairly well-equipped special-needs unit in a school.

One Perkins Brailler (the essentialwriting tool for the blind) costs sh2.5m; a single carton of braille paper (lasts only a few weeks)goes for sh200,000, while a standard local sign language dictionary costs sh80,000.

"Trained teachers are equally expensive to hire and maintain," he says.

Schools with special-needs units,receive a subvention of only sh3m a term. This covers light meals,first aid and scholastic materials for children with disabilities and other special needs. This, according to many headteachers, is insufficient.

At Nakatunya Primary School in Soroti district, where 45 of the 1,020 total pupils have disabilities, the special needs unit was closed. "There was nothing in that room," John Okello, the teacher in charge of special needs, says.

The room has since turned into a teachers' house.

Due to what Okello calls "administrative challenges", the school no longer receives a special-needs subvention from the Government. This has affected services for learners with disabilities and special needs.

The school also lacks specialized toilets and sufficient number of rumps to ease access to different areas of the school compound.

SPECIAL SCHOOL STRUGGLES

At the government-owned Salaama School for the Blind in Wakiso district, pupils struggle to access basic facilities. There are 80 pupils in the school and only 15 Perkins Braillers. Out of these, only seven are functional, according to Francis Kinubi, the headteacher.

The school requires sh200m to purchase enough machines to serve the pupils. They also require braille textbooks and paper to use on a daily basis, which, going by the sh50,000 unit cost per ream of paper, requires over sh10m every term.

To make up for the shortfall, the school has secured cheaper slates and stylus pens for pupils to use instead of the Perkins Braillers. But these, as 12-year-old Sandra Kisembo in P6 says, "slow us down." Lessons that should last 40 minutes here go on for more than an hour as pupils struggle with improvised materials. "In the end, we cannot finish the syllabus in time," says Kinubi.

In place of braille paper, the school now buys manila paper from Nasser Road. " However, the notes written here fade fast and cannot be read," says Kinubi. There are only two teachers with special needs training out of the eight teaching staff. The rest simply gamble their way around.

Kinubi says the school has not received any scholastic materials from the Government since 2010, apart from sh500,000 in UPE capitation grants and a sh3m special needs subvention. And yet, 25 out of its 80 pupils come from poor families and, therefore, depend on the school for fees and scholastic materials.

"We now depend largely on donations from Good Samaritans and on the school farm for feeding," Kinubi says.

CONSEQUENCES

All schools visited reported continued absenteeism, poor academic performance and growing dropout rates of children with disabilities.

At Bishop West Primary School, an average of six pupils with disabilities drop out every year. Madera School for the Blind, on average, loses three pupils every year.

Out of 45 pupils with disabilities in Nakatunya Primary School, five pupilshave left school this year alone. Once these children leave school, many are unable to return. According to UNICEF, out of about 201,190 children with disabilities enrolled in primary school between 2009-2011, only 11,829 went on to secondary school.

This points to the high dropout rates. As long as many of them keep leaving, universal primary education will remain a distant dream.

In Part 2: How the absence of special needs education teachers is affecting UPE

[These series have been done with support from the African
Centre for Media Excellence (ACME)]

(This article was first published on Tuesday, November 11, 2014)