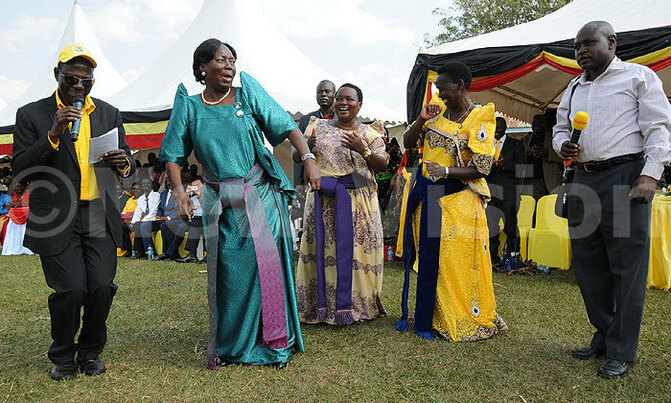 "We need to replace the trees being cut for charcoal and other purposes in our country for the good of our generation."
PIC: Speaker Kadaga is joined by finance minister Matia Kasaija and other MPs on the dance floor at Bukonda. (Credit: Ismael Kasooha)

KIBAALE - The Speaker of Parliament Rebecca Kadaga wants government to operationalize a Tree Fund so that more trees are planted to make up for the fast-disappearing trees as a result of widespread charcoal burning across the country.

"It's now 15 years after passing the law requiring government to establish a Tree Fund yet forests are disappearing because there is no capacity to promote tree planting in the country," she said.

Kadaga asked finance minister Matia Kasaija, with whom she was at a function in Kibaale district, to ensure that government establishes a Tree Fund.

It was a thanksgiving ceremony for the election victory of Kibaale Woman MP Noeline Kisembo Basemera held at Bukonda Primary School in Bwamiramira sub-county.

"We need to replace the trees being cut for charcoal and other purposes in our country for the good of our generation and those to come," said the speaker.

Section 40 (1-8) of the National Forestry and Tree Planting Act 2003 demands that government establishes and manages a Tree Fund.

Under that piece of legislation, the fund would be used to "promote tree planting and growing at national and local level".

Kadaga reasoned that with such a Fund in place, adverse climate conditions and other natural calamities Uganda is grappling with would be averted.

She advised Bunyoro residents and people of Kibaale in particular to engage in developmental projects in order to benefit from the roads under construction in the region.

She asked the public to embrace government programs such as Operation Wealth Creation, youth livelihood funds and wealth to improve their household income.

Kadaga said most government programs like road construction, creation of more health centers and hospitals in every district would be effected.
Kadaga raises the hand of MP Noeline Kisembo Basemera during a thanksgiving service for her in Kibaale. (Credit: Ismael Kasooha)

Government, she added, is working on systematic land demarcation and issuance of land tittles to ensure Bunyoro residents are no longer squatters on their own land.

She said issues of lack of ambulances at health centers and splitting of more sub-counties will be forwarded to relevant authorities for consideration.

At the same function, Minister Kasaija, who is also the area MP (Buyanja County), assured Kibaale residents that the Buhimba-Nalweyo-Kakumiro road would be worked on before 2020 to allow the crude oil pipeline works to start.

He also assured those affected by works on the Mubende-Kakumiro-Kibaale-Kagadi road that they will be compensated and appealed to them to allow works to continue.

"I'm in charge of finance and assure you that your money shall be paid fully," he said.

Kasaija also pledged to establish Karuguuza Development Radio to stir government programs and improvement on household income.

Meanwhile, Barnabas Tinkasimire, who is the Bunyoro parliamentary caucus chairperson as well as Buyaga West MP, asked Speaker Kadaga to help in tabling motions of increasing the Land Fund to compensate absentee landlords to allow people settle and concentrate on development.

On her part, MP Basemera, the host, said she will cooperate with other leaders to ensure service delivery improves in the area.

The function begun with a holy mass led by Rev. Fr. Agaptus Businge who expressed concern that in the past Uganda had thieves but now thieves have taken over Uganda, and appealed to politicians to fight corruption for better service delivery.

It was also attended by more than 15 MPs, including the UPDF MP Felix Kulaigye, other politicians, religious leaders, business community and locals.