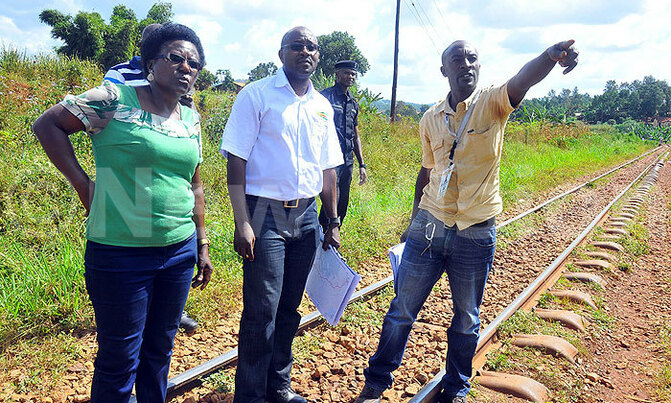 The SGR is envisioned to expedite economic growth in East Africa by reducing the cost of doing business.
PIC: Engineer Zandi Okwame is seen here showing works minister Esther Azuba Ntege and SGR project coordinator Kyamugambi Kasingye where the new railway line is going to pass in Buikwe district. (Credit: Wilfred Sanya)

Compensation of people affected by the construction of a $2.3b (sh8 trillion) Standard Gauge Railway (SGR) is scheduled to begin in this month in Buikwe, Wakiso and Kampala districts.

According to Kasingye Kyamugambi, the SGR coordinator, at least 60% of land acquisition has been completed and efforts are under way to cover the remaining areas by February.

The process is complete in Tororo, Namutumba, Butaleja and Luuka districts while in Mayuge and Iganga the process is almost complete, the SGR's senior public information officer, David Mugabe said on Tuesday.

"For the remaining districts, we submitted a preliminary report to the chief government valuer and upon approval, we will resume compensation for those affected," Mugabe said.

Works minister, Esther Azuba Ntege and the permanent secretary, Wasswa Bageya toured sections of the route from Buikwe to Kampala on Tuesday.
A view of Kireka hill where the new railway will pass in Kampala. (Credit: Wilfred Sanya)
Lida Packing Factory is one of the establishements to be demolished to pave way for the construction of the railway. (Credit: Wilfred Sanya)

The SGR is part of a major transport network linking East African cities and suburbs in Kenya, Uganda, South Sudan, Rwanda and the Democratic Republic of Congo (DRC).

Kenya, which has completed the first phase of the SGR project with a 427km line from Mombasa to Nairobi, is expected to extend the line to Malaba border with Uganda.

Uganda's section of the SGR will connect to the DR Congo through Kasese and Arua districts, to Rwanda through Mirama Hills in Ntungamo district and to South Sudan through Nimule in Amuru District.

The SGR is envisioned to expedite economic growth in East Africa by reducing the cost of doing business; increasing regional connectivity and enhancing regional integration.
Part of the land belonging to Abacus Pareteral Drugs Factory will be bought off by the SGR project . (Credit: Wilfred Sanya)
St. Philips Church in Buikwe will also be demolished to give way for the railway. (Credit: Wilfred Sanya)

Over 95% of all the freight movement in the region is by road, which is expensive, unsafe and unreliable. The 5% is through a dilapidated meter gauge railway system.

Unlike the old meter gauge that has been in existence in some parts of the country since the colonial times, the SGR will be an electric rail featuring a wider, more efficient width of 1.5 metres.

Land acquisition is one of the key requirements for financing, which will be by way of a loan from Exim Bank of China.

Negotiations with the Chinese government over the financing terms are underway.