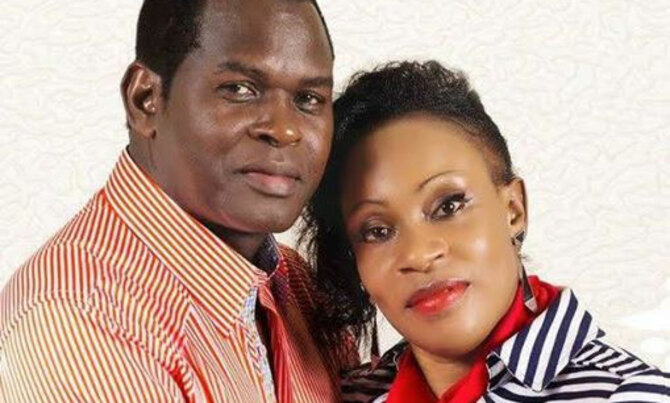 I wish my day was 48 hours. I am not tough. I am a jolly man but I hate liars.
Pastor Robert Kayanja and wife Jessica
Pastor how do you manage to stand for almost 8 hours every day?
It is the grace of God. I have never done this before. I have done conferences but I always do them in intervals. The people themselves have given me the energy. I have never seen what God is doing in people's lives like he is doing this time. You know it is God if a 3-year- old child spends the entire night up during an overnight.
What keeps you going?
What God is doing in people's lives keeps me going. Besides, I also want my country to be better so I keep on praying for it. I am tired of seeing smart children not finishing school because of fees; I want a better Uganda that is why I keep on praying.
What do you normally drink when you are preaching?
Water! I do not want to drink it from the bottle so I put it into a cup to keep the temperature. If it is not water, it is tea. I am not a coffee person.
Which food are you eating during these 77 days of Glory?
Katogo of matooke with peas is the best. I also eat gonja, it gives me energy and it has natural sugars. I recommend people to start eating roasted food. I also do fruits like mangoes, berries and jackfruit.
You are always smart, who designs you?
I have three people. But I am going to talk about only two. My wife and my daughter. I have a daughter who wants to be a fashion designer; she has an eye for fashion. But I also grew up as a reverend's son so we used to wash the choir's uniforms, decorate the church and that opened my ears to colour.
You look tough on TV, are you?
I am not tough. I am a jolly man but I hate liars. If I am trying to help you and you try to show me that you do not understand, I feel bad.
You are a father and husband, but you are always in church when do you get time for your family?
I balance my time, if you do not balance your time, areas which are precious to you will die. When I finish preaching at 3:00am, I go home. Ever since the conference started we have not gone out with my wife because we are both busy, but once in a while, she comes over and we have lunch together. If she is leaving the country, I escort her to the airport and we find our moments.
How is your day like?
My day is chaotic. I am a father, husband, managing director at channel 44, head of the 41 churches and those things do not stop because you are in 77 days. While you are concentrating on something, your child walks in. I wish my day was 48 hours. It is a Holy Ghost chaos.
Do you work out?
Once in a while, I play basketball. As a farmer, I walk a lot when I am at the farm. I love grazing.
Any message to parents?
It takes two to create a family, two heads are better than one. 2017 is a year of partnership. Let parents work together to raise their children even if they are separated.