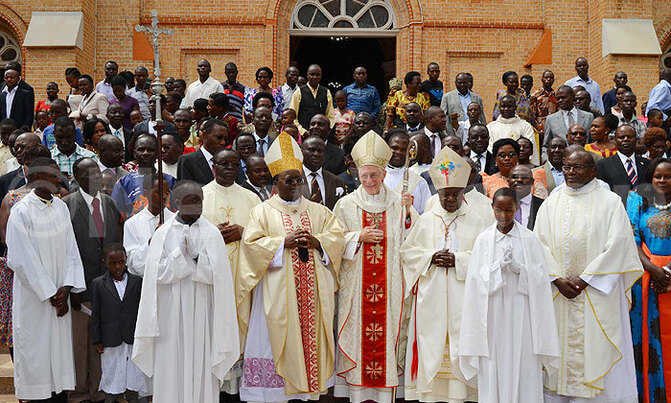 "The solution to injustice and violence is to give more love and charity," says the pontiff.
PIC: Archbishop Blume with Archbishop Lwanga and Cardinal Wamala poses for a group photo with Chrisitans after Mass. (Credit: Mathias Mazinga)

KAMPALA - Pope Francis has asked Catholics to embrace a new culture of non-violence in his New Year message.

He reasoned that violence is not an effective method of solving conflict, which is why it has to be substituted with dialogue.

The Pope's remarks were in his message for the World Day of Peace, which read by his ambassador to Uganda Archbishop Michael August Blume at Rubaga Cathedral on Sunday.

"Countering violence with violence results into more violence. The solution to injustice and violence is to give more love and charity," Blume quoted from the Pope's message.
The Pope also condemned abortion, referring to it as a "silent violence" against unborn babies.

He also lamented the deliberate perpetuation of violence through the mass media and asked parents to protect their children from harmful messages on social media.

"The family is an indispensable place for genuine love and concern for each other, where conflict and friction is solved. Peace has to begin in our families, from where it spills over into the world and society."

Archbishop Blume commended President Yoweri Museveni for declaring 2017 as the year of the family.

He later condemned domestic violence and the abuse of women and children.
From left, Cardinal Wamala, Archbishop Blume and Archbishiop Lwanga make a toast at the function in Kampala. (Credit: Mathias Mazinga)

The papal envoy further condemned rampant violence and mob-justice in the city and asked Ugandans to counter evil with tolerance, love and justice. Blume also asked Christians to reach out to disadvantaged people like the sick and prisoners.

Opening social media platform

Delivering his remarks during the same function, the Archbishop of Kampala, Dr. Cyprian Kizito Lwanga said that the archdiocese is planning to open up an official WhatsApp account, to be able to reach out to all its Christians.

Christians will be using the popular messaging app to get information about the teachings and activities of the Catholic Church.
Archbishop Lwanga chats with, from left, Dr Mulindwa and MPs Simeo Nsubuga and Robert Centenary. (Credit: Mathias Mazinga)

Lwanga argued that social media is a powerful medium of transmitting information, which was why the Church had resorted to it.

"Modern means of communication like the internet and phones are not evil. They just need to be evangelized. We shall thus use our WhatsApp platform to counter the evil messages. We shall post on it useful information about our Church and its activities," he said.

The function was also graced by Emmanuel Cardinal Wamala and the Vicar-General, Msgr. Charles Kasibante.

Dignitaries like the Deputy Governor of the Central Bank, Dr. Louis Kasekende and the former DP boss, Dr. Paul Ssemwogerere also attended the function.