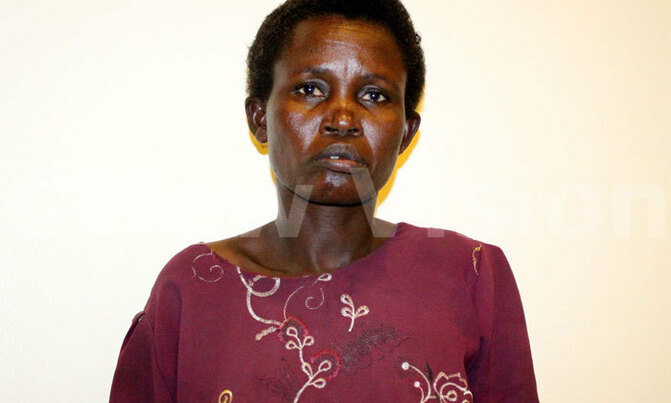 Barely 14 years old and still a virgin, Amullen was sold off in marriage, even before she had received her menstruation period.
Berna Amullen spoke, but not with words, just her eyes. They were empty eyes, staring into space, until slowly the pain unmasked. She still did not speak, not words at least. But she was loud, in her silence her pain glared, mistrust and utter disappointment displayed. These unspoken words turned her eyes misty. Not teary, misty! She dares not cry, not with tears at least, they are drained, she is drained.

Suddenly, in a faint voice, she manages words, touching words. "My husband does not love me anymore!" she starts in a low voice. Clutches onto her skirt, and keeps her eyes pinned on her feet, "They call me barren and hopeless!" she exclaims. Her mother in-law who has tried to love her has been silenced by her father in-law who argues that a childless woman is not developmental. Yes, Berna Amullen is childless!

Barely 14 years old and still a virgin, Amullen was sold off in marriage, even before she had received her menstruation period. "That was the time Teso suffered in the hands of the Karimojong rustlers and many fathers rather they gave the cattle away as dowry for their son's wives, lest the rustlers took it," Amullen, a resident of Aburi-buri village in Kumi district says.

Indeed, a deal was struck between her family and that of the man who would be her husband; just like that she was off to a child marriage. One day, she awoke to strange, whitish stains in her panty, it worried her. After several pleas to her husband, he finally allowed to take her to hospital, where it was suspected that she had syphilis.

"I did not know what it was, let alone understand it," she narrates. It must have been too late, because by the time they started her treatment, the doctors worried it was chronic. "But that was not my only problem, I had started having a terrible abdominal pain," Amullen, now in her 40s recalls.

As if that was not bad enough, her monthly periods had turned into bleed-outs, to the extent that blood would flow down her thighs to the legs like water. "I could not even afford cotton wool to pad myself," she narrates quite painfully.

But that is not the memory that burns on her brain the most; it is one where she had to stand in a bus with blood flowing down her legs for hours. "People, everyone, everything that moved could see that blood was flowing down my legs," Amullen's eyes get misty again.

It was a trip to Soroti regional referral hospital, where the Amullen, a petty trader, would later loose her uterus, and any hope of having a child with it. "Yes, my uterus was removed," she whispered with her looking way past the shaky door of her tiny path. "Why?" she manages after a long while. "Hadn't I been punished enough, I am known as the barren and hopeless one, at least with my uterus, there was hope for a child!"

See after months at the hospital, doctors found that there was no hope, and worried that her uterus, which had since developed a fibroid, amid scars from infections could turn cancerous. "I did not see my husband, not once coming to Soroti hospital to check on me for the months that I was admitted.

Upon her return, there was a clan meeting, her husband who now had married two new wives and boated of close to 10 children wanted her gone. "I have passed through so much pain that this whole village still wonders," Amullen painfully recollects.

He grabbed all the gardens that had been given to her by the elders, even one that she had painfully paid for with her measly savings. "I know he did love me anymore, but my gardens were my hope that maybe, I will also be buried on my land like a person," she says with a heavy heart.

Even worse, looking at women with whom she entered marriage with at the same time, enjoying their children was more depressing. "If I had also given birth, I would be well off; my children would also be like that, they would be in school," her voice again drops to a whisper as her eyes drift off in wishful thinking. "My child would also be helping me just like these other children are now helping their children."

Landless, un-appreciated, emotionally drained and rejected, Amullen started to get ideas of ending it all. "The day my husband told me that he did not love me, that it was over, I felt so much pain that day, and I decided, I would commit suicide!" she narrates painfully. She tried, luckily, someone saw her and bust open the door.

Miles away from her home in Kumi district, Amullen's story played for a roomful of evidently touched stakeholders at the Kampala Serena hotel. The event, dubbed; Merck more than a mother, organized by the health ministry and Merck, a pharmaceutical giant, and also expert in Fertility solutions sought to bring to light issues of fertility and protect women like Amullen.

It was there that Rasha Kelej, the Merck chief social officer, explained that beyond the pain of not having children is the agony of enduring stigma. "Women are more than mothers!" she exclaimed.

"They are productive members of the society; they are not just about child bearing."

Kelej was hopeful that this year-long campaign, would end stigma and also enlighten the community on issues of infertility, with emphasis on prevention. "Many times, infertility is caused by preventable and treatable infections and sexually transmitted infections," Kelej said. However, she wanted to make it clear that infertility both a male and female issue. "Well, did you know that every time a couple fails to have a baby, 50% of the time it is a man, and 50% of the time it is a woman!" she exclaimed.

When Sarah Opendi, the state minister for health, spoke in her capacity as the 'Merck more than a mother campaign' ambassador in Uganda, she voiced worry in the rise in infertility cases Uganda. "Today, over 5,000 people are living with the challenge of fertility because most of them do not want to discuss the issue openly," Opendi said. These numbers she said, could be even be more, as this were estimations by the health ministry.

"We believe that improving access to regulated and equitable fertility care is important but it is even more important to intervene in decreasing stigmatization and social suffering arising from this condition."

As a way forward, Kenyan law maker, Hon. Joyce Lay, also Ambassador of the campaign in Kenya, said; "In order to improve access to safe and effective fertility care, a discussion with the relevant authorities will be needed to discuss the strengthening of infertility services, education, auditing, regulation, community awareness and the need to integrate them in programs which already exist in the local health infrastructure," she said.