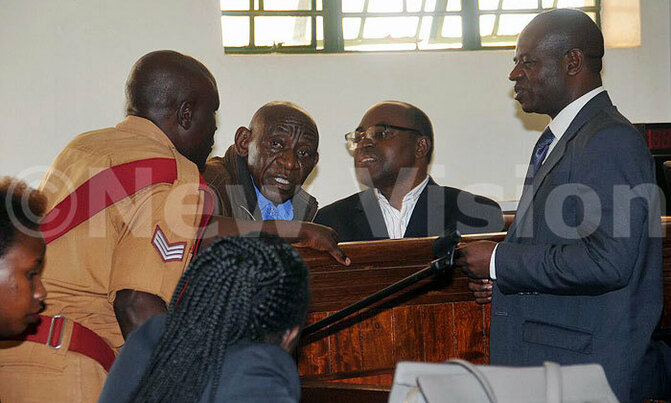 Omusinga Charles Wesley Mumbere and other Rwenzururu clashes suspects appear at Jinja High Court amid tight security.
LAST UPDATED ON 11.41AM

JINJA - Rwenzururu king Omusinga Charles Wesley Mumbere appeared at Jinja High Court amid tight security on Wednesday.

Several other Rwenzururu clashes suspects also appeared in court.

In the lead-up to Mumbere's appearance, security was ramped up and sections of the road leading to the court were blocked with barriers mounted by police.

There was a high security presence around the court, our reporter in Jinja Donald Kirya said.

Mumbere is facing murder charges. The charge sheet was ammended to include robbery, attempted murder and terrorism charges.

On Wednesday, wearing a dark suit, he was led into a fully-packed court by prison officers as he waved to his supporters. He later stood in the dock with Rwenzururu Prime Minister Johnson Thembo Kitsumbire.

The two were seen listening to their lawyers moments before the court session started.

Earlier this month, the Rwenzururu monarch appeared before Jinja Chief Magistrate, John Francis Kaggwa, before he was remanded further until today.
Other suspects in the clashes also appeared in court
Before the court session started, this suspect was pictured reading a magazine
Mumbere's wife was also at the court
Some of the Rwenzururu killings suspects are seen disembarking from a Prison's truck on Wednesday

Some 100 people, including 16 police officers, were killed in attacks in Kasese last month following fresh clashes between security forces and suspected Rwenzururu kingdom loyalists.

This was after a group of alleged royal guards of the Omusinga hurled an improvised grenade at Uganda People's Defense Forces (UPDF) and Police officers.

The UPDF and Police were patrolling Kasese town when the improvised grenade was reportedly thrown at them. The joint security forces responded with gunfire which sparked off retaliation attacks by suspected kingdom loyalists on Police Posts across the district.

Fleeing from gunfire, some of the suspected loyalists sought refuge in Mumbere's palace.

The UPDF ordered Mumbere to direct the kingdom loyalists to get out of the palace or let the government forces in, but the orders were reportedly ignored.

The joint forces forcefully gained entry into the palace, opening fire on the suspected loyalists inside the facility.

Mumbere was later arrested and flown to Kampala.
One of the suspects consulting the lawyers
Mumbere was brought to court in a prison's van led by a police patrol vehicle
EARLIER, SECURITY RAMPED UP . . .