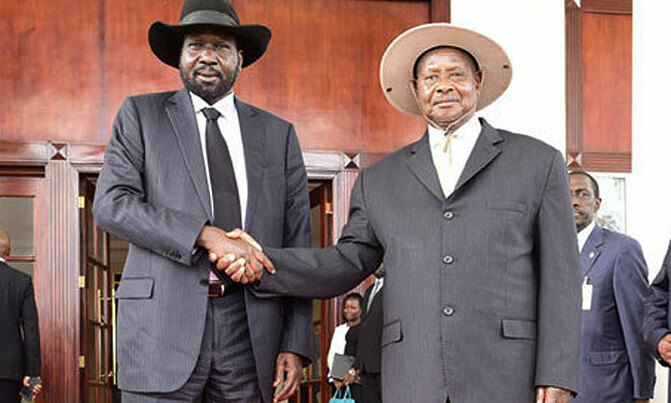 "My prayer is for the people of South Sudan to regain sovereignty through the vote."
PIC: Presidents Museveni and Kiir have met a number of times previously. (File photo)

Warring parties in South Sudan should stop and give peace and democracy a chance, President Yoweri Museveni has said.

The President's remarks were made in a brief address to the press Thursday afternoon following a private meeting with his South Sudan counterpart, President Salva Kiir, at Juba State House.

Museveni, who was in South Sudan for a one-day official visit on invitation by Kiir, said the people had fought for self-determination and they should be given chance to exercise it democratically.

"I appeal to the transitional government headed by His Excellency Kiir and the other stakeholders to stop all actions involving insecurity so that people focus on elections as soon as possible," he told reporters.

"It's what people of South Sudan fought for.

"My prayer is for the people of South Sudan to regain sovereignty through the vote. The fighting should stop and allow the people to regain their power which currently is with those with guns," said the Ugandan leader.

On his part, President Kiir thanked Museveni for honouring his invitation.

"I appreciate his advice. President Museveni has rich experience and we can gain from him. We have covered several issues on our bilateral relations and I will take all advice he's given to me."

Earlier on arrival at Juba International Airport, President Museveni was received by South Sudan Vice President, James Wani Igga before inspecting a guard of honour.

Uganda traders payment

Meanwhile, the governments of the two countries have agreed on a mode of payment for Ugandan traders who supplied South Sudan with food items between 2008 and 2010.

David Bahati, Uganda's state minister for finance in charge of planning, who accompanied President Museveni to Juba, said the agreement was struck after a sideline meeting with the South Sudan Finance Minister Stephen Dhieu Dau.

The details, Bahati said, would be communicated to the responsible parties.

He was joined in the discussion by Anite Among, the Bukedea Woman MP, who also sits on the Finance Committee of Parliament and Apollo Nyegamehe, a member of the Uganda Grain Council, representing traders.