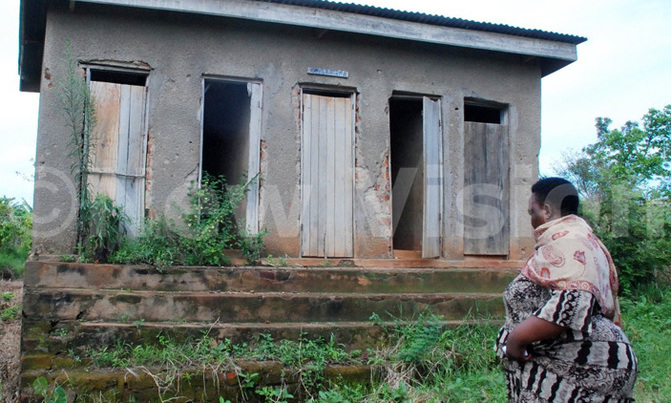 "My female clients in the community say they sometimes catch infections when they use the latrine. Some have told me they get itchy, sored and get unpleasant discharges on some occasions after using the latrine..."
55 year old Hajjat Halima Nabukalu has lived in Kalimali zone, Bwaise III, Kawempe Division, Kampala district for close to four decades. She says that having proper latrine facilities in the flood-prone city suburb has been an elusive dream for all the years she has lived there.

But around the late 1990's, she says that Plan International - Uganda offered to construct a three stance public latrine for the community. This came as a huge relief. "When they approached us with the idea, I gave up that part of my land so they could construct it there," the calm-faced Nabukalu who lives with six of her grandchildren says as she point to the direction where the latrine sits.

It is from this latrine facility that she earns part of her living as the caretaker. "I use one of the stances with my grandchildren and the other two are public. I charge sh200 per user and it is from this money that I hire a cleaner and pay for the emptying whenever it fills up. The little balance that remains is what I use to buy some groceries at home," she explains.

However, Nabukalu decries the irresponsibility of some of the people that use the facility. "Most people do not know how to use the latrine. They defecate on the sides, making it a nightmare cleaning it up," she painfully explains.

"My female clients in the community say they sometimes catch infections when they use the latrine. Some have told me they get itchy, sored and get unpleasant discharges on some occasions after using the latrine. It is something that has persisted even when I try so hard to keep the facility super clean. Someone will always use it irresponsibly," she adds.

Joyce Namiiro, one of the ladies working in the neighbourhood that has used the facility before says that she once caught candida and has since vowed not to use public toilets. "I now have to wait till I go back home in the evening to ease myself," she mentions.

Away from the infections, this slummy suburb faces a bigger nightmare during the rainy seasons considering the fact that most of it was once a wetland.

Annette Balyana, another resident of the area says that whenever it rains, many of the toilets fill up with water; forcing the faecal matter to rise to the surface.

"You find it flowing in the tranches; making the entire environment smelly. As a result of this, our children catch diseases like diarrhoea and typhoid. During those days, we find it hard to eat fruits since one can't be sure whether they are safe from contamination since they aren't cooked," she explains.

Dr. Christine Lubega of Dr. Lubega's Clinic in Bwaise confirms that hygiene related diseases affect most of the people in this area. "These people come here regularly with many hygiene-related sicknesses. However, we tell them that these infections are not necessarily caused by the toilets alone but also bathrooms and/or their partners," she explains.

"When they come for treatment, we try to do holistic treatment where we treat the patient and also educate them so they can know what the cause of their sickness is and how they can guard against it and also protect other people. For the Urinary Tract Infections (UTIs), we encourage the women to also bring along their husbands so we can be able to treat the whole family. In some cases, the women are scared to open up to their husbands about the infections but we decide on creative measures that encourage the men to also come seek treatment and understand the source of the infections," she adds.

The situation in Kamwokya

Just a few kilometers away in Kamwokya, Kifumbira zone, northeast of the Kampala's central business district, women there face similar challenges. 25 year old Mildred Birungi says that the toilet she uses is shared by six families; each with more than four inhabitants. She stresses that this has continuously exposed her to infections that cause her itching in the private parts.

Margaret Kyosaba also complains of similar infections; especially candida. "The times I get those infections, I am scared to tell my husband because he will think that I sleep with other men. I therefore secretly treat the infections without him noticing. Whenever I suspect that he is going to ask to have sex with me during those times, I sleep in panties so he can think that I am in my periods," she stresses.

Nusurah (second name withheld) also of Kamwokya reveals that there are some 'kifeesi' young men in the area that wait during the evening hours and move around waylaying women and young girls; attempting to touch their breasts and bums. "This makes many of us scared of going out to ease ourselves after dark for fear of sexual harassment by the same guys," she says.

A woman that identified herself as Mama Zubair revealed that one of her friends was almost raped by a drunken man as she showered in the bathroom near her latrine. "There is a bar nearby. So one evening as she was showering, a certain man moved from the bar and attempted to enter the bathroom with force. She screamed out loud and the man took off," she explains.

Asked whether her friend reported the case to the authorities, she says that in their community people only report when the case has happened. "She could not report because she was not raped. The local leaders would never have acknowledged that that was a case worth investigating," she adds.

The plight of Kasokoso women

Goretti Kaitesi of Kiganda zone in Kasokoso, a congested slum located in Kampala's Nakawa division says that she hates the fact that she has to share one latrine stance with more than 10 people in her neighbourhood yet most of them are irresponsible users of the toilets.

"Where I stay, there are six rental houses each with more than five inhabitants. Unfortunately, we all share the two available stances. Even without considering any other challenges, cleaning the latrines is a nightmare. They are always too smelly that it makes it hard for one to enjoy a meal right after cleaning them," she stresses.

She says that it is a very big predicament that even when she tries to keep them clean all the time, some of the neighbours will still dirten them. "It is a disheartening situation but we have no option since there is not enough money for us to rent a much better place in a cleaner neighbourhood," she disappointedly stresses.

She adds that the latrine fills up so fast since it is used by many people and the landlord delays to empty it. "We have to endure the stench all through that time since we find it hard to remind the landlord to empty the toilet all the time for fear of being reprimanded," she explains.

During the rainy season, Kaitesi says that the pit fills up with water and all the human waste and maggots come to the surface. "You can imagine what that makes one feel. Even if you want to use the toilet, such a condition will force you to reconsider other options like using a bucket. In such times, our children get sick with diarrhoea and typhoid because the flies are everywhere," she painfully explains.

Mary Mutesi, a nurse at M.J Medical Centre in Kasokoso says that the health centre receives a lot of case of women with urinary tract infections especially candida. "Candida patients make the hugest number of my clients. Usually when they come around, I advise them to bring their husbands for treatment too but most of them are scared to reveal to their husbands the fact that they feel itchy in their private parts for fear of being suspected of cheating," she explains.

Toilet shortage hits Kisenyi women hardest

Grace Kusiima, a food vendor in the busy downtown suburb of Kisenyi, Rubaga division says that she has had to endure regular UTI attacks since she has no option but to use the six stance public toilet in the area that serves over 2000 people in the busy suburb.

"Even as you walk there, the mechanics in the garages around keep pestering you to give in to their sexual demands but we have kind of gotten used to that," she explains.

Patricia Karungi, a pool attendant in the same area says that even when some of the toilets in the area look clean, they do not give a 100% assurance that one won't get infections.

"I personally stopped using them after I got a very terrible infection. It started with some itching but after some days, I started feeling sharp pains in my lower abdomen and noticed there were blood spots in my urine yet I wasn't in my periods. The pain lasted about a month and I since vowed never to use the toilets here. I have to wait until I go back home in the evening to ease myself," she says.

Kirungi reveals that when she got the infection, she was ashamed to tell anyone and even refused to see a medical expert. "I got onto the internet and researched about the condition. Among the lots of things I read was the medicine for treatment which I went to purchase from a pharmacy. Luckily, I got well," she explains.

Asked whether she knew how dangerous self-medication was, she replied that it was better to try out several medicines than shame herself before anyone.

Beatrice Kiconco, a caretaker of one of the business blocks in the area stresses that as a woman, she feels disappointed with the way some people choose to be hygienically irresponsible. "I know we come from very different backgrounds but I just can't understand why one would use a toilet and fail to flush even when the water is available. Most of the toilets around are public but even when their caretakers try to keep them clean, some people just keep misusing them," she complains.

There is a toilet at a nearby petrol station but Kiconco says that the station's management was forced to close it because people were misusing it. "We were accessing it for free but some irresponsible women started dumping in their pads and they eventually blocked the pipes. Management was forced to close it down. We are now forced to move longer distances to the other public toilets around," she explains.

"When I am in my periods, I close my shop for a few minutes, wash up, change the pad and keep it in plastic container and carry it home later in the evening so I can dump it there. However, we have some women around who just dump them at the garbage pit and when the garbage collectors come, sometimes they can't carry everything hence leaving the bloodied pads littered everywhere and you can imagine how disgusting that can be," she adds.

She stresses that she has had to deal with some women who fail to open up once they catch the UTIs. "A number of women here catch infections like candida once in a while and are scared to open up. By the time you notice that they are battling the infection, it has already affected them much. Some have told me that they fear being judged as unclean or stigmatized. Some others resort to self-medication which also comes with its own risks. I know a woman that lost her pregnancy because she delayed to treat her infections. By the time she went to the health centre, it was already too late," she explains.

She says that more toilets should be constructed in the area since the available ones are too few for the population in the area; making it hard to keep them clean all the time. "Along this Mwanga II road, there are more than 2000 people during day time yet there are only two toilet block with one of them only having four stances. With only these, proper hygiene is next to impossible," she states.

City leader speaks out

Dr. Ian Clarke, the former Makindye Division Mayor stresses that the area and Kampala city as a whole is in dire need of more improved latrine services. He says that areas like Namwongo (along the railway line) are hard hit with latrine scarcity. "The situation is made worse by the fact that this place is swampy hence a high water table that in most cases forces the few available latrines to overflow; especially during the rainy season. This puts the residents in an even more complicated hygiene situation," he explains.

He adds that during his reign as Division Mayor, he constructed four latrine facilities for the slum communities in the area but there still remains a huge gap to be filled considering the large population in Makindye's slum dwellings and similar settlements in the city. A lot remains to be done to make a shared latrine a safe place for a woman.