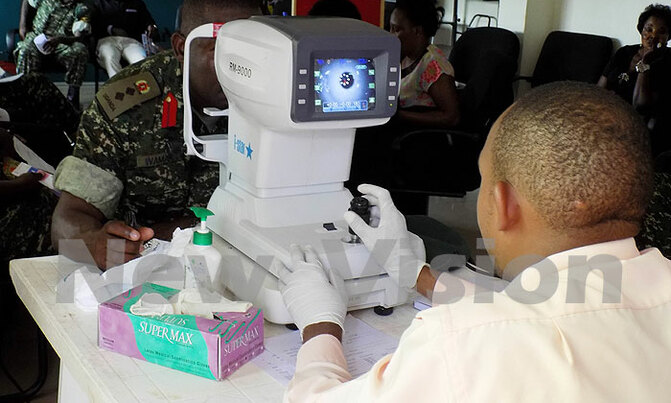 Hundreds of soldiers and defence ministry staff undergo eye screening at Mbuya.
MBUYA - As many as 500 UPDF soldiers and defence ministry workers underwent auto eye screening in a health camp organised by Dr. Agarwal's Eye Hospital in Mbuya.

The initiative is a partnership meant to improve service delivery in the ministry of defence, according to Alfred Anguzu.

He is the commissioner in charge of human resource management at the ministry.

"Most times we take health matters for granted; the eye is one of the aspects of the body that is normally ignored. It is only when we are challenged that we rush to doctors," he said.

He added: "We decided that we be proactive and test everyone, including those with spectacles, to be able to treat those affected at our different hospitals."
Eye is 'heart of a soldier'

Major Henry Obbo said the move would beef up medical service in the ministry.

"We join the army when we are fit but along the way we encounter health hazards including those that are eye-related.

"The eye is the heart of a soldier and so without it, the country is at stake," he said.

The turn-out was higher than the organizers had expected. As such, the initially one-day health camp was extended to three days to handle the large numbers.