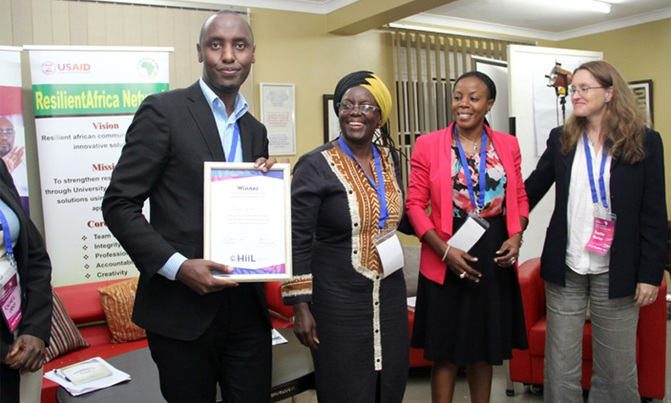 The six teams with one that was fully led by Women (Lawyers4Farmers) presented their innovation to a packed audience of professionals including law makers,
Six highly promising entrepreneurs pitched in Kampala yesterday for a chance to win part of €160,000 funding.

The funding, part of the Hague Institute for Innovation of Law (HiiL) Justice Accelerator based in the Netherlands, aims at facilitating innovation, especially in 'justice solutions'. The Innovating Justice Boostcamp, like it was called, was a chance for the six Ugandan entrepreneurs to present their ideas to a jury, which determined the most intriguing innovation. But the emphasis was on "justice solutions for local problems."

The six teams with one that was fully led by Women (Lawyers4Farmers) presented their innovation to a packed audience of professionals including law makers, academic professors, government officials, students, and media among others.

Bytelex, which provides legal and advisory services to Startups, Technology companies and Investors, pitched first.

But it was Lawyers 4 Farmers (Promoting Farmer Enterpreneurship) that strives to make "practical changes in starting, structuring and management of farm businesses" for increased productivity and profitability that intrigued the jury the most. They want to "inspire" a generation of young entrepreneurial farmers and grow a base of lawyers who understand and are responsive to legal needs of farmers.

The event at the ResilientNetwork Africa lab in Kololo, Kampala, also featured keynote speakers; including Commercial Division (of the High Court) judge Geoffrey Kiryabwire, who discussed the role of justice innovation in Uganda.

He spoke about the achievements and "perspectives" in innovating justice solutions and access to justice in Uganda.

Kiryabwire talked about the dynamic justice landscape that was being influenced by technology, emphasizing that the Ugandan justice system still lagged behind. He said Uganda needed a new breed of lawyers who had "swift access" to information as well technology platforms that could efficiently ease dispensation of justice to the citizens.

Makerere University School of Public Health Dean and RAN Chief of Party Prof William Bazeyo commended HiiL for choosing RAN as their partner for the event.

He said that RAN has held a number of events in engineering, health, agriculture and financial inclusion among others.

Nathalie Dijkman, the Justice Sector advisor at HiiL chaired the boot camp.

"This year, we are proud to announce this year's challenges: the SME Empowerment Challenge and the Family Justice Challenge," Nathalie Dijkman said.

The SME Empowerment challenge focuses on legal needs of micro, small and medium enterprises in informal and formal African economy, whilst the Family Justice Challenge aims at empowering families to solve their disputes in a fair and effective manner.

The teams will participate in a 'round two' challenge that focuses on sustainability, scalability, impact and uniqueness. Those that excel will be invited to The Hague, The Netherlands, to attend a week of 'Entrepreneurship school' run by HiiL's team of experts in Justice Innovation.

The Innovating Justice Boostcamp is a regional event organized by HiiL to empower local justice entrepreneurs who have an exciting innovation to address a justice challenge in specific settings.