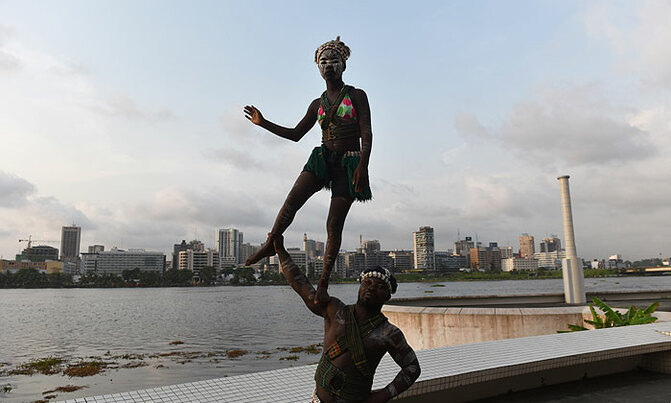 From Uganda to Ghana, take a look at recent news pictures from across the continent.
PIC: On Friday, this man and a child were pictured performing a traditional dance ahead of an international competition in Abidjan, Ivory Coast

Have a look at what's been happening in Africa lately . . .
Also on Friday, Ivorian traditional dancers performed during the international competition at the "palais de la culture" in Abidjan
The following day, this was the wreckage after an evengelical church roof collapsed on worshippers in the remote southeastern city of Uyo, the capital of Akwa Ibom state. The search for survivors continued after the church roof collapsed killing at least 60 people, with many more feared dead
Meanwhile, Uganda was represented at the 2016 FIFA Club World Cup taking place in Japan. Here, Mamelodi Sundowns' Ugandan goalkeeper Denis Onyango is snapped trying to clear the ball against Kashima Antlers in Suita, Osaka prefecture on Sunday
And two days earlier in Uganda, males police officers wearing high heels shoes held hands with their females colleagues and members of women rights civil society organisations, as they led, all together, a campaign march to end violence against women dubbed "Walk a mile in her shoes", in Kampala
Across the border, Kenyan Vice President William Ruto visited the crash site of a truck that rammed into several vehicles before bursting into flames near Karai on the busy Naivasha highway, some 85 kms west of Nairobi on Sunday. More than 30 people died when a tanker carrying flammable materials crashed into other vehicles and burst into flames outside the town of Naivasha in Kenya late on Saturday, officials said
On Saturday, this woman drank a beverage showing a photo of opposition New Patriotic Party (NPP) leader Nana Akufo-Addo (Top), a day after he won the presidential election on December. After garnering 53.8 percent of the vote, Akufo-Addo pledged to stand by his ambitious electoral promises which include free high school education and a factory in each of Ghana's districts
The following day, Egyptians carried candles during a vigil for the victims of a bomb explosion that targeted the Saint Peter and Saint Paul Coptic Orthodox Church, outside the Church in Cairo's Abbasiya neighbourhood. The blast killed at least 25 worshippers during Sunday mass inside the Cairo church near the seat of the Coptic pope who heads Egypt's Christian minority, state media said
Here, a man kicks a ball as another rides a horse on the beach in Senegambia, in the province of Banjul, in Gambia on Saturday. The African Union (AU) called on President Yahya Jammeh to respect the results of The Gambia's election in which he initially conceded defeat before changing his mind and rejecting the loss. Jammeh conceded defeat immediately after the December 1 poll but on December 9, 2016 issued a statement saying investigations had revealed "unacceptable errors" by the electoral authorities and that he would no longer concede to opponent Adama Barrow
Several miles away in Libya, these members of the Libyan Red Crescent treated the drowned body of an illegal immigrant which washed ashore after a ship sank off Tajoura, on the eastern outskirts of the capital Tripoli on Sunday
But a couple of days earlier, on Thursday, Zimbabwe's Minister of Finance Patrick Chinamasa presented the country's 2017 National Budget at the Parliament of Zimbabwe
On Saturday, Chad Le Clos of South Africa celebrated his victory in the 50m Butterfly final on day five of the 13th FINA World Swimming Championships (25m) at the WFCU Centre in Windsor Ontario, Canada