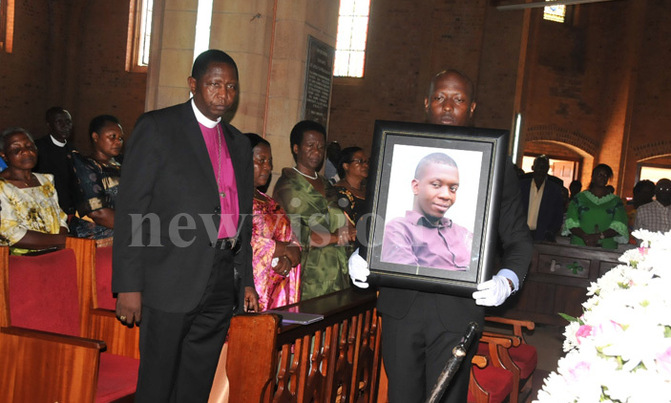 Peter Ahimbisibwe, 28, died at Nsambya Hospital in Kampala
The Anglican Church archbishop Stanley Ntagali named his son, who died on Friday, after St. Peter's Cathedral in Bunyoro Kitara Diocese, in memory of place of worship where he cut his teeth on pastoral ministry.

Peter Ahimbisibwe, 28, died at Nsambya Hospital in Kampala after 'a short illness', according to the family.

"Twenty eight years ago, God blessed with us a gift (of a child), and we named him after St. Peter's Cathedral in Hoima where I began my ministry," Ntagali said during a funeral service for his son at St. Paul's Cathedral in Namirembe, Kampala, on Saturday.

Ntagali stated that Ahimbisibwe, who is survived by two girls and a widow, Patience, worked with Compassion International, a Christian aid agency for children, in Masindi district, before he ventured into 'business'.

"The president called me this morning (Saturday), and he was shocked at the death of the young man. I told him God's timing is the best," Ntagali told mourners.

Born on April 30, 1988, Ahimbisibwe was the third born in a family of five, four boys and one girl. He held a Bachelor's degree in business administration.

"It is God who gave us the gift (of Ahimbisibwe), and he has taken him away. We are greatly encouraged and supported by your (mourners) love," Ntagali stated in a short eulogy for his son.
His wife, Beatrice, reminisced the joyous moments and jokes the family shared with Ahimbisibwe, describing him as friendly and loving.

"He was very healthy, and at birth, he weight 6.9kgs. His father thought I would not deliver him normally, but I did," she said, "Missing Ahimbisibwe is not going to be easy. I ask you (Children) to remain united and comfort me,"

F0rmer Prime Minister, Apollo Nsibambi, asked the deceased family to find solace and restoration of their 'souls' in Psalms 23. "We want to thank God, and we will meet the young man in heaven," Nsibambi said.
The Omukama of Bunyoro Kitara Kingdom, Solomon Iguru, in a condolence message delivered by the minister for diaspora and secretary to cabinet, Philip Katahoire, said the death of Ntagali's son is a great loss. "Bunyoro is mourning with you during this very difficult time," Iguru stated.

The widow said she first met Ahimbisibwe when she was in Primary seven class. "He (Ahimbisibwe) was in senior two at the time, but he promised to marry me. I was shocked, but he promised to wait for me, and he married me," Patience stated.

Describing her husband as a peaceful, forgiving and hardworking man, Patience said she and Ahimbisibwe would have celebrated their third anniversary in marriage in February next year.
"My husband was in coma for days, and he unfortunately did not talk to me before he died. He appeared to be recovering before he died. He will forever remain my husband," she added.

In a homily, the Mityana diocese bishop, Stephen Kazimba, said although it is usually a sorrowful experience, the demise of anyone who 'accepted Jesus Christ' is actually the beginning of hope. "Those who died in Christ will rise from the dead," he added.
PHOTOS: Norman Katende