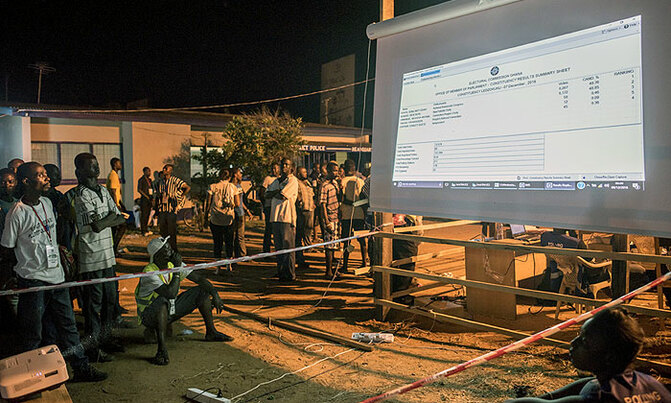 UPDATE: Initial provisional results released by Ghana's election agency show neither candidate gaining the upper hand.
PIC: People watch update results of the general elections after midnight on a big projector screen installed in Teshie Police Station in Accra. (AFP)

Ghanaians faced an anxious wait Thursday for the results of a nail-biting presidential election tainted by sporadic outbreaks of violence, with no clear favourite emerging from the early provisional results.

The high-stakes race between incumbent John Mahama and rival Nana Akufo-Addo is seen as a litmus test of stability for one of Africa's most secure democracies.

Results will trickle in over the day, with the final winner expected to be announced at the earliest late Thursday.

Initial provisional results released by Ghana's election agency showed neither candidate gaining the upper hand.

Early Thursday, the Electoral Commission website was down but it tweeted the provisional results of six of the 275 constituencies, with Mahama scoring 62,930 votes and Akufo-Addo 62,220.
Will it be incumbent John Mahama (left) or rival Nana Akufo-Addo?

Election fever gripped Ghana's capital Accra, with people out in the streets late into the night as counting of the thumbprint votes got under way, many standing behind red police lines and closely observing the blue-shirted election officials.

Mohammed Kamil, a trainee teacher, told AFP he wanted the new government to "create jobs for the youth... that will bring us peace and harmony."

Sporadic reports of violence and technical problems marred the vote although the election was seen to have gone well overall.

Voting was delayed in the Jaman North constituency until Thursday "due to security concerns," the Electoral Commission tweeted.

The commission also reported that supporters of Akufo-Addo's New Patriotic Party (NPP) had beaten one of its officials.

In another hiccup "hackers" had caused its website and election results app to crash.

Despite the problems, accredited observer Christopher Fomunyoh, regional director for the US-based National Democratic Institute, said the vote had gone well.

"It's just impressive to see how the Ghanaian civil society have taken this on, to monitor and report on the process."
Be 'vigilant'

Akufo-Addo had told his supporters that "vigilance is key" at the polls in an attempt to avoid a repeat of the 2012 vote -- narrowly won by Mahama with 50.7 percent -- that he contested unsuccessfully in the country's Supreme Court.

"We wish to state emphatically that the NPP will not allow any person, persons or entity to subvert the will of the Ghanaian people and that all necessary steps will be taken to protect the vote," party campaign chairman Peter Mac Manu said in a statement just after midnight.

Mac Manu said the NPP has an "ever increasing possibility of being declared the winner by the Electoral Commission with a strong parliamentary majority."

After voting yesterday, Mahama voiced confidence the election would "consolidate that democracy further".

There are seven candidates battling for the top job -- including former first lady Nana Konadu Agyeman-Rawlings -- and if the smaller parties perform well and deny either frontrunner a majority, a run-off vote will be held later this month.

Charismatic Mahama, 58, is running for a second term. The leader of the ruling New Democratic Congress (NDC) party has urged voters to "stay the course", promising to deliver more infrastructure projects.

Akufo-Addo, 72, is making his third and likely last bid for highest office. He has blasted Ghana's poor economic growth estimated at 3.3 percent in 2016 -- the slowest rate in two decades -- and outlined how to get the economy back on track.


ALSO RELATED TO THIS STORY

Vote counting under way in tight election race