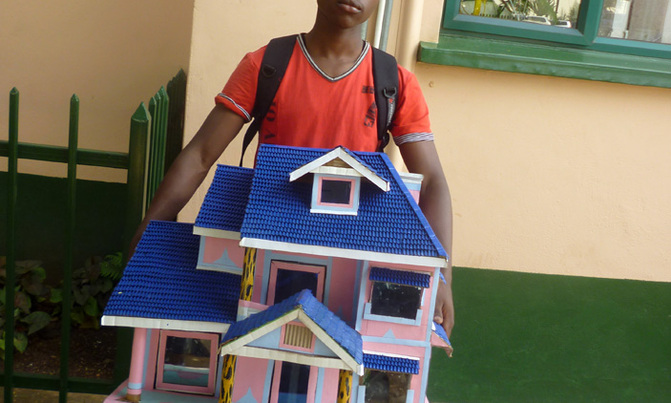 He artistically puts together boxes and hard boards to make different kinds of posh model houses you would dream of.
Wahab Mawejje, 16, a senior two student at Sams Park High School on Mityana Road is no ordinary child.

He artistically puts together boxes and hard boards to make different kinds of posh model houses you would dream of.

They can aid in drawing architectural plans, teaching aids in classes and decorative ornaments in homes.

"I conceived this dream last year after seeing my classmate, Christopher Lwanga trying to make houses of this kind. When I talked to him, he showed no signs of taking this project anywhere, so my journey started," says Mawejje.

The soft spoken but determined entrepreneur as he refers to himself travelled to the New Vision offices on Monday with one of his 'model houses' for a lasting mission of getting a sustainable market to his houses.

"When dad died, leaving the six of us with our mother, a house wife, she single handedly fended for us but recently she started falling sick. I started thinking out of the box to make ends meet. I borrowed sh20,000 from a friend and made my first house which I sold to a client at the African Village, Buganda road for sh60,000 and paid the debt. I remained with sh40,000," he narrates.
How he makes the houses

Mawejje says that he buys used boxes from retail shops, hardware stores and supermarkets. He then draws a plan in a book, of the house he is going to 'construct.' One weekend is enough for him to make a bungalow at a cost of sh20,000.

"I use a ruler to take the right measurements, a tin of wood fix glue which cost sh6,000, a pair of scissors, pieces of glass, water paint and a piece of hard board on which the house sits firmly," he states.

He makes all types of houses in all sizes and colour, from grass thatched to bungalows.

"Most of those boxes have a rugged texture inside, so I just pull off the outer smooth surface and design the rugged surface into 'roofing tiles' which I furnish with more than two layers of paint. For the facial boards, I use white hard boxes," he explains.

To add splendour to the doors and windows, Mawejje uses glass pieces which he glues to hard straight wire hinges that can flexibly move in all directions when opening and closing. He erects interior walls and veranda using manila papers. For the shade poles, he uses hard sticks which he polishes with vanish or any colour that matches the house.

Challenges
Mawejje's little capital limits him to two houses which he sells at only shs120, 000 if he gets good clients.

"I move long distances, door to door with a model house, looking for clients who can offer good money. Many admire my houses but cannot afford the price I want, so I kindly request companies and home owners to give me business," he says.