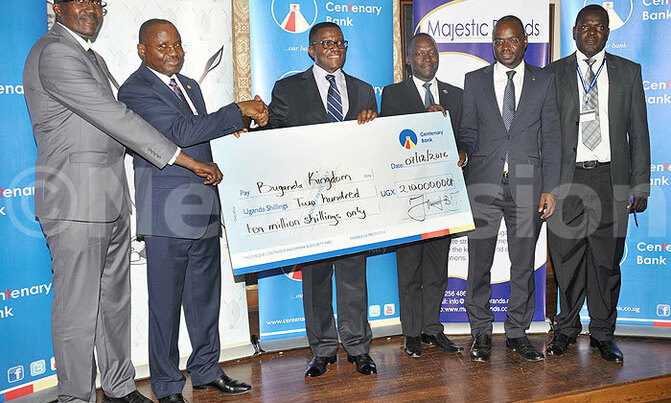 "We want to change the perception of people towards sports."
PIC: Centenary Bank MD Fabian Kasi (2nd left) presents a sh210m cheque to Katikkiro Charles Peter Mayiga, Majestic Brands' Ronald Kawadwa and Buganda Kingdom treasurer Mulema Mukasa (2nd right) towards the Masaza Cup on Wednesday. Left is Michael Jjingo, the Chief Manager Business Growth-Centenary Bank. (Credit: Michael Nsubuga)

KAMPALA - The Katikkiro of Buganda Charles Peter Mayiga has advised the youth in Buganda to work hard and develop their sports talents in order to benefit from the enormous opportunities that the kingdom is trying to create with their different partners.

Mayiga was addressing a press conference, at Bulange at which Centenary Bank unveiled a sh210m, three-year sponsorship towards the annual Masaza Cup.

"Raising the status of Buganda involves many aspects, but the most important one is to restore the glory of the kingdom. And to do this we have to devise different means, one of them being through sports; we believe sports is one of the means that can bring about the envisioned development," Mayiga noted.

"We want to change the perception of people towards sports. They should know that sports in this era can be taken as a career and those with talent can use it to develop themselves, their families and the kingdom," Mayiga added.

"And in this process of developing sports in the kingdom we are looking for partners like Centenary Bank. We have been partners before but had not sealed our partnership, so it is good to see that this 'marriage' has now been blessed; but it is a two-way as one of the indigenous banks, we are also going to support them,"

"We are going to ensure that this sponsorship helps in the development of the Masaza teams and also in helping identifying and grooming of this talent regardless of their ethnicity," Mayiga stated.
Katikkiro Charles Peter Mayiga autographs a ball. (Credit: Michael Nsubuga)

Centenary Bank Managing Director Fabian Kasi who presented the cheque to the Katikkiro said the sponsorship was one of the avenues through which they give back to the people who have supported them over the years.

"This tournament is important to us because we believe that developing youth talent is key to ensuring their prosperity and their livelihoods in future. As the tournament sponsors, we believe it will provide us with an opportunity to engage with the people of Buganda and further extend our commitment to being the people's bank," Kasi said.

The ceremony was also attended among others by Buganda Kingdom treasurer Mulema Mukasa, Majestic Brands' Ronald Kawadwa and Centenary Bank Chief Manager Business Growth Michael Jjingo.