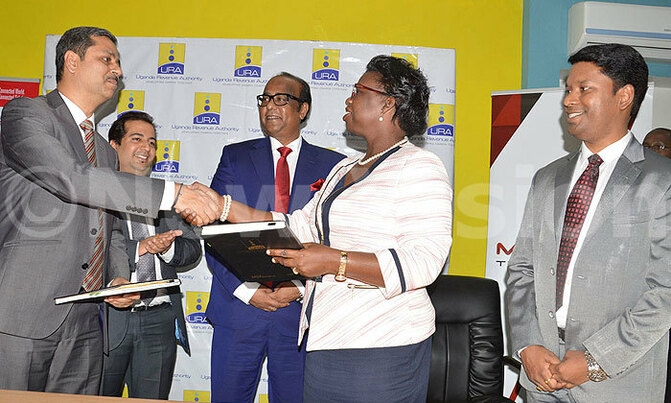 URA said it will rely on Information Technology to optimise tax collection.
The Uganda Revenue Authority (URA) has signed a memorandum of understanding with Mantra Technologies and Tech Mahindra, which will see the taxman automate its back office functions to improve its efficiency in service delivery.

The two tech firms are expected to install an Enterprise Resource Planning (ERP) programme over the next three years but the cost of the installation was not disclosed.

URA said it will rely on Information Technology (IT) to optimise tax collection, compliance and service delivery over the next decade.

"URA wants to make it easy and convenient for everyone to comply on their taxes, and as such we are keen on improving service delivery, and using an integrated IT system will help us deliver on this," the commissioner general Doris Akol said.

Akol was speaking on the sidelines of the MOU signing with Mantra and Mahindra technologies, at the URA headquarters in Nakawa on Friday.

Enterprise Resource Planning (ERP) is business process management software that allows an organisation to use a system of integrated applications to manage the business and automate many back office functions related to technology, services and human resources.

She said although that taxman's various departments operate on an automated platform, the platforms are independent of each other, while interlinking is done manually.

"This takes a lot of time and creates a lot of inefficiencies that we want to eliminate. This new system will enable decision making in an automated environment and save us time and money as we serve the nation," she said.

She said the public will benefit from the efficiencies that URA derives from integrating and simplifying its processes, as the cost that would have been attributed to these functions comes down.

Tech Mahindra is an Indian multinational provider of information technology, networking technology solutions and Business Process Outsourcing, especially to the telecommunications industry, while Mantra is its local partner that provides traditional and custom IT solutions to customers.

The Mantra technologies managing director, Suneet Sahai, said focusing on IT will help the taxman improve its service delivery, and also optimise resource utilisation.

"With this technology, URA will be able to do more work with less staff there by bringing in cost gains and increasing the quality of service," he said.

He said the system will integrate all processes that support revenue collection, making it more efficient and cost effective for URA.

According to Suneet, the service providers will work with URA to design the solution, to implement it and help the taxman migrate the data into one data base and commission the system.

"We shall also give after sales support to URA during the implementation phase as well as train their staff to effectively use the new system, even after the three years are done," he said.

The Tech Mahindra general manager for Africa and the Middle East, Ram Ramachandran, said they will provide the software that streamlines business processes such as administration and finance to boost efficiency.