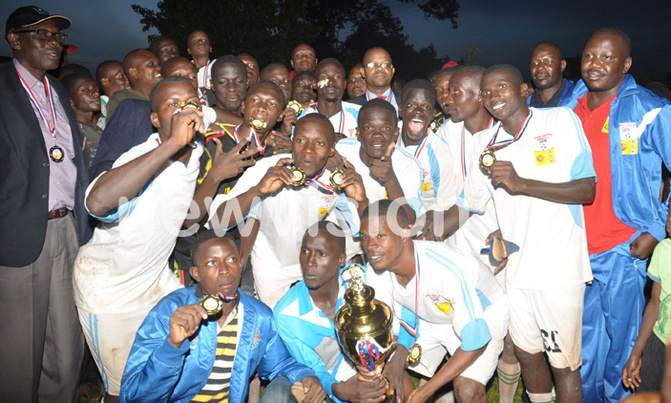 A select team from the tournament will face a Buganda Masaza team at a later date in Kampala.
Semi finals

Buruuli 0 (4) Kibanda 0 (1)

Bugahya 0 Buyaga 2

Finals

Buruuli 2 Buyaga 0

Buruuli County from Masindi district emerged champions of the 5th edition of the China National Offshore Oil Corporation (CNOOC) Amasaza cup of Bunyoro Kingdom after a 2-0 win over Buyaga at Sir Tito Owinyi ground on Saturday.

Stephen Ssonko and Sunday Echoni second half goals ensured Buruuli won their second Amasaza title in three years, following their earlier one in 2014.

The final graced by the Omukama Rukirabasaija Agutamba Solomon Gafabusa Iguru 1, though poorly attended, came to life in the second half after a dull first that had both sides create a few chances.
Buruuli's Sunday Echoni (front) celebrates his goal against Buyaga during the finals of the Amasaza ga Bunyoro soccer tournament at Sir Tito Owinyi ground. PHOTOS: Michael Nsubuga
But a heavy rain storm two minutes to the end of the match had every one, save the players and referees scamper to safety, with the wind blowing away the tent in which the Omukama was seated moments after he had been driven away.

In the end, the Omukama wasn't able to award the winners, but it didn't matter for the Masindi side who celebrated their sweet triumph in the rain and into the night, after receiving the trophy from FUFA president Moses Magogo, who was among the dignitaries earlier sent scampering.

"This is an important trophy for this group of players because we worked hard and as a team. It is our first time to play in this competition, so winning it feels special," goal scorer Echoni said.

CNOOC Head of Corporate Social Responsibility Zakaria Lubega termed the tournament a success but noted that they will have to add more efforts in the mobilization of fans especially at the finals.

The curtain riser between Bunyoro Kitara cabinet and CNOOC staff ended goalless.

Over 60 teams from counties and districts of the kingdom participated in the annual tournament aimed at tapping talent from the grassroots and also fostering unity among the Omukama's subjects.

A select team from the tournament will face a Buganda Masaza team at a later date in Kampala.

Buhaguzi won the inaugural edition in 2012, before Hoima, Buruuli and Buyaga West took the honours in 2013, 2014 and 2015 respectively.