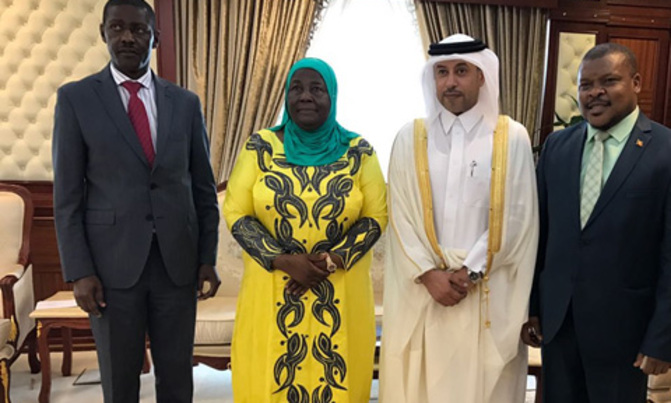 The development will overwhelmingly raise the population of Ugandans working in Qatar from the current 3000.
The government of the energy-rich Arab emirate of Qatar has pledged to offer 40,000 jobs in all sectors to Ugandans next year.
The development will overwhelmingly raise the population of Ugandans working in Qatar from the current 3000.
Dr. Eisa Saad Aljafali Al-Naimi, the minister of administrative development, labor and social affairs of Qatar, made the offer to his Ugandan counterpart, Hajjat Janat Mukwaya, recently.
According to the statement issued by Uganda's embassy in Saudi Arabia, the duo met in Qatar's capital Doha, in the presence of Uganda's Ambassador to Saudi Arabia, accredited to Qatar, Dr. Rashid Ssemuddu.
The ministers held preliminary discussions about the Uganda-Qatar bilateral labour framework and exchanged drafts of the proposed agreement for review before the signing ceremony expected early next year.
The agreement will be the third to be signed with a country in the Middle East, following similar pacts with Saudi Arabia in 2015 and Jordan two weeks ago.
The statement said the signing of the agreements is expected to pave way for Qatar trade and investment inflows to Uganda, in line with the pledge made by the Amir of Qatar to Ssemuddu during the ceremony of presentation of credentials in 2014.
Museveni to visit Qatar
President Yoweri Museveni is expected to visit Qatar during the first quarter of 2017 and he will be hosted by the Emir of Qatar, Sheikh Tamim Bin Hamad Al Thani.
During the visit, the two heads of state are also expected to sign agreements on avoidance of double taxation, investment protection and cooperation in agriculture, in addition to the bilateral on labour.
A visibly elated Mukwaya expressed gratitude to the government of Qatar for offering Ugandans jobs in decent areas.
"Moreover in the absence of a bilateral agreement between our two countries," she added.
She said: "I am happy that we have accomplished this in a cordial environment with our friends of Qatar. I have invited His Excellency Eisa Saad Aljafali to visit Uganda."
After the meeting, Ssemuddu said Qatar presented a unique opportunity to Uganda to engage in improved diplomatic relations, trade and investment as well as job opportunities in an increasingly versatile business environment.