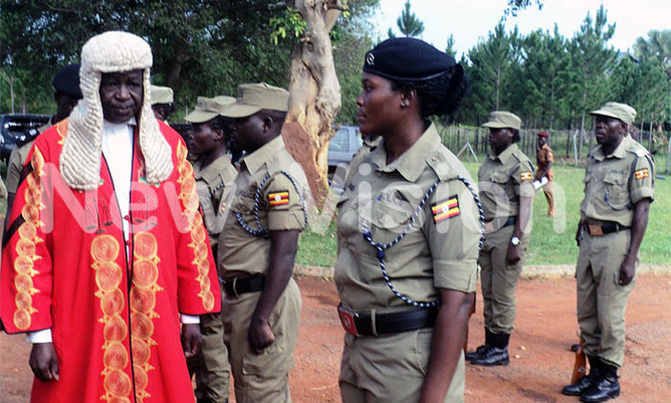 Justice Godfrey Namundi is the new deputy Head of the Land Division.
High Court Judge, Wilson Masalu Musene, who has been head of Criminal Division has been transferred to the new High Court circuit in Mpigi.
The Principal Judge, Dr Yorokamu Bamwine, has also transferred Justice John Wilson Kwesiga as head of High Court Land Division to now head the Criminal Division.
Justice Dr. Andrew Bashaija who has been deputising Justice Kwesiga in the Land Division has now been elevated to head the Land Division.
"Further to my administrative circular No. 1 of 2016 and in consultation with the Hon. Chief Justice, adjustments are hereby made in staff deployments for more effective delivery of service," Dr. Bamwine said in a circular.
"The re-deployments are with immediate effect, subject of course to the usual completion of all partly heard cases in advanced stage at the old station."
The circular further names Justice Godfrey Namundi the new deputy Head of the Land Division. Justice Elizabeth Kibula Kabanda, who has been caretaker judge of the Mpigi Circuit, returns to the Criminal and Family Divisions of the High Court.
Mpigi is one of the recent High Court Circuit creations, together with Mubende, Mukono, Iganga, Tororo, Rukungiri, Hoima, and Luwero, in addition to the existing Circuits of Jinja, Mbale, Soroti, Lira, Gulu, Arua, Masindi, Fort Portal, Mbarara, Kabale and Masaka.
The High Court operates in Kampala through High Court Divisions namely: Criminal, Civil, Land, Commercial, Family, Anti-Corruption, International Crimes, and the Executions and Bailiffs.