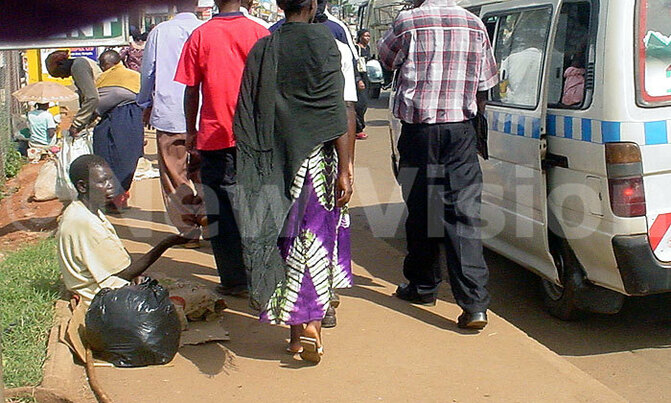 Chronically poor people are deprived of both the threshold income and access to basic human needs.
As costs of living go up with noticeable increases in the rates of education, rent, energy and fuel; a survey by the Uganda Bureau of Statistics (UBOS) shows that a larger number of Ugandan households are slipping into poverty than those moving out.

The findings are contained in the Uganda National Panel Survey 2015/16 (UNPS 2015/16) which shows that many Ugandans are still stuck in chronic poverty. The survey is aimed at collecting high quality data on key outcome indicators such as poverty, service delivery and employment.

The survey also acts as a monitor for the effectiveness of government's development programmes such as the National Development Plan (NDP). Uganda's national poverty line is equivalent to $1/per person per day according to finance ministry documents. This is lower than the revised UN threshold of $1.25.

While presenting the report, James Muwonge, the UBOS Director Socio-Economic Surveys said about 10% of the Ugandan population or about 3.5 million individuals are chronically poor. Chronically poor people are deprived of both the threshold income and access to basic human needs, like food, safe drinking water, sanitation facilities, shelter, education and information.

Muwonge further revealed that 13.1% or about 4.6 million people moved into poverty in the survey period between financial years 2013/14 and 2015/16, which stretches from July 2013 to end of June 2016. This was higher than the 7.7% or 2.7 million people that moved out of poverty in the same period.

He also noted that 69.4% or about 24 million Ugandans are teetering at the verge of falling into poverty. According to the UBOS census results released in 2014, Uganda has about 35 million people.

"In terms of residence, only 2.9% of the urban dwellers were chronically poor compared to 12.2% in rural areas," Muwonge said. He described chronic poverty as a situation whereby someone was poor in 2010 but is also poor up to date.

He pointed out that northern region had majority of chronic poverty of 23.8% seconded Eastern 15.5%, Western at 3.7% and Central which includes Kampala with only 1.2%. He added that 23.4% of households headed by women are also chronically poor especially those who have no formal education compared to only 2.7% with household heads that have secondary level or more.

"This means that whereas some households are improving, others are still stuck in poverty and nothing much being done to improve their status," Muwonge elaborated. "The poor are likely to remain poor. They are likely to move slightly above but remain poor. It is not entirely lost but it is possible to get out of poverty. People have to lift their efforts to ensure that they improve their welfare and standards of living," he added.


A total of 3200 households was selected for the panel survey. The highest share of household expenditure was on food at 46%, followed by rent, energy and fuel at 20.2% and education 12.9% which recorded increase in the period under review.

Imelda Atai Musana, UBOS Deputy Executive Director, Statistical Production and development called upon that Ministry of Gender, Labour and Social Development to continue advocating for adult education to improve the status of women.

"I encourage people to go to school, acquire education so as to step out of poverty.
Poverty is like a riley. All it requires is a person to double his/her efforts," Atai said.

Simon Peter Nsereko, United Nations Economic Analyst said the indicators are moving in a negative direction and they are abit worrying.

"Government needs to look at the UNPS 2015/16 survey to put in place the right interventions," Nsereko said.

He cautioned government to also evaluate whether the current interventions are working or not.
However, Vincent Ssennono of UBOS while presenting the statistics said that teaches' absenteeism in the classroom continued to be a problem with the highest levels experienced in Central and Northern Uganda.

"The teachers were not where they were supposed to be at a particular time. 14% of the whole teachers at the time of survey were all absent," Ssennono said.

He noted that when the teachers were asked to explain for their absenteeism, they said that they were either on sick leave, attending a workshop and others had no reason.

In the health sector, the overall percentage of health workers not found on duty at the survey remained at 43% between 2013/2014 and at 44% in 2015/2016. The report further indicated that the percentage of health centre 2 that reported drugs stock out increased from 61% in 2013/14 to 74% in 2015/16.