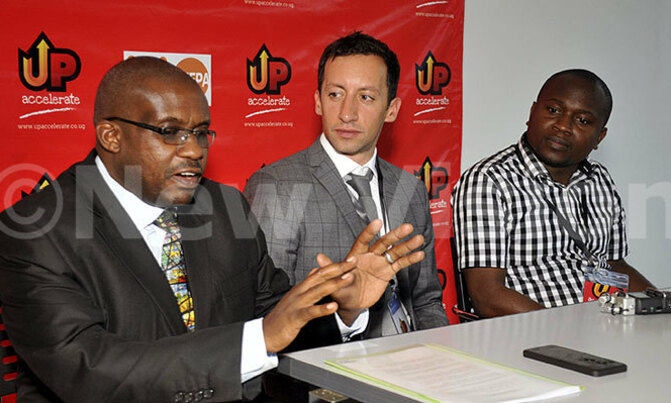 The program is part of a regional initiative by UNFPA East and Southern Africa Regional Office.
In this era, technology is a way to go. Many youths are finding pleasure in inventing ventures or Apps that they believe benefit people of all kinds.

Badru Ssenoga, a 2015 graduate in Bachelor of Computer Science from Makerere University, is one of the few youths that have invented apps. His app the MusawoDrugs is one of those few that have successfully been appreciated by the public.

MusawoDrug App is an initiative of a four member team aimed at creating awareness tips about drugs, verifying drugs and also used as a drug reminder for many people.

The App can be used by scanning the bar code of the drugs to differentiate between a fake and quality ones. Though considered to be a successful app, the inventors are troubled by the fact that they lack money to cover costs of sustenance of app.

"The app was launched on Google Play store in January 2016 but it was costly because I started it while still at University and it cost me 30 dollars to cover for expenses such as bank charges, research, exhibitions and Google App fee," explained Ssenoga

Failure to get partners and platforms to market his work the app are the others of his obstacles.

"We need platforms to sell different Apps. Partnerships are hard to come across because some people do not believe in young generation," Ssenoga said.

However, he happily speaks about getting 2.6 dollars from the initial 1 dollar he used to earn from the adverts on his website with just 4 clicks away.

TEHECA App is another that multi skilled members (Daniel, Miriam, Carol and Asher); have invented in Mutungo.

TEHECA stands for Tender Hearts Care, a palliative care firm giving special care to the elderly and special needs to people. Special Care assistants, Doctors and nurses are legible to sign up for the App.

Asher said that clients are free to look up at their website and choose from their wide selection who takes cares of them whether at home or hospital.
James Saaka, Executive Director, National Information Technology Authority-Uganda (NITA-U), unveiling the "Up Accelerate" website. (Credit: Racheal Nabisubi)

Like many other youths with innovative solutions (Apps), TEHECA innovators are facing a number of challenges especially lack of funds to assist in publicizing their Apps.

It is in this regard that a health-based innovation dubbed 'UP Accelerate' a one year Program with the aim on empowering youth to address Sexual and Reproductive Health bottlenecks was launched on Thursday in Kampala.

This program is part of a regional initiative by United Nations Population Fund (UNFPA) East and Southern Africa Regional Office, with funding from UKAID.

Miranda Tabifor, UNFPA Representative said the Up Accelerate seeks to explore new and engaging ways to tackle pressing sexual and reproductive health (SRH) challenges in Uganda while promoting social entrepreneurship among young people.

"To achieve the Sustainable Development Goals and further UNFPA's mandate, we need to test new approaches and improve on those already in use. Innovation and the active engagement of young people in our work can be catalyzers of significant change, and help achieve the demographic dividend in Uganda," Tabifor said.

Tabifor added :"Investing in a healthier and more educated population and enabling young people to access opportunities for employment and entrepreneurship, will provide young Ugandans with a favourable environment to thrive in business and private life, and to make informed and safe decisions regarding their SRH."

The key note speaker, James Saaka, Executive Director National Information Technology Authority(NITA-U) noted that the present and future of innovative solutions to improve access to SHR is for the youth's desire to be active through savings and investment authorities to come up with new technologies.

Per capita expenditure on Essential Medicines and Health supplies (EMHS) in maternal health is about 2.4dollars lower than the estimated requirement by Health Sector Strategic & Investment Plan (HSSIP) of US 1.2 dollars.

It is on this basis that Saaka added that investing in ICT will help fight bottlenecks and urged the youths to utilise the opportunity.

Davide Pige, , Innovations Specialist ESARO UNFPA said the Up Accelerate calls on young people to realize their desire to learn about and contribute to the challenges faced by the country in regards to improving access to, and the planning, availability and quality of SRH information, services and programmes.

Richard Zulu, Outbox Team Lead said that the demographic dividend can be reaped if Uganda simultaneously prioritizes enhancing the quality of its human capital, empowering of women and their partners to reduce fertility, and reforming the economy to increase productivity and create jobs.

Zulu noted that they are inviting applicants to come up with a tech solution to create easy access to SRH information, targeting women and the girl child.

"Through this program young entrepreneurs will be given seed funding and matched with top industry experts who can help them develop core skills as well as evaluate and commercialize their ideas for innovative ventures," Zulu added.

Eight youth-led best innovations will be picked to join the two acceleration cycles that is one is how we can improve access to essential medicines and health supplies to improve maternal health in Uganda.

After that those that will get to the next level will proceed to attend a two months of training, mentoring and assistance for fine-tuning their solutions and business models and two months of support in going to market and up to USD 10,000 based on achievement of pre-agreed business milestones.

Interested participants can apply at http://upaccelerate.co.ug

The innovation challenge is a first time business in Uganda but a second in Africa. It first started in Kenya.