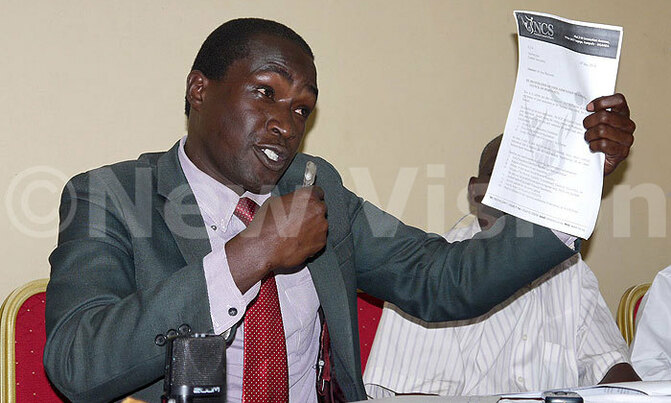 Walusimbi says FIFA recognized Scoreline Investments, formerly trading as FUFA Limited, as the national football association of Uganda.
PIC: Daniel Walusimbi addresses the press at Hotel Triangle in Kampala. (Credit: David Namunyala)

The international Court of Arbitration for Sport (CAS) is set to hear a 'land mark case' in which former Ugandan footballer Daniel Walusimbi and others dragged world football governing body FIFA to the court for recognising Scoreline Investments, formerly trading as FUFA Limited, as the national football association of Uganda.

A letter dated November 22, written to FIFA by the CAS Deputy Secretary General William Sternheimer, now wants FIFA to file their defense within 20 days from receipt of the said letter with a brief statement of their defence, any defence of lack of jurisdiction and any counter claim, pursuant to article R39 of the Code.

In the letter, FIFA is also granted a deadline of ten days from receipt of the said letter to state whether it agrees with the claimant's suggestion that the present matter be submitted to a three-member panel.

"In the absence of any answer from the respondent within the prescribed deadline of in case of objection, it will be for the President of the CAS Ordinary Arbitration Division or his deputy to decide on the number of arbitrators..," the letter reads in part.
Minister Charles Bakkabulindi (left) in a meeting with FUFA, NCS and FIFA officials in Kampala on July 12, 2016. (Credit: Mpalanyi Ssentongo)

In his petition Walusimbi argues in part that: "On October 13 2009, the name Federation of Uganda Football Association (FUFA) Ltd was incorporated as a company limited by guarantee with guarantors namely Lawrence Mulindwa (President FUFA), Jasper Aligawesa (Secretary General National Council of Sports) and Kyeyago Jowali. The said FUFA Ltd has since July 27, 2016 changed its name to Scoreline Investments Limited, which incorporation of was done secretly and without the knowledge of FUFA members,"

The petition continues in part that; " The new regulations of National Council of Sports No. 38 of 2014 under R. 4(4) prohibits registration of incorporated limited companies as National Associations which FUFA Ltd now trading as Scoreline Investments LTD is. Surprisingly FIFA to-date has continued to recognize, protect and facilitate FUFA Ltd contrary to A. 17(c) of its statutes which states that a member is supposed to be expelled upon losing its status as a legally recognized National Association.

"The continuous irregular, unconstitutional actions of FIFA have caused social, economic and career loss to footballers, coaches, referees and other stakeholders because they refused to affiliate to FUFA Ltd now trading as Scoreline Investments Ltd as desired by FIFA".
Walusimbi recently stormed FUFA House with a group of ex-internationals to take over the running of Ugandan football

Now through the petition, Walusimbi prays that FIFA immediately stops dealing with Scoreline Investments Ltd formerly trading as FUFA Ltd because it has never been sanctioned as the National Association of Uganda.


That a declaration is made that; there is no recognized national association in Uganda, by National Council of Sports since a certificate of recognition is not yet issued by it.
That FIFA recognizes that FUFA formed in 1924 has duly registered with Uganda authorities under the trustees incorporation act as a legal entity.
That a declaration is made that the Registered FUFA is the defunct National Sports Association before deadline set by National Council of Sports Registration No. 38 of 2014 ending on, October 4 2014.
Conduct a fine tooth comb audit of FIFA funds allegedly transferred to FUFA since 13th October, 2009.
That damages of over $100m (sh357b) be paid by FIFA for losses incurred by stakeholders upon success of this case.