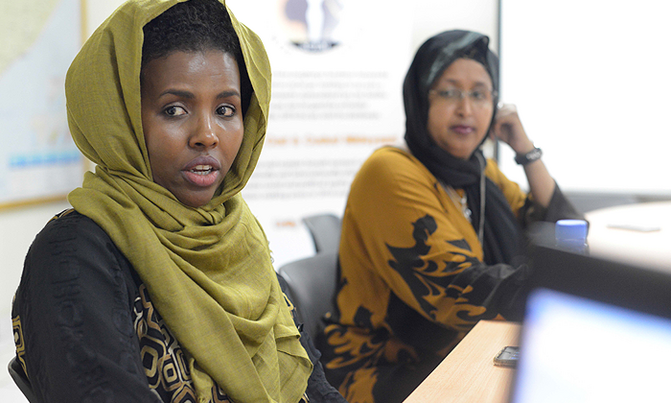 The Somali Gender Equity Movement leaves in its wake a remarkable tale.
Determined to challenge stereotypes that the coastal Horn of Africa country is the worst place to live as a woman, a group of Somali women set out on an ambitious journey. Their mission: to close the gender gap in their country's political participation.

One time, Zainab M. Hassan, Ifrah M. Farah, Lul H. Kulmiye along with seven other Somali women living in the diaspora met each other in Europe and the United States where they were separately going about their work.

Eventually, they developed a bond. They realised the glaring absence of Somali women's voices in critical debates such as the Somalia Vision 2016, the country's transitional framework. This bond saw the birth of a women's rights advocacy movement, the Somali Gender Equity Movement (SGEM).

This social movement brings together thousands of Somalis around the world who believe in gender equity in dialogue in a traditionally male dominated cultural context.

SGEM was formally launched in US in June 2015, before it was rolled out home.

Returning to Somalia

"I cried," Lul, who originally moved with her family to Norway, says about her return to the capital Mogadishu. She last visited her home capital 20 years ago.

"I stood there in the middle of the street and tears streamed down my face," she narrates. "This was not the Somalia I knew. It was nothing like I remembered."

Lul describes her first reaction as a grip by shock when she set her eyes on what had remained of the fallen city.

"I obviously didn't expect heaven. I left as a young girl, almost fifteen years old, and Somalia was still peaceful and prosperous at the time. But during my time away I was conscious of the war when it started. So I knew there would be destruction. I just did not expect it to be so severe."

Lul talks about her work in Norway. There, she works as an interpreter with the immigration authority. "I used to meet lots of different Somali people at my workplace every day. I inquired about the situation back home and all the time over the years, it was horrifying tales of doom," she says.

"But even if the war had turned Somalia into a place I did not recognize, I was relieved to find that it wasn't as hopeless as the stories from my traveler friends back in Norway. That gave me hope."

When she arrived at Aden Adde, Somalia's international airport, Lul was startled to hear someone call out her name. "Lul, is that you?" the voice said. Then shortly came another voice and another.

"I had come to Somalia following a friend who had earlier on returned, who was the only person I expected to find. But half the city knew me. All those people I had met in Norway remembered me, and they were all here back home. I was home. After all these years, it hadn't stopped being my home."
Lul: "I used to meet lots of different Somali people at my workplace every day."

That moment marked the end of Lul's period of anxiety. She was among family and loved ones and she felt safe. Thence, she embarked on the mission that had brought her friends and her halfway across the world to Africa. The hard work and the sleepless nights began.

The SGEM journey

The Somali Gender Equity Movement leaves in its wake a remarkable tale. When Lul, Zainab, Ifrah and its other co-founders attended several meetings on Somalia's Vision 2016 in the United States, they observed that the meetings were led solely by men.

This inspired them to form a separate movement that campaigned for the inclusion of the voices of Somali women in the process.

Today, the movement is registered in Somalia as a Civil Society Organization, and has firmly established itself in many parts of the country. SGEM works with other organizations with a similar agenda - to achieve equitable power sharing and gender mainstreaming in Somalia. It stresses human rights and the recognition of Somali women as an integral part of Somalia's peace and state-building processes.

SGEM is actively involved in advocacy campaigns to realize the 30% quota in Parliament that was promised to Somali women by the National Leadership Forum during the ongoing electoral process.

"Our aim is to address the stark absence of women in the decision making arena in Somalia," says Zainab Hassan, the Founder and Chair of the Somali Gender Equity Movement.

"We are not just after the 30% quota in these elections; we want 40% and more. We will push for the 30% quota to be constitutionalized and once we have achieved that, we will push for more."

The challenges

It has not been a cakewalk for these devoted women and other women like them in Somalia. The challenges remain vast and deeply enshrined within the beliefs and customs of the people. The journey to a time when Somalia's women will realize a country they are content in remains long and unnerving.

"We still get men walking up to us and telling us that it's against our culture and religion to try and be men. But we are not trying to be men, you see. We are simply standing up for ourselves as women and asking to be allowed rights which already rightfully belong to us," Zainab (pictured below) says.

To fellow Somalis in the diaspora

The women of SGEM strongly encourage fellow Somalis who are currently living in the diaspora to return home. They implore them to come and help communities to heal from the civil war, build institutions and improve social services. Somalia needs a lot of skilled people to rebuild it, they say, adding that the international community can only do so much.

"My friends always want to come back," Ifrah says, "but they are concerned about the still unpredictable security situation. We can only persuade them to return, but ultimately the decision has to come from them. Things are really not as bad as we are made to think when we are out there. You never get to realize this until you get on the ground and see the normal life of the people living here."

"I was happy to see the change when I returned this year." Lul relates. "I was happy to see the hope, the people… The people I met when I first returned in 2012 told me that what I was seeing was what hope looked like. All the wreckage I was seeing was an improvement from the smoke and dust from unrestricted explosions they had lived through for years."

When Lul first came again to Somalia in 2012, she recalls that the only cars in the streets were the armored military cars by the African Union Peace keeping Mission(AMISOM) . She remembers that by 4pm, everyone had to be indoors for their safety.

"AMISOM was the security; the only security. But now when I came back this time, our national army is visible. The Somali Police is visible. It makes me very proud. Things are moving forward, security has improved a lot, and lots of people from the diaspora are coming back. AMISOM has been a gift to us. It paved a way for that."

Healing from the past

Lul, Ifrah and Zainab say because a big number of Somalis are in diaspora, they are still haunted by the past.

"Many of our people left at the onset of the war or at its worst time, and others who have been born abroad only hear of such stories of suffering. They suffered unimaginably and this has conditioned them to be bitter, suspicious and highly paranoid. And it is not their fault," the trio confers.

"Many Somalis are suffering from old trauma. It still hurts to think about home and what they think is going on there. The war lives on in their hearts."

"It's a different story for the people who remained behind," Lul says. "They experienced the war, and now they have moved on. They see the improvement and the progress. They know they cannot afford to be stuck in the past, because then, who is going to rebuild for them? The people abroad need to come and create new memories. We need to rebuild our country and everyone can contribute."

What next for SGEM?

"The movement will not end when this year's electoral process closes," Zainab says. This year we hope to see more women go into Parliament and after that, we want more women representation in all decision-making bodies in both the public and private sector at all levels. So the work continues."

Many members of the Somali Gender Equity Movement have not fully relocated to Somalia, including Lul and Ifrah. They travel from time to time to visit their loved ones and check on the progress of things. Nonetheless, the work that they have started there continues to impact the lives of many Somali women in a meaningful and lasting way.