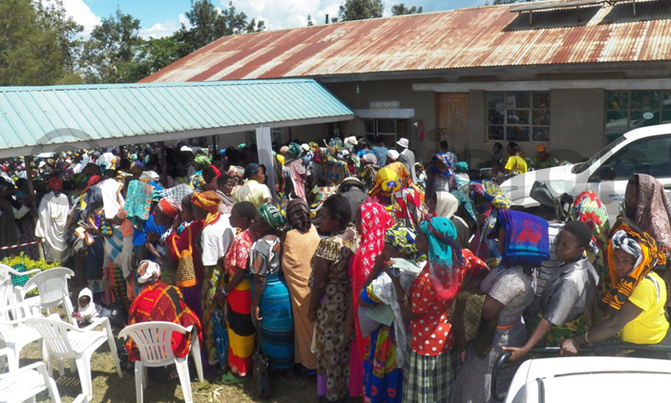 They had budgeted for only 4000 but on the first day alone they received 5000 patients
Over 10,000 residents of Ntara in Kitagwenda County in Kamwenge district have received free medical treatment at a health camp organized by the Rotary Clubs of Kololo and Ibanda in collaboration with Mulago Western Health Students Association.
Cancer screening, family planning, dental and eye treatment, HIV testing, blood donations were among the services offered to the people by over 60 doctors who spent three days at Ntara Health Centre IV.
Dr Rosemary Byanyima Kusaba the Rotary Club of Kololo president said they were overwhelmed by the number of patients that turned up for treatment. Kusaba who works also with Mulago Hospital said they had budgeted for only 4000 but on the first day alone they received 5000 patients.
"The rate at which people turned for the services shows that the health situation in the area is dreadful and it requires urgent concerted efforts to save it" Kusaba noted.
Most of the patients that turned up for medical treatment were old women and infants.
Dr Amos Busingye the assistant governor of Western Region Rotary Clubs revealed plans to organize another health camp in the near future to provide health services to the community.
Rotary Club of Kololo has in the past organized the same free medical camps in Ntungamo, Rukungiri and Ibanda districts among others.
Ngeradina Kebirungi, 79, who is among those who turned up said she been suffering from stomach complications for the last 15 years but could not afford money required for the treatment.
The area Member of Parliament Abbas Agaba lauded efforts of Rotarians and their partners for providing free medical services to people in the area.
Other partners in health camp included, the Parliament of Uganda that provided buses to transport doctors and patients, National Medical Stores, Joint Medical Stores that provided drugs, UHMG, Baylor Uganda, Kamwenge district local government and pharmaceutical companies among others.