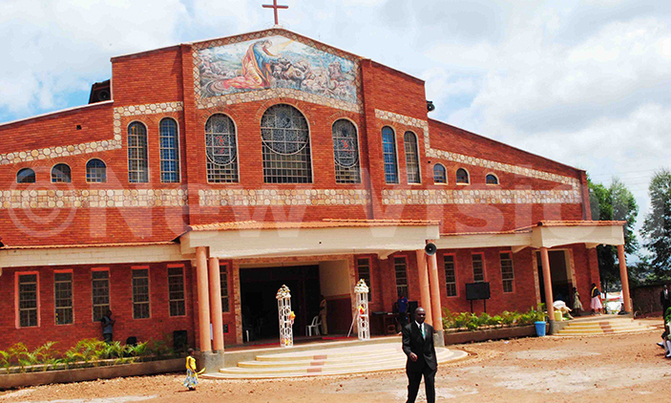 St Joseph's Catholic Parish Church that has been under construction in Nansana in Wakiso District since 2007 was opened on Saturday by the Archbishop of Kampala Dr Cyprian Kizito Lwanga .
The Church has been under construction for eight years and has finally been completed.
The function was preceded by a holy mass led by Dr Lwanga assisted by retired Hoima Bishop Edward Albert Baharagate, Msgr John Wynand Katende, spokesperson and several other priests from other dioceses.
The parish that had a small chapel at its initial stages was curved from Nakulabye Parish in the same year. It was placed under Fr Dominic Mwebe, popularly known as herbalist priest.
The church, whose plan was made by Fr Mwebe, also has a semidetached apartment that accommodates the priests' residence.
Before the mass, the head of the laity Vincent Gyagenda who took the guests through the history of the Nansana Parish said that the Parish sits on a-10-acre piece of land that was donated by a prominent Prince, late Nooh Mbogo.
Dr Lwanga received the keys of the new church from the head of the laity Gyagenda and later handed them to the Pariah Priest Fr Mwebe.
The church which was designed to accommodate over 2500 christians was filled to capacity. The chief guests, managing Director of Centenary Bank, Fabian Kasi, other guests included Joseph Yiga of Steel and Tube Nakawa, Wakiso District chairman Matia Lwanga Bwanika, superior General of Ggogonya Sisters, Sister Christine Anna Kiiza, and many others .
The theme of the day was; Twetukuze era Tuzimbe omubiri gwa Kristu Eklezia.
During his homily, Dr Lwanga urged the Christians to continue to be united and work together so as to develop the parish. He consecrated the altar and the four visible columns supporting the church.
Fr Mwebe hailed the Archbishop for soliciting financial assistance from Rome and also the Christians for sacrificing for the construction of the church. He said it was not easy to construct the church, but it has been possible because of their being trustworthy.