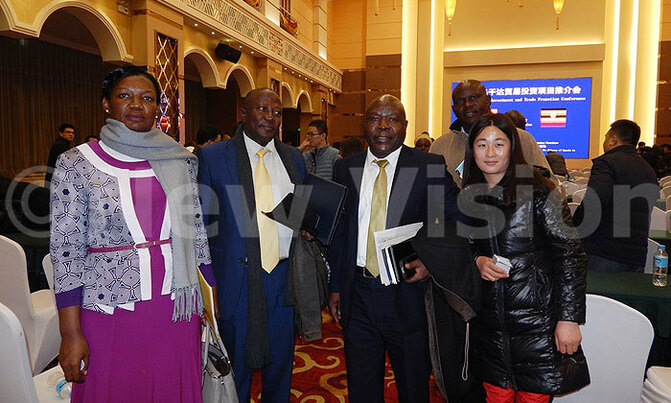 Uganda is eager to learn from China's development experience and entrepreneurial spirit.
PIC: From left, ministers Esther Mbayo (presidency) and Frederick Gume (state for cooperatives), Uganda's ambassador to China Charles Wagidoso at the Liaoning-Uganda Investment Conference in Shenyang. (Credit: Taddeo Bwambale)

Two ministers and at least 14 members of Parliament and district chairpersons from selected districts in Uganda are in China on a benchmarking tour and investment promotion drive.

The delegation led by the Minister for the Presidency, Esther Mbayo Nambayo and the state minister toured enterprises in Liaoning on Wednesday and met the governor of the province.

Speaking at the Liaoning-Uganda Investment and Trade Promotion Conference on Thursday, Tong Zhiwu, the Vice President of the National People's Congress in Liaoning said the province was ready to support Uganda's industrialisation.

The conference, organized by the Uganda Embassy in China and Liaoning Provincial Bureau of Commerce, was meant to showcase opportunities for investment and trade with Uganda.
Ugandan MPs attend the conference. (Credit: Taddeo Bwambale)

Zhiwu told delegates that recent high level visits to China by Ugandan officials signifies commitment to development and promised to support to wealth projects.

Having visited Uganda in the last three months, he said the country was politically stable and socially stable and hailed the investment climate as friendly.

He lauded the progress on the flagship Uganda-Liaoning industrial park that is under development, noting that critical facilities were already being set up inside the park.

Tong (pictured below) stressed that projects including the Standard Guage Railway (SGR) and hydro-power dams will encourage enterprises from Liaoning to launch in Uganda.
Liaoning will support Uganda's development in areas of infrastructure, industry, agricultural modernization, manufacturing, aid projects and culture, he disclosed.

He also listed cooperation and exchanges in education, culture and entertainment as possible areas for boosting ties between the province and Uganda.

Liaoning, with a population of 44 million people, has the largest provincial economy of Northeast China with GDP exceeding $348b in 2011.

Mbayo said Uganda was eager to learn from China's development experience and entrepreneurial spirit, which she encouraged Chinese firms to bring to Uganda.
Firms seeking to invest in Uganda will benefit from a 170 million-strong East African Community (EAC) market and COMESA market with 420 million people, she said.

The minister encouraged Chinese firms to support invest in priority sectors of ICT, agro-processing, minerals, tourism and infrastructure.

Hamza Galiwango, director for lands development at the Uganda Investment Authority listed agro-processing, minerals, energy, transport and housing as areas with good investment returns.

With a policy that exempts tax from exports and plant and machinery, Galiwango said investments in Uganda enjoy a profitability ratio of 20%, the world's highest.

Dr. Elly Twineyo, the executive director of the Uganda Export Promotions Board invited firms to invest across value chains.

He said Ugandas produced in Uganda have potential to reach a $1.2 trillion combined market in EAC, COMESA, European Union and AGOA in the US.
Several delegates attended the conference. (Credit: Taddeo Bwambale)

Uganda's ambassador to China, Charles Wagidoso said investment, trade and cultural cooperation were important aspects of China-Uganda relations.

Zhang Hao, a successful Chinese entrepreneur in Uganda who hails from Liaoning said political stability, growing economy and investment climate have facilitated the growth of his business.

Zhang is the proprietor of Liao Shen Industrial Co. Ltd, Arirang Hotel, Hash Security Company and has interests in different sectors of the Uganda economy.

Over 200 entrepreneurs, officials from the Liaoning Provincial government and the private sector interacted with Ugandan delegates at the forum.