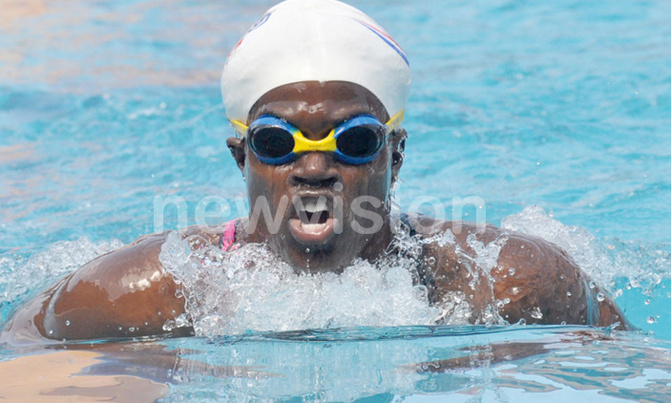 Sports commissioner Omara Apita flagged off the Ugandan team
A twenty nine-man Ugandan team is in Kigali to defend the CANA Zone 3 invitational swimming championships in Kigali, November 19-20.

Ministry of Education and Sports commissioner Omara Apita flagged off the Ugandan team at National Council of Sports on Wednesday.

Last year Uganda successfully hosted the inaugural edition of the event at the Kampala Parents School Swimming with Uganda emerging top.

Fielding two teams; the Squids and Merlins, the Ugandan teams amassed 3,244 and 2,226 respectively to make history as the inaugural winners of the tournament.

Team captain Avice Meya and Ronald Daisuke finished as the best swimmers in the girls' and boys' 17 and over category while Siegfred Katumwa and Katherine Bowmaker, were the other top swimmers in the '12 and under' age group.
Altona Club's Rachael Galinda in action in the 200m Medley Relay during the first Seals League meet at Kampala Parents School pool. PHOTOS: Michael Nsubuga
Meya and Daisuke are back on the team alongside Ssinzi Nabatanzi, Byansi Samora, Kirabo Namutebi, Adnan Kabuye, Tendo Mukalazi who were some of the medalists at last year's event.

Abba Mayanja, Kayla Gouws, Tendo Kaumi and Joshua Lumonya will be looking to keep Uganda on the top in the 11-12 years category, as Suubi Byansi, Ben Kaganda and Nicholas Malan do battle in the 13-14 age brackets.

In the open category (15 and over) the experience of Byansi Samora, Friedhelm, Nietsch, Galinda, Racheal, Kaleb Nietsch, and Alex Segujja will also be called on to put on their best in the two-day tournament.

Last year the event attracted swimmers from South Africa, Tanzania, Rwanda and Djibouti.