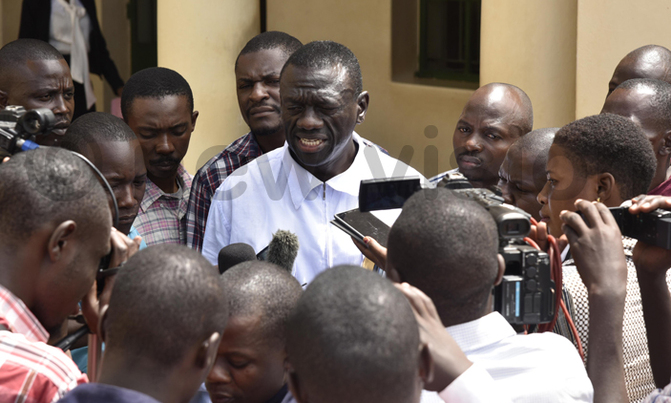 The former FDC president is expected to appear in court for mention of his case in January
Besigye talks to the media before leaving the High Court in Kampala. Photo by Roderick Ahimbazwe
Former FDC presidential candidate Dr. Kiiza Besigye has vowed never to appear in court because of delays in investigations.
Besigye told Nakawa Chief Magistrates' Court presided over Noah Ssajjabi that if court does not conclude Investigations by January 25, 2017, when he is expected to appear in court for mention of his case, he will not appear again.
"This case has been in court for more than six months ever since I was arrested and charged in Moroto court" Besigye said.
"The next time the case comes to court I should be ready to be committed for trial" he added.
Besigye is facing the charges over a video which circulated on social media in which he is seen being sworn in as president after the 2016 general elections.
It is also alleged that between February 18th and May 11th, Besigye, in various places in Wakiso and Kampala districts, incited people to overthrow the Government.
The four time presidential candidate is also accused of declaring himself president after claiming to have won the February 18th polls.
He was arrested on May 11th in Kampala, a day before President Yoweri Museveni took oath.
In October, Besigye threatened to protest attending Nakawa Magistrate's Court proceedings again where the case is still under mention because he has wasted a lot of his time and resources but there is no progress.
"I am about to protest coming to this court. I will only continue to report to the High Court which released me on bail and has powers to try my case until inquiries are complete," he said.
However, procedurally, criminal cases have to be mentioned first in the Magistrates Court until the completion of inquiries and the suspect is then sent to the High Court for trial.
At this stage, the DPP may also unconditionally drop charges against suspects for either lack of prosecution witnesses or any other issue under article 120 of the Constitution.