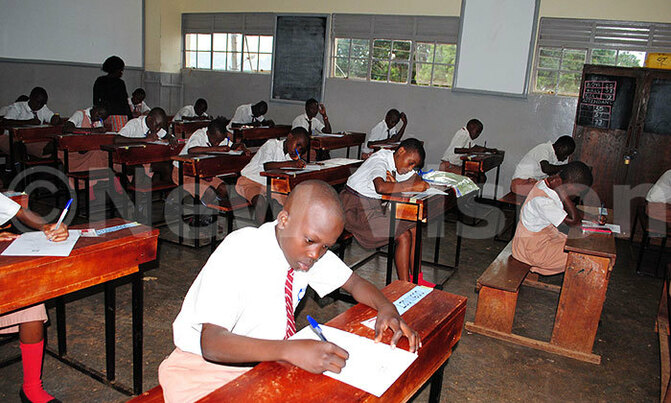 Only 543,071 pupils sat PLE last year, out of the 1,763,284 who enrolled in 2006.
It is lunch time at Endru Primary School, 10km from Arua town in the West Nile and pupils are hovering over women selling pancakes and sugarcane at the roadside.

These pupils are 'hunting' for their lunch, like their colleagues in other primary schools, especially those under the free universal education programme. When they are done eating the snacks and playing in the nearby heap of sugarcane husks, they saunter back to their classes and slouch on the bare floor for afternoon lessons.

Fourteen-year-old John Abongu, who sat PLE, last year, had a group of friends at Endru he started out with in Primary One. Abongu is joining Senior One in February, but his friends are not.

Abongu's friends are part of the growing statistics of school drop-outs. Records in the education ministry and the release of results this week show that 69.2% of the pupils who joined Primary One in 2006 failed to make it to last year's Primary Leaving Examination rooms.

Only 543,071 pupils sat PLE last year, out of the 1,763,284 who enrolled in 2006; which forms a complete cohort. This implies that in the last seven years forming a primary school education's cohort, 1,220,213 pupils were lost on the way.

The worse news is that a few of the thousands of those who make it to Primary Seven do not do the final examinations. For instance, last year, 20,989 candidates did not do their final examinations, although they had registered.

According to a report released by the United Nations Educational, Scientific and Cultural Organisation (UNESCO) a year ago, Uganda has the highest school dropout rate in East Africa, followed by Kenya and Tanzania.

UNESCO's follow-up study showed that of every 100 pupils who joined Primary One in 1999, only 25 made it to Primary Seven in 2006. In Kenya, 84% of pupils reached Primary Seven. Tanzania stood at 81% and Rwanda at 74%.

But with the current situation analysis, it shows that ate least 31% reached Primary Seven pupils in Uganda reached Primary Seven last year. This is an improvement compared to 2006 studies; much as the drop out is still alarming.

Recent studies pin Uganda's school drop-out rate on a number of socio-economic factors.

Lack of interest, pregnancy, early marriages, corporal punishment as well as hidden costs at school, family responsibilities and lack of lunch are driving thousands out of school. Lack of guidance and domestic labour are also to blame for the trend. Furthermore, menstruation much more than sickness, deters girls from attending school.

A 2006 World Bank report shows that in Malawi and Uganda, where Universal Primary Education was introduced over a decade ago, more children from poor homes have enrolled in school. However, in both countries, half of the school drop-outs cite lack of money as the main challenge. The situation is worsened by schools that demand pupils pay lunch and construction fees.

This World Bank's findings were backed up by a 2007 survey by the Uganda Child Rights NGO Network entitled, The Status of Fulfilment of Child Rights in Uganda, where 40% of drop-outs are attributed to high school expenses in form of fees and scholastic materials. Other reasons include poor academic progress, demands to do domestic chores, sickness and calamity.

To stem the school drop-out tide, stakeholders are rooting for the elimination of fees levied on pupils. However, according to the UNESCO report, although the legislation eliminating fees has been partially implemented, often parents still have to buy uniforms and textbooks. In Sierra Leone, uniforms double the cost associated with school fees. Countries like Nigeria are resolving this by waiving fees for children from poor homes, but they still have to buy books and uniforms.

The AIDS scourge too also led to an increase in the dropout rate. AIDS reinforces wider problems arising from poverty and social discrimination such as becoming orphans and stigmatisation.

"I left school years ago because I wanted to support my family after our parents died," says Jessica Asiimwe. In many child-headed families like Asiimwe's, the children usually abandon school.

John Eresu, a researcher on education issues says that in Uganda, the academic system curtails learners to the rigours of education alone. "This means that pupils who cannot cope with the pace of the tough academic work, lose interest and leave school," Eresu explains.

Another report by the Forum for African Women Educationists in Eastern and Southern Africa indicates that pregnancy shatters career dreams of many girls. The report, in particular, criticises the policy of expelling girls from school when they get pregnant.

The report also notes that many pupils are dropping out of school as a result of sexual abuse. Almost 8% of 16 and 17-year-olds, according to the report, have had sex with their teachers in Uganda.

The African Network for the Prevention and Protection against Child Abuse and Neglect-ANPPCAN, a child rights organisation, in its statement last week called upon all primary education stakeholders to address the high dropout rates in UPE schools.

In its study carried out recently, ANPPCAN found out that out in 25 public and private primary schools in Acholi, Lango, West Nile and Central regions at least 81% of primary school age going children are subjected under corporal punishment among other forms of violence and abuses, by teachers and parents.

Education minister Maj. Jessica Alupo says that the Government is "working with all education stakeholders to ensure that no child drops out of school. These drop-outs cost the Government greatly and this has to be solved immediately," Alupo vows.

The state minister for primary education, Dr. Kamanda Bataringaya, like Alupo says the ministry is carrying out a comprehensive study on pupils dropping out of school. "The study will help us set up mechanisms to mitigate this trend," Bataringaya explains.

In addition, the education ministry permanent secretary, Francis Xavier Lubanga, recently revealed that there will be gradual increase in capitation grants to primary schools, as well as improvement on sex education and facilitation of schools to avoid drop-outs.

Another report by the Judicial Service Commission instituted by President Museveni to probe fraud in UPE and USE suspected that the primary education system could be harbouring a number of ghost pupils; created mainly by head teachers.

This conclusion was drawn by the Commission, after comparing the official enrolment given by the school administrators, with the headcount results. The commission found a variance of about 21.6% of the enrolled students, who were suspected to be ghosts.

According to the report, ghosts pupils were found unevenly distributed among classes. They were more pronounced in P1 and lowest in P7; a reason which could partly explain the missing pupils.

The dropout crisis is gradually eating away the gains made by the Government in the education sector. The worst though is that school dropouts face it rough in life. They are more likely to be unemployed and impoverished compared to their colleagues who attain an education.