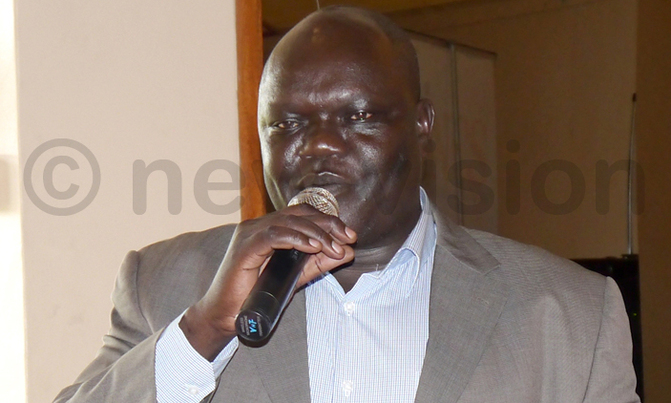 A group of retired footballers who on Monday stormed FUFA offices in Mengo intent on forcefully ousting Moses Magogo
National Council of Sports (NCS) has advised rival football groups to resolve their differences and allow one association to get a Certificate of Recognition to run the sport or government will take over national football teams.
NCS chairman Bosco Onyik made the remarks while addressing 28 national associations and federations that have officially registered with the governing body at a workshop at their offices in Lugogo on Tuesday.
"Walusimbi and Magogo first have to come together and come to terms. NCS does not run the game of football because they would think government is interfering with their issues but at the moment government is dealing with Uganda Cranes and not FUFA" Onyik said.
"Remember, whoever is not here at this assembly is not registered with NCS and at a later date we shall announce any party willing to register FUFA as national federation to do so" he warned.
FUFA and Uganda Weightlifting Association (UWA) most notably do not have Certificates of Recognition. Others missing include Zurkhaneh, Squash Rackets, Gymnastics, Kayaking, Judo, Dragon, Shooting, Rowing, Sailing and Wresting federations.
His comments follow clashes between the seating FUFA leadership of Moses Magogo and a group of retired footballers who on Monday stormed the federation offices in Mengo intent on forcefully ousting Magogo.
"We cannot issue Certificates of Recognition to two different associations managing the same sport. It is true the Ministry of Lands issued (Dan) Walusimbi a certificate of registration but the Magogo group has been a de facto at FUFA but none of them is recognized at NCS" Onyik explained.
Although the ministry registered FUFA Limited of Walusimbi to run football in Uganda, NCS rejected his application to be the legitimate association to run football because he did not fulfil other requirements as demanded by NCS.
On the other hand FUFA led by Magogo has submitted all their documents to NCS but Council cannot proceed to issue the Certificate of Recognition because they do not have a registration certificate from Ministry of Lands that it is mandated to present.