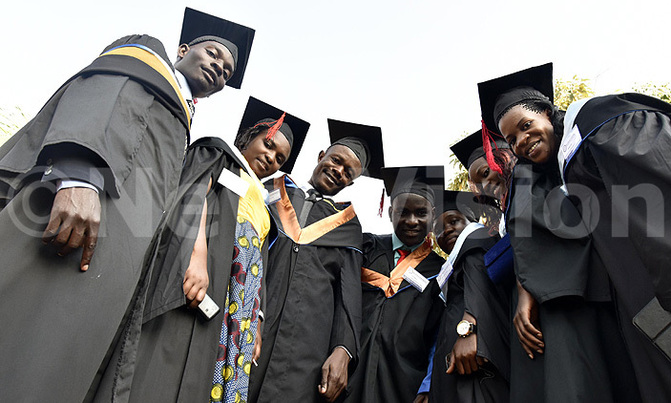 Manu also told the gathering that the university had expanded its curriculum to include science
Graduands at the graduation ceremony held at Bugema main campaus in Luweero. Photo by Roderick Ahimbazwe
The National Council of Higher Education (NHCE) has allowed Bugema University a chartered Seventh Day Adventist institution of higher learning to offer Doctor of Philosophy (PhD) programs.
PhD is the highest academic degree awarded by universities in most countries.
The University Vice Chancellor Prof. Patrick Manu revealed this at the 22 graduation ceremony held in at the Bugema main campus in Luweero district on Sunday.
"NCHE has accepted our proposal to start our PhD programs in February next year. The areas are Educational management, Rural Development and Environmental Management," he explained.
Manu also told the gathering that the university had expanded its curriculum to include science courses adding that construction of a four-floor science complex had commenced.
Dave Weigley, the president of the Seventh Day Adventist Columbia Union Conference in Washington (USA) challenged the graduates to cultivate the spirit of developing unique innovative ideas to apply in structuring businesses in the country to boost the economy.
He said it is high time the youth from various universities and tertiary institutions applied what they had acquired into manufacturing industries.
According to Weigley, this will help strengthen the nation's capital base as well as reducing the unemployment rate.
"There are a lot of resources that can be tapped and processed through innovative thinking into finished goods; our graduates from the universities should be creative enough to develop unique ideas to process these resources," he added.
A total of 1378 graduands were awarded degrees, diplomas and certificates during the function held under the theme; 'let your light so shine'
The chancellor Pr. Dr. Daniel Matte reiterated the need for the graduands to trust and believe in God as "you set out on this journey. Life will be challenging, at times confusing. But you will need a sound head. Face it with respect and confidence."