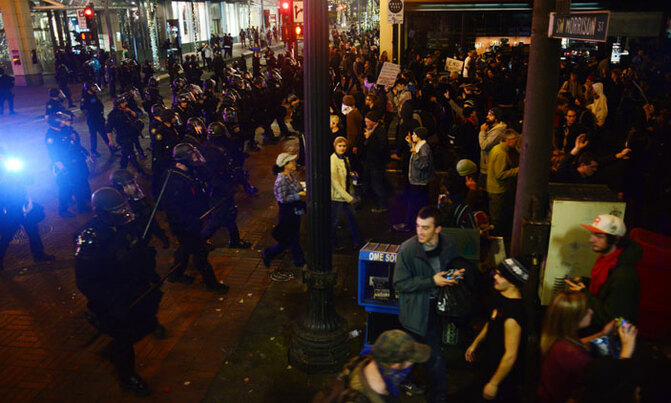 Atlanta police estimated that the city's largest anti-Trump protest yet drew more than 1,000 people Friday, according to local broadcaster WSB
Police wearing riot gear watch as demonstrators protest against Donald Trump's US presidential election victory, at City Hall in Portland on November 11, 2016.
Demonstrators took to the streets in Miami, Los Angeles, New York and other US cities to oppose Donald Trump's election as president for a third straight night of nationwide protests Friday.

People gathered in New York's Washington Square neighborhood in lower Manhattan, some carrying enormous red balloons and placards with hearts and the words "peace and love."
Others held signs reading "Your Wall Can't Stand in Our Way" -- a reference to the anti-immigration barrier the billionaire real estate baron has promised to build on the US border with Mexico.

The city's local ABC affiliate said an estimated 4,000 people gathered at the site, while others descended on Union Square and marched through Midtown and still more converged outside Trump Tower.

The New York Police Department reported that 11 people had been arrested as of late Friday, the New York Times said.

Demonstrators said they wanted to show solidarity with those they felt may be targeted by Trump's policies once he takes office in January, including Mexicans and Muslims.
"We're here to support the people that Trump has insulted, to show our children that we all have a voice, and to stand up for people's rights," Kim Bayer, 41, told AFP.

Organizers plan another large demonstration in the same Washington Square location on Saturday, and more protests are expected across a number of cities over the weekend.

Meanwhile, about a thousand protesters took part in an apparently spontaneous demonstration in Miami, hoisting signs against racism and opposing the deportation of undocumented immigrants as they walked down Biscayne Boulevard.

At a small protest in California, about two dozen women wearing shorts and sports bras locked arms and staged a brief flash mob-style protest in the middle of a freeway south of Los Angeles Friday, causing traffic to come to a standstill.

Several of the women carried placards that read "Unity" as they marched down the four-lane freeway in Costa Mesa.
Atlanta police estimated that the city's largest anti-Trump protest yet drew more than 1,000 people Friday, according to local broadcaster WSB.

And in Philadelphia, some 250 people gathered for a rally against the president-elect, ABC affiliate WPVI reported.

Further north in Boston more than a thousand people converged in the afternoon for a "Love Rally" against Trump's divisive rhetoric, local media said.

Demonstrations also occurred in Detroit, Michigan; Dallas, Texas; Memphis, Tennessee; Orlando, Florida; and Raleigh, North Carolina.

Since Trump's shock victory on Tuesday over Democrat Hillary Clinton, who had been widely tipped to win, thousands have protested in cities across the United States.

While most of the demonstrations have been peaceful, officials said some erupted in violence that caused property damage.
There has also been an uptick in violence by both Clinton and Trump supporters against partisans on the other side, law enforcement officials said.