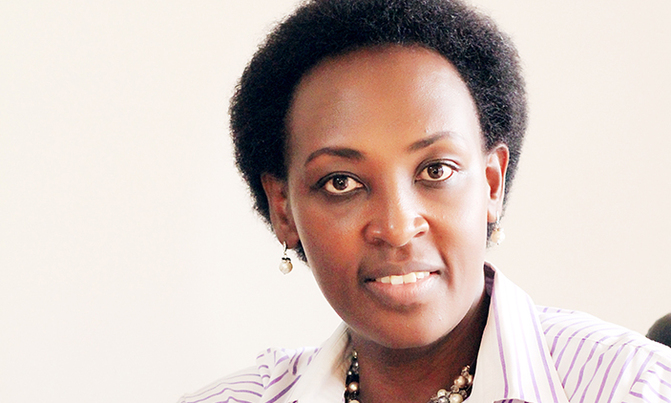 In many ways the use of symbolic actions in communicating with wanainchi has been his signature method of work
By Molly Kamukama
During the recent visit of Luweero district by the president, he used the tour to demonstrate how the use of simple tools can contribute to the attainment of the socio-economic transformation of the country, in particular how we can achieve the desired goal of bringing 68% of our population in the cash economy.
I was however dismayed by some comments on social media by those who missed the point in the president's use of symbolic gestures in demonstrating this message of the use of simple tools to achieve maximum results on small pieces of land.
In many ways the use of symbolic actions in communicating with wanainchi has been his signature method of work. In this particular tour of Luweero by the president, he put emphasis on educating the masses on the use of irrigation skills to utilize small pieces of land using a bicycle and jerry can to symbolically educate Ugandans on how the use of the two can be optimized in increasing and improving agricultural yields.
You would recall that on the campaign trail, the president who was the NRM candidate emphasized the need to consolidate land for commercial production in moving Uganda towards a medium income country. According to the UBOS census 2014 a typical family in Uganda owns two acres of land on average. This has in a sense encouraged persistence in subsistence farming, resulting into about 68% of the population not operating in the money economy by 2014.
This practice and methods of agricultural production cannot raise the standards of living of the people, but instead will end up breeding more poverty and increased food insecurity.
Kisanja Hakuna Mchezo aims at attaining the average income of 1,033 USD per person by 2020. This means we must all contribute in ensuring we translate the 68% currently trapped in subsistence living into a money economy by improving production and processing methods.
A section of some people including the usual hecklers who fail to appreciate pragmatic approaches to getting things done went on to play with Photoshop, and superimpose images from the Luweero tour to create propaganda, and ridicule the president's effort.
In particular I noticed, a one-time presidential candidate while appearing at NBS's program The Frontline, and in a local daily mocking the president for this effort. He derided the president for acting unpresidential because of the symbolic actions demonstrated in sensitizing the masses in Luweero.
It escaped the critics that Uganda has extensive commercial irrigation projects in some parts of the country. By the use of the bicycle and jerry can was a message not for those seeking to do commercial agriculture but those families particularly with on acre or two but who require creative methods to irrigate their lands. It would not be affordable for smallholder farmers to apply expensive irrigation schemes.
Commercial farmers with projects on large tracts of land Kibimba, Mubuku and Doha are undertaking massive irrigation schemes. In the districts of Nwoya, Amuru, and Luweero farmers on their private land are doing massive irrigation schemes and are flourishing. So Uganda is not short of examples when it comes to "model" irrigation schemes.
Uganda's weather patterns although predictable are growing stubborn due to the wrath of climate change. However, there are averagely 4 months of a dry season. If irrigation is ignored and situations like what is currently is occurring in Isingiro happen elsewhere, the country could face severe famine.
Drip irrigation has helped Israel transcend the challenges of its desert climate and gone green and is considered one of the largest contributors to food charities. In Senegal, the use of this technique has helped the country triple their crop yields in a year; instead of harvesting once, they now harvest thrice. Uganda is blessed with an enviable climate that can be harnessed to attain more for ourselves and generations after us.
It is also a clarion call to technical leaders to do stock-taking in their communities. Parish chiefs, sub county chiefs, community development officers need to awaken to such revolutionary methods of work. A parish according to the UBOS 2014 census has an average of 200 households. A stock of the various economic activities on the parish has to be undertaken for government to know how to support its people. If perennial crops such as coffee are grown on a small scale and irrigated sufficiently, the 68% shall be steadily pushed out subsistence livelihoods into the money economy and steadily Uganda shall achieve its middle income status by increasing household production.
The book of Zechariah 4:10 implores us not to despise humble beginnings. Let those that have large tracts of land spur on, but the ones with just an acre should be implored to aim bigger and also be skilled on how to grow their incomes from small pieces of land by encouraging such best farming practices.
The writer is the Principal Private Secretary-Designate to His Excellency the President Republic of Uganda