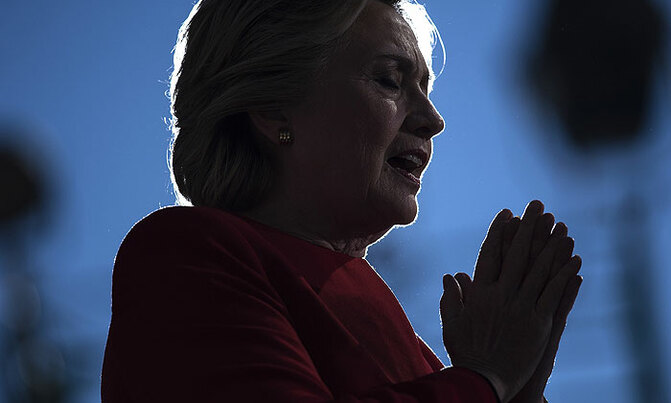 A look at the latest best news pictures from across the world. From the US election to protesters in various parts of the world, it's been an eventful past couple of days.
From the US election to protesters in various parts of the world, it's been an eventful past couple of days. Here's a selection of what has been happening around.
Republican presidential nominee Donald Trump holds a mask of himself which he picked up from a supporter during a rally in the Robarts Arena of the Sarasota Fairgrounds in Sarasota, Florida. Hillary Clinton and Donald Trump launched into the frenzied final day of their historic fight for the White House Monday, with blow-out rallies in the handful of swing states that will decide who leads the United States.
Russian paratroopers jump as a rainbow appears in the sky during the joint Russian, Belarusian and Serbian military exercise "The Slavic Brotherhood" at the military ground Kovin, near Belgrade.
High schools students, one holding a smoke flare, march in Athens, Greece during a rally against educational reforms, and demanding more funds for education.
A Syrian man tries to extinguish a fire caused nearby airstrikes in the rebel-held town of Douma, on the eastern outskirts of Damascus in Syria.
A baby laughs as he plays with migrants and refugees aboard the Topaz Responder ship, run by Maltese NGO Moas and the Red Cross, before arriving in Italy after a rescue operation off the Libyan coast in the Mediterranean sea.
An Indian Hindu devotee offers prayers in a pond during the Chhath Festival in New Delhi. The Chhath Festival, also known as Surya Pooja, or worship of the sun, is observed in parts of India and Nepal and sees devotees pay homage to the sun and water gods. Devotees undergo a fast and offer water and milk to the sun god at dawn and dusk on the banks of rivers or small ponds and pray for the longivety and health of their spouse.
A Palestinian worker breaks stones at a factory where the rubble of houses, that were destroyed during wars, are recycled to be reused at construction sites in Gaza City.
A man runs as Turkish riot police uses water cannon to disperse demonstrators during a demonstration in Istanbul. Turkey jailed the two leaders of the country's main pro-Kurdish party and several other MPs, in an unprecedented crackdown as a bombing killed nine in the Kurdish-dominated southeast. A court in the southeastern city of Diyarbakir remanded in custody Peoples' Democratic Party (HDP) co-leaders Selahattin Demirtas and Figen Yuksekdag after they were detained along with 10 of its MPs, the state-run Anadolu news agency said.
A general view of a makeshift camp inhabited predominantly by members of the Roms community, near Paris, France.
Kenyan human rights activists run from anti-riot police in the Kenyan capital Nairobi during a demonstration calling for President Uhuru Kenyatta to have more effective actions against political corruption. Human right's activists clashed with police during demonstrations against increased discontent with President Uhuru Kenyatta, who last month blamed others for runaway corruption, saying he had done all he could to rein it in, with the latest in a series of scandals being alleged theft from the health ministry.
A boy plays on a beached damaged by Hurricane Matthew, in the commune of Port-a-Piment, in the southwestern Haiti. At least 546 people were killed when Hurricane Matthew roared ashore one month ago, packing winds of 145 miles (230 kilometers) per hour.
Pakistani Muslims arrive for the annual Tablighi Ijtema religious gathering in Raiwind on the outskirts of Lahore. The Tablighi Ijtema is an annual feature, founded by religious scholars more than five decades ago and focused exclusively on preaching Islam.
Indonesian protesters react as police shoot tear gas next to two burned cars outside the presidential palace in clashes that marred an otherwise peaceful rally against governor Basuki Tjahaja Purnama, a Christian accused of insulting Islam, in Jakarta.
A massive demonstration by tens of thousands of Indonesian Muslims against Jakarta's governor turned ugly as hardliners burned police cars and clashed with officers, who responded with tear gas and water cannons.
A man loots a store as South African opposition Economic Freedom Fighters (EFF) party members and supporters demonstrate against South Africa's president Jacob Zuma and in support of the release of the South African Public Protector "State Capture" report in Pretoria. South Africa's anti-corruption watchdog called for prosecutors to investigate alleged criminal activity as it released a report into President Jacob Zuma that fuelled further calls for him to resign. Zuma, whose presidency has been engulfed by multiple scandals, had fought to block the release of the Public Protector's report, but his lawyers made a surprise U-turn and dropped their legal appeal. The report was released hours later, further undermining Zuma after a series of court rulings that have tarnished his time in office and the ruling ANC party that led the fight to end apartheid rule.