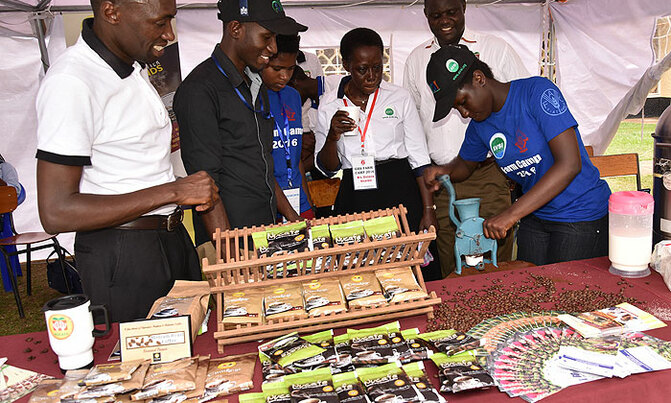 Coffee is the main traditional cash crop in Uganda and it is the major source of export revenue in terms of value.
In Uganda, 83% of youths are unemployed, the highest in Africa, according to Africa Development Bank Report 2015, yet 78% of the population are below the age of 30 years (one of the youngest population in the whole world).

Against that background, boosting coffee agribusiness value chain skills among the youth has been singled out as one of the cardinal undertakings that will help curb unemployment among the young population, with coffee being the country's most lucrative exportable commodity.

Consequently, the National Union of Coffee Agribusinesses and Farm Enterprises (NUCAFE) in partnership with the Netherlands-funded Skilling Youth for Employment in Agribusiness (SKY), Resilient Africa Network (RAN) under Makerere University, Uganda Free Zone, Agricultural Reinsurance Consultants (ARC) and Agricultural Insurance Consortium are taking the mantle to attract local youth into taking different roles along different key nodes of the coffee value chain including primary production as an avenue for creating employment opportunities.

Coffee is the main traditional cash crop in Uganda and it is the major source of export revenue in terms of value.

The crop has contributed between 18-20% of the foreign exchange earnings of Uganda for the last ten years. Although, the volume of coffee produced in 2014/15 financial year, decreased from 3.7 million 60kg bags worth $425.4m in financial year 2013/14 to 3.24 million 60kg bags worth $410m, Uganda upstaged Ethiopia and became the seventh largest producer of coffee globally.

Partnership to hold 2nd National Coffee Festival

One of the key engagements of the partnership will be to hold the 2nd Annual National Coffee Festival, which is taking place today (Friday) at Mandela National Stadium, Namboole under the theme: Skilling the Youth, the Nation Prospers.

Joseph Nkandu, Executive Director NUCAFE explained that the festival seeks to reduce youth unemployment through changing the mindset and exposing the values of dealing in coffee for the young people to embrace coffee innovations across the entire coffee value chain.

"We need the youth to harness coffee agribusiness right from primary production through value addition and marketing because the coffee subsector has a huge potential to create youth-run businesses, wealth, jobs and adds momentum to government's effort of boosting coffee production and export; all such avenues will be part of the Festival," he said in an interview.
Harriet Adong, Communications Manager at Resilient Africa Network during an interview about the coffee festival

The aim of government is to have a sustainable coffee industry by increasing the annual coffee production from 3.2 million to 10 million 60 kg bags by 2018.

The country also plans to boost annual output to 20 million bags by 2020 by planting 900 million trees in three years through June 2019 and the Festival seeks to supplement such national efforts

RAN project will exhibit a wide range of innovations geared towards boosting agro-processing and irrigation, all courtesy of Makerere University students advanced efforts in infusing practical skills in what they study, according to the project communications manager Harriet Adong.

The festival spectrum

This year's Festival will attract over 5,000 participants including but not limited to; coffee farmers, university students, policy makers, exporters, coffee shop business leaders, financial institutions, agricultural entities, insurance companies, technology providers, development partners, nutritionists, agro-input suppliers, research institutions, barista training organizations, government institutions and recruitment firms to exhibit their products, as well as discuss and share various aspects of coffee from 'the farm to the cup'.

A full day training workshop on coffee will be part of the festival to further enhance an advance skills and knowledge in farming, quality, postharvest handling, storage, drying, processing, and value addition, marketing and starting as well as sustaining a business.