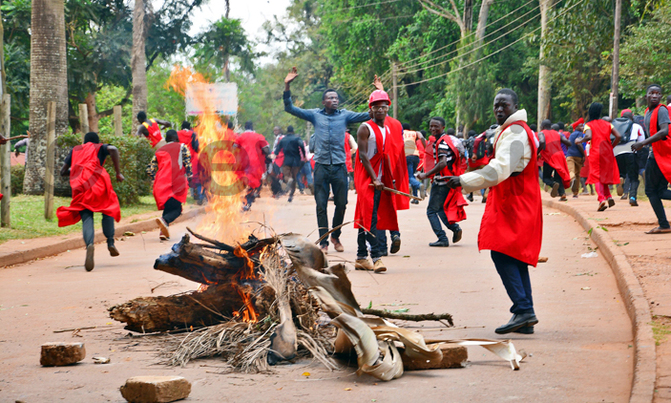 The University is currently embroiled with lecturers' and students' strikes
President Yoweri Museveni has ordered for closure of Makerere University currently embroiled with lecturers' and students' strikes since last week.
The Presidential directive issued on Tuesday evening was taken "to guarantee the safety of persons and property".
"Pursuant to the powers vested in me by the Constitution of the Republic of Uganda and Section 26(2) of the Universities and other Tertiary Institutions Act 2001 as amended, decided to close Makerere University with immediate effect, until further notice, in order to guarantee safety of persons and property" the directive signed by the President states.
This comes after last ditch attempts by the University Council to end the lecturers' strike on Tuesday by offering to pay lecturers' incentive allowances for one month immediately following a crisis meeting.
Students joined the strike on Tuesday after lecturers under their umbrella body Makerere University Academic Staff Association (MUASA) on Monday resolved to continue their strike until sh32b in allowance arrears over eight months is paid.
During the general assembly of lecturers at the School of Education, they unanimously endorsed the decision to continue the strike in a move they said would solve Makerere's financial problems once and for all.
Dr. Charles Wana-Etyem, the University Council chairperson appealed to all lectures to observe and go by the resolutions made on Friday during the council's emergency meeting since the council acknowledged and was committed to pay the arrears but all was in vain.
The students demanded to meet with President Museveni instead of the University Council.
The university vice-chancellor Prof. Ddumba Ssentamu last week urged lecturers to resume teaching saying strategies had be laid out to find a solution in a phased approach.