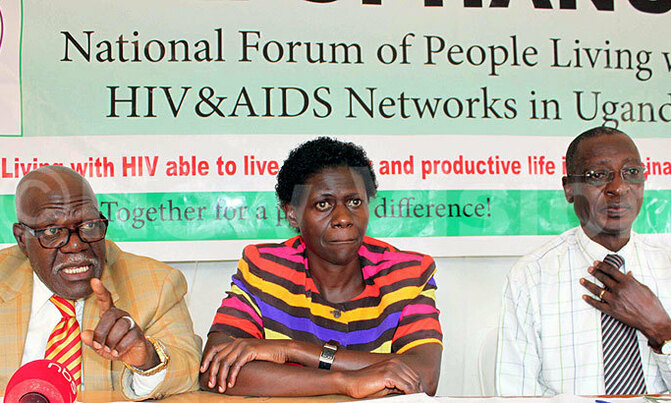 "One of their responsibilities is to ensure that patients actually take their medication."
KAMPALA - People living with HIV are critical of health authorities for failing to retain all patients initiated on antiretroviral treatment (ART).

They say that in this era of advanced digital communication, it's easy to track a patient.

Milly Katana, a public health specialist who has lived with HIV for 25 years, said that with the various platforms of social communication, patients can be found wherever they may be.

She said that even if patients cross borders, it's possible to find them wherever they are to find out what is happening to them and ensure they are getting proper treatment.

Katana was speaking during the commemoration of Philly Lutaaya Day by people living with HIV in Kampala.

This was at the National Forum of People Living with HIV/AIDS Networks in Uganda (NAFOPHANU) offices in Mengo. NAFOPHANU organized the commemoration.

"As people living with HIV, we are warning the health care providers that should we find that people living with HIV are lost to follow up, we are going to infer criminal charges against them because this is neglect of their responsibility on their part as they sign up to be health work providers," said Katana (below).
"One of their responsibilities is to ensure that patients actually take their medication. Because patients lose trust in the health care delivery system that is why patients are lost to follow up and they are not consistent on their medication."

She said it is a shared responsibility but that they are putting the prime responsibility on those competent and qualified to provide health care.

Meanwhile, Stella Kentutsi, executive director of AFOPHANU, congratulated all people living with HIV who have devotedly followed the legacy of "our own first activist and founder of people living with HIV, Philly Bongole Lutaaya".

"Special thanks goes to the government of Uganda and development partners who have generously contributed to the national HIV response through policy development, physical, technical and financial support. You have indeed demonstrated a clear path of responsibility."

Citing this year's theme 'An AIDS-Free Uganda, My Responsibility', Kentutsi said it is an opportunity for the people living with HIV to revive positive living, promote disclosure, adherence, encourage solidarity, shun stigma and discrimination and "demonstrate our support to the national HIV/AIDS response".

On his part, rtd Maj Rubaramira Ruranga said it was a special day since Philly Lutaaya as a person living with HIV gave HIV a human face and provided a starting point for fighting stigma and discrimination.

"We, the people living with HIV, expect all stakeholders to adopt the 90X90X90 strategy and put into action the goal of people living with HIV having access to antiretroviral treatment upon diagnosis and that ARVs be made available to be utilized strategically for both treatment and prevention."

Their appeal

The engagement and retention of people living with HIV in treatment and care must be culturally-appropriate and gender-affirming, free from stigma or discrimination, resources dedicated to the treatment and prevention of HIV should be increased, along with efforts to assist communities to address treatment access and testing barriers that have a negative impact on achieving the 90X90X90 targets.

They also want quick operationalization of the AIDS Trust Fund, universal access to a wide range of holistic HIV health services, government to scale up routine Viral Load Testing services and ensure optimal treatment for people living with HIV and elimination of sporadic stock outs of ARVs and TB drugs as this is a catalyst to drug resistance which is more expensive to treat and eventually increase AIDS related deaths.

"An AIDS-free Uganda is my responsibility," said Kentutsi.

"People living with HIV, communities, the government, health service providers, donors and every stakeholder are also accountable. With concerted efforts by all of us, an AIDS-free Uganda can be a reality."