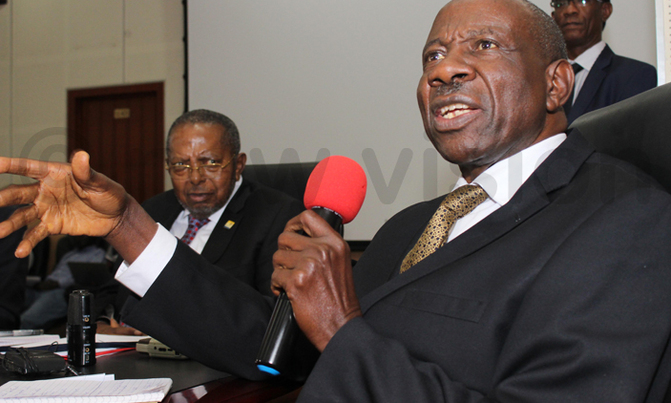 Uganda Revenue Authority collected less than what it anticipated
(L-R) Finance minister Matia Kasaija flanked BoU Governor Emmanuel Tumusiime-Mutebile addresses the briefing on the state of the country's economy. Photo by Tony Rujuta
The Ministry of Finance has revealed that government collected a total of sh2.8trillion in the first quarter (July, August and September) of the current financial year.
Giving details about revenue collections on Wednesday at the ministry's headquarters, Lawrence Kiiza, the director economic affairs noted that Uganda Revenue Authority (URA) collected less than what it anticipated.
In the 2016/17 budget, government projected revenue collection of sh12.9trillion. This implies on average it would have to get sh3.2trillion in every quarter of the year.
URA earlier this year forecasted the shortfall citing a declining shilling and low private sector credit.
At the meeting attended by officials from International Monetary Firm (IMF), the Governor Bank of Uganda, Emmanuel Mutebile, quashed rumours about the safety of the banking sector saying it's strong and profitable.
He however noted that two banks, without naming them, are being scrutinised by the Central Bank.
The market has been rife with reports that two other commercial banks were on the brink of being taken over by Bank of Uganda.
"Some of what is written in the newspapers is rubbish. Bank of Uganda only takes over a bank when it is necessary to protect the interests of depositors.
People forget that we have been successful in getting new investors for banks. We have six months to get investors for Crane Bank, and I am sure that we shall find suitable investors," Mutebile said.
The IMF mission chief, Axel Schimmelpfennig, advised Uganda to invest more in the health and education sectors.
He also emphasized the need for authorities to make an amendment in the Bank of Uganda Act to make the central bank more independent.