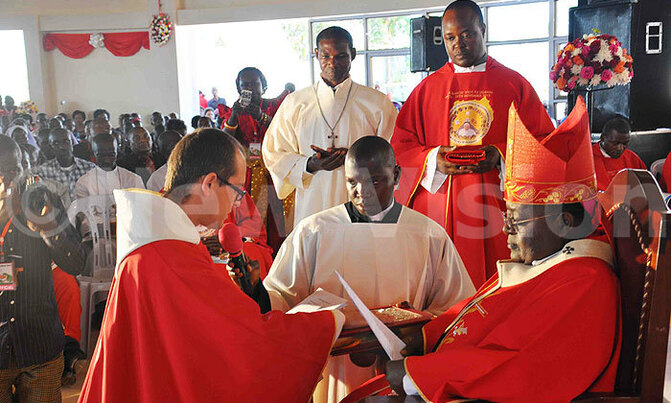 The new parish priest is Fr. Ulman Wojtek.
Kampala Archdiocese inaugurated its 65th parish called Uganda Martyrs Shrine Munyonyo.

The new parish was launched by Archbishop of Kampala, Dr Cyprian Kizito Lwanga, with the help of Vicar of Kampala, Msgr Charles Kasibante, pastoral coordinator of Kampala Archdiocese Fr. Dr. Mark Richard Ssajjabi, and several other priests.

The colorful function started with a Holy Mass held at Munyonyo Church on Sunday.

The function was attended by a big crowd of clergy and laity from the various parishes and institutions making up the Archdiocese of Kampala and beyond.

Archbishop Lwanga blessed new parish priest/shrine rector, Fr. Ulman Wojtek aka Male and installed him. He will be assisted by Fr Stanislaus Strojecki aka Nsubuga.
Part of the congregation were Vision Group staff. (Credit: Juliet Lukwago)
Here, Archbishop Lwanga installs Fr Ulman Wojtek as new Shrine Rector. (Credit: Juliet Lukwago)
Archbishop Lwanga chats with Fr Dr Marion Golab aka Kajubi, the former shrine Rector of Munyonyo Martyrs Shrine, and his successor Fr Ulman Wojtek. (Credit: Juliet Lukwago)