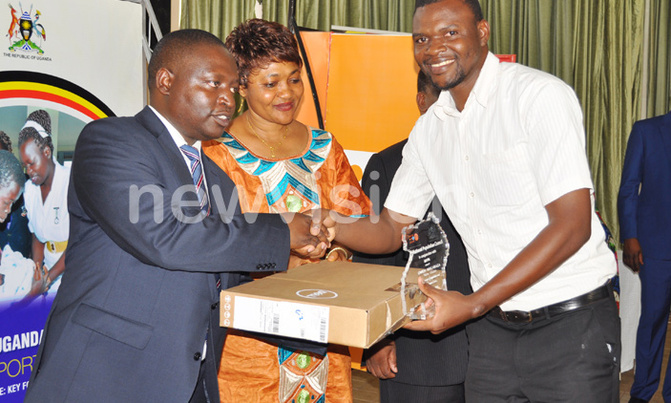 Wagabaza was the overall journalist of the year while Semakula won the print category.
PHOTO: The State Minister of Finance, Planning and Economic Development in charge of Finance David Bahati (Left) hands over an award to the overall winner Vision Journalist Print Section Owen Wagabaza. PHOTO: Shamim Saad.
Two of the five journalists who received the prestigious population awards from the National Population Council Secretariat on Thursday were New Vision journalists.

John Semakula, a senior writer at the weekend newspapers of New Vision and Owen Wagabaza, a writer, received a laptop each and a plaque for excelling in reporting on population issues.

Wagabaza was the overall journalist of the year while Semakula won the print category.

The story that gave Wagabaza the best journalist of the year trophy ran with a headline, "Kanungu fights mothers' death".

The story ran in February in Her Vision, a section that highlights issues of women and was about a local initiative spearheaded by district leaders in Kanungu.

Through the initiative, local married women are equipped with skills in nursing to help their colleagues in hard to reach areas to give birth where there are no health workers.
Vision Group Journalist Print Section John Semakula (right) receives his award.
The initiative also ensures that expectant mothers from areas which are far from health centers are given shelter and fed on a balanced diet a few weeks to labour.

This is the third time this year for Wagabaza to win a national media accolade. Early this month, the story he co-authored with two other journalists, won the Uganda Media WASH Awards.

"I am honoured to win this award and I feel someone outside there appreciates the work I do," Wagabaza said. "I feel motivated than ever before."

Meanwhile, the story that gave Semakula the award in print ran with the title, "Will new housing policy come with affordable houses for Uganda?" The story highlighted the challenges of accessing decent and affordable houses in Kampala due to the ever increasing population.

Semakula is a seasonal journalist who has in the past won a number of national Media Awards, organised by African Centre of Media Excellence (ACME). For the last two years, Semakula has defended the National Data Journalism Awards.